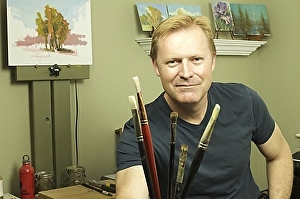 Please consider this article as my act of penance. A humble mea culpa from an embarrassed prodigal son. You see, earlier this year I was a bad boy. I cheated on my loyal website platform, Fine Art Studios Online. I know. I'm not proud of myself.
It all started out innocently enough. FASO and I were rock solid. We'd been together for almost two years. I was happy in the relationship. I had loads of terrific support. FASO allowed me to do so many things. Blog, send newsletters, put up multiple galleries, connect with social media and enjoy built in commerce to sell my work. I had it all. But then I started surfing the internet late at night.
I don't remember how it happened exactly. I guess I was just curious. But somehow I landed on her website. She had some cool design templates and flashy functionality. So I started to flirt with her. It was pretty innocent at first. She had some introductory videos and tantalizing offers. Before I knew it I was signed up for a trial run. It all happened so fast.
Lessons from the past
In hindsight, I should have known better. I had been with another platform service before FASO. The old service drove me crazy. Talk about high maintenance. Always needing new plug ins and accessories. And there were the downtimes, thanks to intermittent "digital subscriber attacks." Dealing with all the platform's problems kept me away from making my art. Basically, the old platform was just plain complicated. And who needs a complicated relationship?
So, I started looking around. And lo and behold, I discovered FASO. I'm pretty sure it was love at first sight. We all know that artists can be capricious, sometimes difficult people to live with. Except FASO was different. FASO was professional and friendly. FASO offered everything I ever needed in a relationship. FASO was understanding, helpful and secure. FASO always looked great and was completely reliable.
You'd think after my last relationship I would have learned my lesson. I would have cherished all that I had with loyal FASO. But men are stupid sometimes. We get greedy and think that maybe the grass is greener somewhere else. Well, the grass wasn't greener. In fact, the grass was more like a weed patch.
When the novelty wears off
My trial run with this sexy new platform provider went pretty well. Until the ultimatum. Apparently she didn't have all day for me. Either I ponied up some cash or she would have to move on to someone else. Her introductory offer looked pretty affordable, or so I thought.
I pulled out my credit card and signed up. Why not? This will be cool! I'll be able to do a few new things. The only weird part was when I entered my credit card numbers on the sign up page, I suddenly got this strange vision of Kevin Macpherson frowning at me. That should have been a warning sign, but regrettably, I ignored it.
In the beginning, new relationships are always exciting and intoxicating. Because you're still learning things about one another. There are new discoveries. It's an adventure. But over time, little fissures begin to appear on the shiny porcelain facade. The first fissure for me was an unexpected incompatibility.
My MacBook Pro Safari browser didn't play well with the new platform. In fact, I would log onto my new site and suddenly the whole thing would just crash. Not good. But you know how we lie to ourselves to justify a decision? I told myself this was just a little hiccup and switched to a Chrome browser, which my new site accepted.
Then another issue appeared. The new platform didn't offer a newsletter function, so I had to install an outside service. No problem. I chose a service I was fairly familiar with. Or so I thought. Before long I was struggling to achieve the correct newsletter font for both mobile and website viewing. I recalled that my old FASO newsletter simply worked. All I had to do was create the content and FASO took care of the rest. Kinda missed that.
Next I found out that if I wanted to actually sell paintings off my new website, I'd have to pony up more dough for the commerce function. That service was included with my old FASO site. Darn! I think that was the first time I started to have second thoughts. Some of the novelty of my new platform was fraying. But the prospect of having to copy and paste over 100 blog posts back to my FASO site convinced me to stick things out with the new platform.
When your ex-girlfriend's Dad emails
The next thing I'm about to tell you is absolutely true. I had unceremoniously dumped my loyal FASO. Ran off with a sexy new platform. Sure, the new platform had a few warts, but I put that out of my mind and soldiered on. Determined to make the new relationship work. What could go wrong, I thought? And that's when FASO's Dad sent me an email.
Clint Watson, the father of FASO, is a busy guy. I never thought he'd really notice that I dumped his daughter. But he did. The worst part is that instead of coming after me with a shotgun, he fired off a gracious email. "Come back to FASO," he wrote. "Whatever issues you have with FASO, I'm sure we can fix them."
Why did he have to be so darn nice? I already felt bad enough. But things didn't end there. A week or so later I sent out a newsletter using my new service. Suddenly I got another email from Clint Watson. He told me my new newsletter was improperly formatted and would likely end up in people's spam folders. Then he told me how to fix it!
"Really, Clint?" I thought to myself. "I dump your daughter and now you're giving me relationship advice with the new girl?" Needless to say, I felt like a complete, unadulterated schmuck.
Clint went on to school me about Secure Sockets Layer (SSL). Yeah, I never heard of it either. SSL is a standard security technology for establishing an encrypted link between a server and a client. Apparently my new platform service didn't offer SSL. Of course, FASO does. [Editors Note: Here's an article that explains why all artist websites will need SSL: http://faso.com/clintavo/104547/why-your-art-website-will-soon-need-an-ssl-certificate].
I politely thanked Clint for all his kind help. And then I cried. The kind of tears that only deep regret and longing for the good old days can produce.
The prodigal son returns
Time progressed in that sluggish sort of way when you know you've blown it. My new platform relationship lost its shine. Worse, when I was with FASO I was part of a whole community of cool artists. There were FASO website threads to comment on, Fine Art Views articles to enjoy, Bold Brush competitions to follow, and so much more.
I remembered that one of the awesome FASO support staff had left me a link to my old website. They hadn't taken it down yet. One night I visited my old site. It felt a lot like coming home.
I discovered that in the short time I was away there were new templates and a new feature to automatically send blog posts out as a newsletter. So I experimented with it. Naturally, the fonts worked perfectly and everything looked great and just worked. It was at that moment that I knew what I had to do.
You'd think the new platform service would have been upset when I cancelled my subscription and went back to FASO. Nope, I never heard a word from her. No emails from her father. Nothing. Meanwhile, FASO welcomed me back with open arms. No lectures. No guilt trips. Just the same love and support I had been so foolish to walk away from.
So, the prodigal son has returned. Do yourself a favor. Learn from my mistake. If you're an artist or creative, FASO has everything you could ever want and more to showcase your art. You'll be supported, loved and part of a community of artists. As for me, I'm never leaving this family again. It's good to be home.
2 Responses to Why I Came Back To FASO
Sandra Busby
via faso.com
19 months ago

Oh John, this post really struck a cord with me as soon as I read it! I had a fantastic relationship with FASO and in fact I still highly recommend the platform to every artist I meet, even though I strayed... Yes, I am also guilty of leaving. I remember the days where I used to enjoy free entry to competitions, almost instant technical support... In fact, sometimes when I was really stuck, FASO would go right ahead and do it for me! And everything was under one roof. I was very happy... Until one day I decided my site had gone stale and I really wanted a whole new look. Also, I was finding cost an issue so I really needed to tighten my belt and see if there was anything out there that was cheaper. Well, the answer is, yes there is. I found something shiny, new, and cheaper too, but all of this comes at a different kind of cost. I realised that I can't have Paypal without paying double the price... The technical support is very slow indeed and in fact sometimes I don't get an answer at all! I have to host my Newsletter from another platform unless I pay more and there are no free competitions to enter. Sadly I paid for three years up front! Yes, three years!! So now I am totally tied for another two before I can move... But even then, I don't think I could go through yet another move... I found it SO hard to create the perfect site and so time consuming! So, despite regretting leaving FASO, the thought of having to try and re-create the look I've achieved of my new website and blog back on the FASO platform, along with transferring all of my blog posts (even though at the moment my blog is new so there are only a few posts) fills me with dread! If I could literally pick up what I have and plop it on to FASO without changing the look, I would do it in a heartbeat! But unfortunately I can't. If anyone else is considering leaving... I would say DON'T DO IT!! :0(


Gaelle1947


via faso.com
17 months ago

I'd like to affirm your great review of and personal experience using FASO, from a different point of view. I don't have a website....yet. But I can say that when I click on and subscribe to artists who use this platform, it is ALWAYS so much easier to navigate, as a reader. The menu and image viewing options are consistent, and subscribing to linked newsletter and blog is a mere click away. I love being able to access all information from one location.