This article is by Dave Geada, a strategic adviser to FASO and a marketing expert with over 15 years of experience in brand management, product marketing and product management. Through his consulting company, Differential Brand Strategy, Dave helps technology companies develop valuable insights into their customers and what matters most to them. Then he helps turn these insights into marketing and product strategies that drive sales. As a regular contributor to this newsletter, Dave helps explain latest trends in online marketing and how artists can tap into these trends to help boost their art sales.
Jennifer McChristian is a renowned plein air artist who calls Los Angeles her home. Her work has been described as consistently gorgeous, featuring a quick, loose and gutsy textural style. To this we would also add haunting and immersive, like an early morning fog illumined by the sun and slowly fading under its fierce intensity. In this interview, we discuss Jennifer's journey as an artist, the influences that shaped her sensibilities and how she used FASO to build her collector base.
When did you first realize that you wanted to become an artist?
From a very early age I knew I was an artist. It wasn't any sudden realization or epiphany that I would become an artist, it was just something that was already such a part of my everyday life. As a child I was always observing, sketching and drawing with whatever materials I could get my little hands on. I was very introverted, so for me drawing and sketching was my outlet. My mother was an artist with plans to go to École des Beaux-Arts in Paris but opted to raise a family instead. My father dabbled in photography and played the saxophone as a hobby.
I have a long line of family members that worked either in music or visual arts. My parents constantly encouraged my artistic endeavors. Christmas and birthday gifts were always watercolor sets, crayons, pencils or sketchbooks. They never had to wonder what I would do in my adult years, they always knew my eventual vocation was in the arts.
When did you first pursue your art career full-time?
After I graduated from Otis College of Art and Design I worked briefly as a silk screen designer for a t-shirt company in the downtown garment district. I then quickly moved on to a full-time job working in animation, which was a great source of income. Animation was somewhat creative, but I was drawing other people's designs so I didn't really consider it my own art per se. I jumped around at a few companies, back when all animation was traditional (drawn by hand). I worked on small offshoot projects like "Mission Hill" at Film Roman. That's where I met my husband Ben, who was working on "King of the Hill" at the time. In those days, I was painting in my spare time, mostly during the weekends. I researched a multitude of art books and magazines and decided that I needed to further my education with additional painting lessons by artists I admired. Around 2000 or so the animation industry began to change dramatically and I saw it as my opportunity to work on my painting career full-time. I began entering art shows, plein air events and contests and that's when things started taking off for me.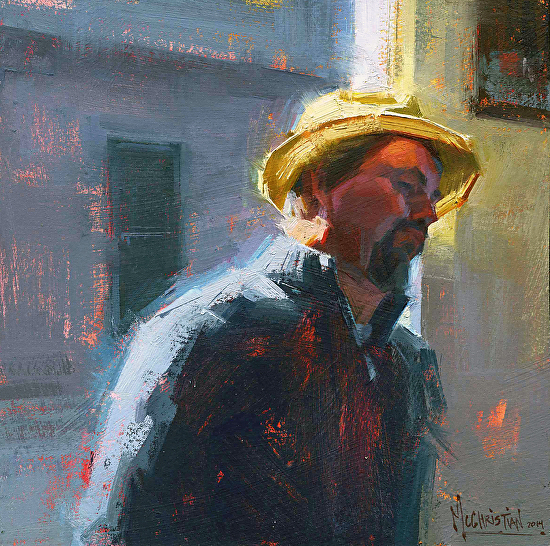 To what do you attribute your success?
When I think about my success, the first thing that comes to mind is being true to myself and to what I love to do. I love painting and everything about the artistic process. I know the expression "follow your heart" is a cliche, but I firmly believe my achievements are a result of following my creative path and keeping my commitments to it. I believe there are certain inexplicable laws of the universe and that if you initiate a project that's true to your heart, then opportunities will invariably present themselves to you. But then you need to follow through and act upon those opportunities. You need more than just a desire to accomplish your goals, you need discipline, a strong work ethic and tenacity. I had a military background growing up, and served in both the US and Canadian Army. I'm very grateful for the military training I received at the time. It gave me the discipline necessary to achieve my goals, as well as a clear understanding of the power of being organized. Every single week, I write a detailed itinerary which lists my goals for the week, month and year. It's invaluable to keep your commitments to your goals. However, I recommend not getting too rigorous with planning. You need to leave some room for flexibility. It's important to pace yourself to avoid getting overwhelmed (or sick) from exhaustion.
Success for me has also come from trusting the people who love me, respect me and want me to grow artistically. I also avoid toxic people and naysayers. My paintings represent the core essence of who I am and it can be very scary to essentially expose my soul for the whole world to see. It's important to have the proper emotional support when you make yourself so vulnerable to public criticism. But the irony is that you have to do it, you have to put yourself out there in order to become a successful artist. I could paint all day and do nothing else, but I force myself to get out of my shell and out of my comfort zone, because that's where all the growth happens.
Which artists influenced you the most?
While working in the animation industry I took refresher courses which included painting workshops with Robert Blue, Steve Huston and Karl Dempwolf. They all encouraged and helped me a great deal in their own individual ways. I have been most inspired by John Singer Sargent, Sam Hyde Harris, Nicolai Fechin, Anders Zorn, Berthe Morisot, Cecilia Beaux and Edward Seago. I also consider author and poet Maya Angelou very inspiring from a spiritual perspective.
When did you first start using FASO?
Sometime in 2005.
How did you find out about FASO and why did you initially choose it?
I think it was through some other artist's website. I clicked on a link on the artist's site to join FASO, and that's when I jumped on board. Before I knew about FASO, I used another artist website service, something basic and simple. I had only used it for six months before finding out about FASO. It didn't have all the useful tools and awesome features that FASO has.
What type of an impact did FASO have on your art career?
FASO's had an extremely positive impact on my art career. I feel that it's given me extra exposure that I would not have received without paying for expensive advertisements in printed and online publications. Two examples of this additional publicity would be the monthly FASO online contests and also the newsletter mentions. It has also helped me by allowing me to present a truly professional online presence at an extremely affordable cost. When people inquire about my artwork, it's essential to have a clear and sophisticated website for viewing. FASO definitely provides these services and helps me get my online portfolio out there. It's my storefront. Social media is still important, but nothing can replace having a professional website. When people ask about my paintings and workshops I always direct them to my website. Additionally, people who I would never have connected with somehow manage to find me through the Internet and reach out to me through my website. I also receive notification emails whenever someone wants to purchase my art or enroll in a workshop.
What do you like the most about FASO?
I like that it's designed mainly for artists, which creates this sense of interconnectivity and community which often extends beyond the boundaries of the Internet. I also like that it looks professional and is extremely user friendly. FASO also keeps improving and upgrading their templates regularly. They constantly reach out to their customers for feedback and improvements and their tech support is very efficient, knowledgeable and friendly.
If you're interested in learning more about Jennifer McChristian and her works, you can visit her website at http://jennifermcchristian.com. You can also subscribe to Jennifer's newsletter by clicking on the "Newsletter" link on the main menu of Jennifer's website.