This article is by Dave Geada, a strategic adviser to FASO and a marketing expert with over 15 years of experience in brand management, product marketing and product management. Through his consulting company, Differential Brand Strategy, Dave helps technology companies develop valuable insights into their customers and what matters most to them. Then he helps turn these insights into marketing and product strategies that drive sales. As a regular contributor to this newsletter, Dave helps explain latest trends in online marketing and how artists can tap into these trends to help boost their art sales.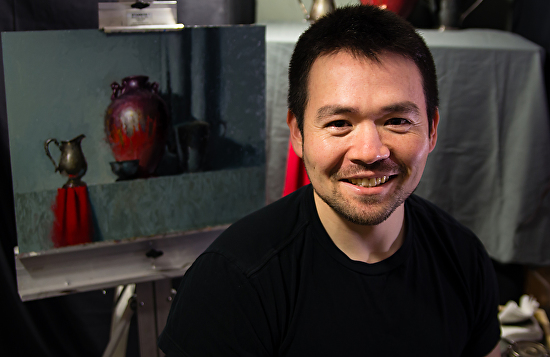 David Cheifetz is a successful still life artist from Seattle and a long time FASO user. His portrayal of everyday objects are so realistic and intimate it seems as if someone's captured a precious moment in time to share just with you. Attention to detail and a subtle but unmistakable emotional depth are the hallmarks of his works. This perhaps explains his rise in just 7 short years from student artist to full-time professional artist with a growing collector base and a viable business model that supports his growing family. In this interview, we discuss David's journey as an artist, the keys to his success and the role FASO played in that success.
Welcome David, and many thanks for agreeing to this interview. Could you start by telling us when you first realized you wanted to be artist?
My first career was in architecture. I always wanted to be an architect, so I ended up going to college for it and practicing for a few years. It was then that I realized that I needed something more creative and self directed. I decided I wanted to be an artist in some form. I was into comic books and graphic novels, so when we moved to the east coast so that my wife could go to graduate school, I looked for art schools out there for me. I was still doing architecture, but wanted to learn the fundamentals mostly in figure drawing so I could pursue comic books. That was in 2007.
In the fall I started studying full time at the Schuler School of Fine Arts in Baltimore, Maryland while I was working full time as an architect. I telecommuted with my firm in Seattle. We lived in the center of DC at the time. Every weekday morning, I woke at the crack of dawn, took the train into Baltimore for school, came back to DC in time for dinner, and then I would work on architecture from 6 PM - 10 PM and also 20 hours on weekends. The Schuler School is a well rounded institution, offering classes in figure drawing, sculpture and anatomy, everything. I'd figured that the oil painting would just be an extra bonus because I was there mostly for figure stuff. During the still life painting class, I just loved it. I'd always thought that still life was boring and stupid. When I started learning how to do it I loved it.
In 2008 I started to sell paintings (Schuler has two student shows every year). I had been going full blast with trying to get into comics, sending submissions to publishers, but I decided then to go into traditional fine art. I made the full switch in 2009. No more architecture. I like the immediacy of the medium. That my creations are taking form in front of me very quickly, but that it's very forgiving. Oil painting is the most forgiving medium, as opposed to the technical drawing I did as an architect. I could still incorporate my drawing background in architecture (perspective was instilled in me), so I could focus on how to use the paint and learn about color. It was the first time that I dealt with color. Architecture was constraining, but this form lets me experiment, fail quickly, and experiment again. In architecture it takes years to see your results. This is more immediate.
I also prefer to be my own boss and control my own creativity. Being my own boss. That was a huge factor.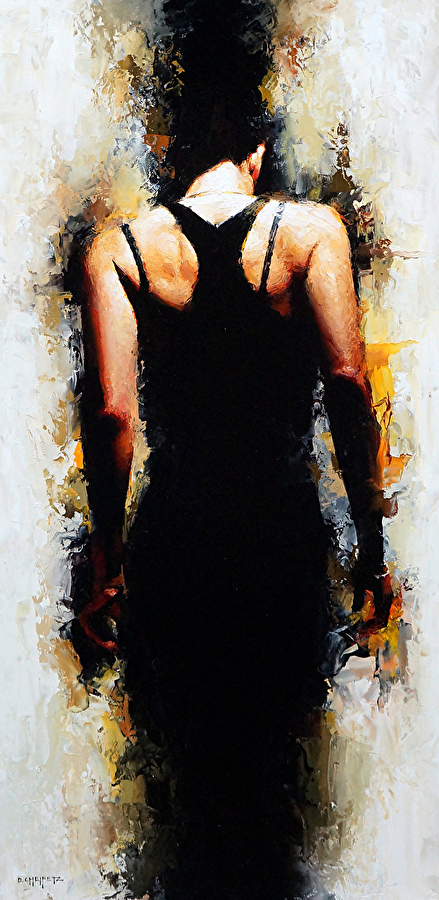 When did you first pursue your art career full time?
In 2008. I was able to switch over in 2009.
To what do you attribute your success?
It was very challenging. When I made the all-in decision, I started pursuing art as my last chance at having a career that I liked. I felt I had no choice. So with my salary from architecture, I was able to support us. But we were living very frugally. We were living in a 290 sq. ft apartment near one of the metro stops. It had roaches, mice and bed bugs. It was really tough. I had my wife at my side the whole time, though. It strengthened our relationship. She was definitely supportive of me throughout this process. She had first hand knowledge of me bitching about my job, working hard, but not getting paid that much. I'd used to work 15 hour days for not much money. Architects don't get paid very well in proportion to the amount of training.
While I was in school I started getting into galleries in DC and Maryland. I was selling paintings and it was enough. I was also selling at the Schuler school shows. And it was enough. We were still OK. We still had some savings. And then in 2010 we came back to the west coast and I just continued painting. My wife had a job and I started getting into better galleries and started selling online thanks to FASO. Yeah, it was good.
I think I decided early on my goal was to get to the point where if I averaged out my time and subtracted my expenses and I was able to make minimum wage, that would be a relief. I hit that in late 2009. My hours were working out to minimum wage. It wasn't huge, but I was making money on my art.
This whole experience really changed my outlook on money. I love cars, going out to restaurants, and having certain things that I wanted, but to some extent it was just to fill the hole of being unhappy with my career. I make less than I did at architecture, but I would be happy to live in a cabin in the woods to continue this career. We work to reduce expenses as much as possible. We've been without a car since 2007 (we're about to get one because the family is growing) and we live in modest places just to keep our expenses down. The easiest way to give myself a raise is to reduce expenses. We have a 1 year old and we're expecting another baby in July. Our situation is good. My wife is a stay at home mom, since September of 2013. I started making more money by increasing my goals, like getting into top galleries. I entered as many contests and competitions as I could. Gradually, I'd get more exposure from winning contests here and there. I'd get rejected by galleries but kept at it. And then a gallery in Texas reached out to me and they've been great. I joined a top gallery in Denver. I set small, attainable goals. Set baby steps. Within the act of painting itself, it's the same. I don't worry about the whole painting, I just focus on what I'm painting at that moment. Eckhart Tolle, the author of The Power of Now, I started reading him a couple of years back. It reinforces with me that I can enjoy this whole thing the most if I stay in the present moment. Planning is smart, but you can't be preoccupied with the outcome, you can't worry about failure. That gets in the way of me showing up for my work.
If you had it all to do over again, what would you do differently?
I wouldn't change anything except for my attitude. When I studied at Schuler, I was extremely driven and motivated. But I was also stressed out. I probably didn't stop and enjoy each moment of it as much as I could have. I would try not to be in such a rush.
What advice would you give artists looking to make art a full time career?
The only way to succeed as a professional artist is don't have a backup plan. I'm talking a professional art career where the majority of your income comes from selling your art. If that's what you really want, you can't have a backup plan. Here's an example: you want to be a professional artist, but to hedge your bets you get a degree to get a job that is art related. A masters in teaching or something like that, it gives you a backup plan. You can't have a plan b, because that will become your reality. Fully commit yourself. The perfect is the enemy of the good--your situation will never be ideal. Whatever situation you're in, pursue. Start and go for it. Don't wait for the perfect moment. Persistence. There's a really good book called The War of Art by Steven Pressfield. I recommend it to everyone. It was my bible in the beginning when I started my art career. It is all about what we've been talking about. Taking it one step at a time with your art.
Which artists influenced you the most?
My teachers at the Schuler School were great. Their passion for the arts was infectious. Every one of those teacher gave me multiple "aha" moments. One of the defining moments that I remember of how I realized that still life could be amazing was when one of my teachers, I'm pretty sure it was Carol Lee Thompson, she showed me David Leffel's books. I was like wow, it's possible to make still life interesting and dramatic. I realized still life was open to so many interpretations. But since then, it's hard to name names because there are so many artists that have helped influence me. Overall, I would say that the art that is most important to me is from contemporary artists. I've really never been much of a history of art type. I don't read about it much, and a lot of older art doesn't interest me with the exception of Bernini's sculptures and a few others. That probably sounds really ignorant. But it's true, I love the work that's being done right now. That's the coolest stuff. My favorite contemporary artist isn't even a painter: Chris Ware, the cartoonist. He's amazing. In painting, I think artists like Daniel Sprick and David Leffel. Those are just two examples for me of artists who have surpassed the old masters, and I think there are a bunch of examples. The perception is that no one can accomplish what the classical painters have accomplished, but these guys in my opinion have surpassed them. Most people would be appalled at that. I don't have a particular reverence for old art--what matters is whether it is good.
When did you first start using FASO?
It was really early. I think it was in 2008. It was when I knew for sure that I wanted to be a painter.
How did you find out about FASO and why did you initially choose it?
I think it was either Artist Magazine, American Artist magazine, or a web search, I can't remember. It was the perfect online portfolio. I tried other free services, but this one was tailor made for traditional artists. It's easy. You just add your work, and you're good to go.
What type of an impact did FASO have on your art career?
Huge, because it has really help me to build a community of followers. I read an article by Clint on his blog in 2009 about why a newsletter could be helpful to market yourself. April 2009 is when I started my weekly newsletter. I started with 6 subscribers (mostly family and friends) and kept on putting it out there. Every Sunday I would summarize my work week. It gradually grew. People would just sign up. I'm now just under 1,500 subscribers. It's been very gradually increasing over the years, and I've switched over to writing it bi-weekly. It's resulted in sales, and people spread my stuff around. I've even met subscribers at gallery openings. It's just so cool to have that connection. That's been the biggest marketing tool I have. I also recently started promoting myself on Facebook, but the newsletter is way more powerful than other social media. It's those core followers that help spread the word. Along the way I've been slowly learning how to write it better. How to keep people engaged better. It helps me think about my work, about what I'd like to do next.
What do you like the most about FASO?
Let's see, probably the convenience and ease of use. It's very convenient. After you get it set up, to maintain it and keep it up to date it is so easy. I know other services are decent, but they are not tailor-made for a professional artist. It's just set up perfect for artists. I don't have to think about it too much, and I have more time to paint.
Anything else that you'd like to share with our audience?
Maybe for advice to other artists, I would suggest to always make it a challenge. Make every piece of work just challenging enough so that you feel a tiny bit of fear and uncertainty. Try to experiment a little with each new work. It will help keep things fresh and exciting. If there is always some risk and some doubt, you won't stagnate. You'll grow.
If you're interested in learning more about David Cheifetz and his works, you can visit his website at www.davidcheifetz.com. You can also subscribe to David's newsletter by clicking on the "Join the Bi-Weekly Newsletter" link on the main menu of David's website.