This article is by Carrie Turner, editor of FineArtViews. During her tenure as editor, FineArtViews has been mentioned or referenced by The Huffington Post, MLive, WorldNetDaily (WND), artnet, COMPANY, American Artist Magazine, ArtBizBlog, The Abundant Artist, EmptyEasel and many other publications and blogs. FASO Featured Artists (FFA) is a regular blog series on FineArtViews. Art critic Brian Sherwin is a consultant for the FFA series. The FFA selections are featured prominently on the FineArtViews newsletter -- and are shared with over 30,147+ subscribers. You can read about other recent FASO Featured Artists by clicking here.
Resolving the Past by artist Joan Fullerton
(Mixed Media on Canvas)
Artist Joan Fullerton is known for creating a wide range of mixed media art. Her powerful collage work is often marked by an awe-inspiring sense of surrealism -- while her abstract paintings offer a delightful exploration of color, form, and bold brushwork. Joan's body of work will stir your imagination.
Remnants of Summer by artist Joan Fullerton
(Mixed Media on Canvas)
Artist Joan Fullerton offers some thoughts concerning her approach as a painter. Joan said, "Fascinated with the power of ambiguity, I distill, describe, and then obscure images, working until I sense a certain "aliveness" on the surface. I endeavor to create something bold, yet something elegant." She adds, "Abstract art encourages the imagination to run free. Inner and outer worlds collide making a space for new awareness to grow."
Art critic Brian Sherwin, Editor of The Art Edge, comment on Joan Fullerton's artwork. Sherwin said, "Artist Joan Fullerton's fantastic work provides a window into the imagination. The images I observed provide viewers with a raw, dream-like quality that is intriguing to behold. It is as if there is a psychological level to her work... one that beckons us to explore Joan's thought process -- all while exploring ourselves."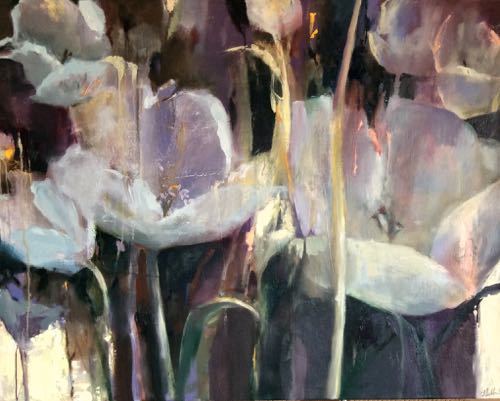 Winter's Epilogue by artist Joan Fullerton
(Oil on Canvas)
Artist Joan Fullerton has participated in numerous gallery and museum exhibits -- including exhibits in Italy and Japan. You can learn more about Joan and her artwork by visiting www.joanfullerton.com.