This article points to recent artwork featured on the FASO Daily Art Show. Our popular newsletter, FineArtViews is sent daily to more than 30,147 people. Our other newsletters, BrushBuzz reaches 3,581 and InformedCollector reaches more than 8,048. FASO artists who upload artwork each day are featured in these newsletters the following day. If you already have a FASO website (even if it is a trial version), you're set, just upload your art as usual, we'll pick one to display and link to your portfolio in our newsletters. The following artists were selected for Staff Picks -- a FineArtViews blog series -- by FASO staff members after viewing recent editions of the FASO Daily Art Show on the newsletters mentioned above.
For this round of Staff Picks we had art critic Brian Sherwin (Editor of The Art Edge) select artwork that has been featured on the FASO Daily Art Show. We at FineArtViews encourage you to learn more about the following artists: Joan Fullerton, Lauren Kistner, Heidi Harner
Smokin' Hot by artist Joan Fullerton - selected by Brian Sherwin
(Mixed Media on Paper)
Artist Joan Fullerton is known for creating a wide range of mixed media art. Her powerful collage work is often marked by an awe-inspiring sense of surrealism -- while her abstract paintings offer a delightful exploration of color, form, and bold brushwork. Joan's body of work will stir your imagination.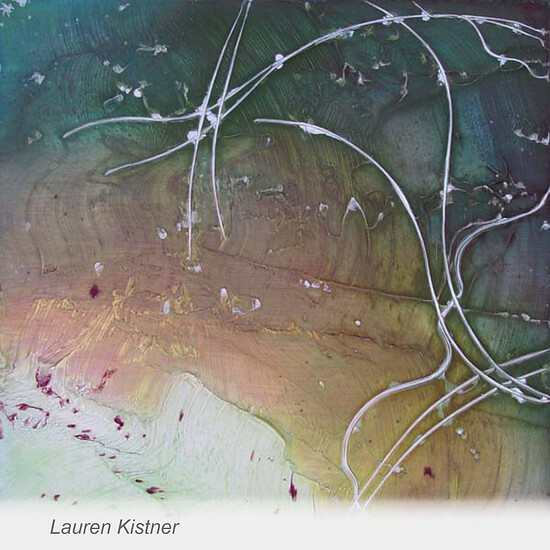 Aurora by artist Lauren Kistner - courtesy of Art Source Gallery - selected by Brian Sherwin
(Mixed Media on Panel)
Artist Lauren Kistner is deeply fascinated by geothermal activities, topography and other natural phenomenon. These interests are reflected in her work as a painter. She is motivated by line, color, and texture, and the ambiguity between looking and seeing. Additionally, Lauren states that she explores and alters images for the canvas in an intuitive process that involves layers of paint to achieve ridges, ripples, peaks and valleys, then transparency, depth, and color.
In Through the Out Door by artist Heidi Harner - selected by Brian Sherwin
(Acrylic on Cradled Panel Board)
Artist Heidi Harner often combines elements of abstraction and realism in her paintings. Heidi is interested in the interplay of relationships in her work. She creates a loose and expressive abstract, or semi-abstract environment for her subjects to help convey a sense of energy and playfulness.
To see the latest FASO Daily Art Show visit - www.dailyartshow.faso.com (Note: You can follow more staff picks from the FASO Daily Art Show on Pinterest.) You may also be interested in the FASO Daily Art Show Newsletter: A Beautiful Exhibit of Today's Finest Original Art Delivered Daily to Your Inbox -- visit www.dailyartshow.fineartstudioonline.com/email-newsletter.