This article is by Dave Geada, a strategic adviser to FASO and a marketing expert with over 15 years of experience in brand management, product marketing and product management. Through his consulting company, Differential Brand Strategy, Dave helps technology companies develop valuable insights into their customers and what matters most to them. Then he helps turn these insights into marketing and product strategies that drive sales. As a regular contributor to this newsletter, Dave helps explain latest trends in online marketing and how artists can tap into these trends to help boost their art sales.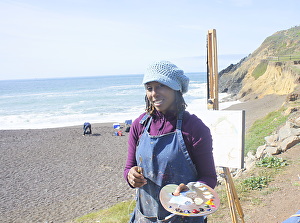 Aspects of Nina Fabunmi's journey as an artist will seem familiar to many of you. Drawn to art at a very early age, she faced obstacles like well-intentioned parents who discouraged art as a vocation and an all-consuming professional career that afforded her little time for her art. The similarities end there, however. Set in Nigeria amidst the backdrop of an oftentimes brutal and patriarchal society and in the midst of an abusive and self-destructive marriage, Nina's story reads like an adventure novel where the heroine overcomes incredible odds to at last realize her truest self and purpose in life. And the product of that journey of self-realization, evocative portraits and landscapes that seethe with a husky perseverance, courage and promise, is a marvel to behold and well worth the journey.
When did you first realize you wanted to become an artist?
I don't think it was ever a question for me. For as long as I can remember, I've been artistic. I've grown with it as a child. To take it professionally, though, that was scary. I think I realized I wanted to take it professionally when I was in high school. I wanted to study fine arts, but at the time my parents didn't allow it. It was a tough and confusing thing for me. My dad, who passed away last year, was an architect and drew really well. He was also very protective and strict. I was locked up in the house most of the time in order to keep me safe and I could not socialize without my parents around. So to pass the time, I always just drew. My dad had a studio in our house so I had paper and pencils and I always drew. My dad didn't want me to become an artist because he didn't want me to starve. So I ended up studying real estate, which was all right because at my university the real estate program was run by the same faculty that ran the fine arts program. So although I couldn't study art, I was able hang out with the artists in the program and live vicariously through them.
When did you first pursue your art career full time?
It was quite the journey. While I was in university, I worked at a real estate firm and realized the only way that I could make any money in real estate was if I owned my own firm. Whenever a house was sold, the real estate firm would get a 10% commission and the partners in the firm would get most of that money. Agents got next to nothing.
While I was working there, we would listen to the local radio station, CoolFM, and I would call in all the time. I was really good at doing imitations and foreign accents, and apparently I was so good at it they would play me on the air. One thing led to another and they hired me even before I graduated from university. I was working with a DJ called Dan Foster, who was the most influential DJ in Nigeria, and it was the most fun I ever had at a job. My parents didn't approve of it though, so eventually I left the radio station and got a job at a bank.
This job didn't suit my creative personality. I had to dress in a suit and we could only wear 4 colors, black, blue, brown, and grey. I also couldn't color my hair or wear beads in it and I also spent all of my time at that job. My days would typically start at 7AM and end at 9PM. Sometimes, I had to work on weekends. Sometimes I would squeeze out a little time to draw and paint because it was relaxing to me. At one point, I sold a painting to a friend and brought it to the bank with me so I could drop it off later. Someone asked me if I painted it, I said yes and then they asked me what I was doing working at a bank.
Realizing they were right, I asked myself the same question. So I decided to leave the bank and got a job at a telecom company called Globacom, which is Nigeria's second national carrier. I was hired as a call center leader, and this gave me more time to paint. A lot of times I didn't know what I was doing. For example, the first time I painted on canvas, I didn't prime it. I just bought the fabric and started painting and kept wondering why my paint wouldn't take. Another artist ended up showing me how to prime it. But these little setbacks didn't discourage me. I was just happy to have more time to paint.
At about this time, my sister was working at a bank and a client of hers owned a gallery. He wanted to meet me after my sister showed him some of my art. I asked her why she did that. I wasn't ready to show my art yet and I felt ashamed. I felt like I was doing crap and I didn't want to be compared to professionals. I just wanted to enjoy doing it. She asked me what was wrong with me, because this man really wanted to see my works.
Finally I gave in and handed her a stack of my watercolors just to get her off of my back, and to my surprise he bought 5 of them. I sold them for peanuts because I didn't know how to price my work, but he bought them. That's when it actually dawned on me I could make money at this. It turned out that this man was Chief Okonta. He owns the Nkem Gallery in Nigeria, and he's the president of the Art Galleries Association of Nigeria. I took my work to Chief Okonta's gallery, and he loved it. He told me I needed to join an association and reach out to galleries, and while I was there he called the president of the Society of Nigerian Artists and introduced me to him. I interviewed for the society and got invited to join.
In 2008, I had my first exhibition with them. It was called October Rain. It was my first time as a professional artist in Nigeria. I, however, got a negative press review from my work at that exhibition. They said my painting should have been screened out of the exhibition. I called the president and told him I felt really bad about it, and that it was the society that picked out the piece, and I was angry at them. I got so angry I decided to step it up a notch. So I worked on other pieces, researched other artists, went to shows, and figured out what I needed to do to improve my skills. When I exhibited at the same show the following year, my painting was much better and it sold at the show.
That's the first time I felt like a true professional.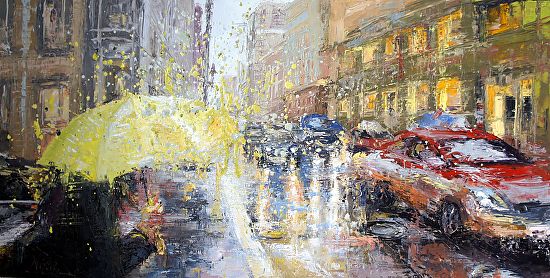 To what do you attribute your success?
It was a few things, really. The first key to my success was to never let my circumstances stop me. In fact, I used my frustrations to motivate me. For example, I worked at Globacom for 8 years. I did my job well and enjoyed it. But I got to a point where I was really frustrated with it. Globacom wanted to learn from the best so they hired external consultants, and these consultants decided customer service people were being paid too much. So salary increases were frozen. I didn't get a raise for four years even though I had been promoted to Supervisor and then Manager. During that period of frustration, I realized that if I was going to be stuck at the same salary, I needed to channel my energy elsewhere, so I focused on painting. I have two kids, and sometimes I would paint throughout the night after I tucked them in bed. I would draw in my car. I started engaging in the art community. I sold more of my art. I began to see my job in Globacom as a means to an end as I could afford art supplies and my constant salary relieved me of the pressure to sell art in order to survive. I used my situation to inspire me to do more art.
The second key to my success was always keeping an eye open for that lucky break and being prepared for it when it comes. At around the time that my (then) husband left Nigeria to go to graduate school in Scotland, I went to this gala for the Society of Nigerian Artists. I met the dad of one of my friend's there, who turned out to be a big art collector. His name was General Owoye Azazi. He would eventually become Nigeria's national security adviser, but back then he was a General. I sat at the same table with him and introduced myself. I showed him some of my work. I also showed him a photo that I took of the landscape in Besancon while I was travelling in France. The landscapes there are gorgeous and he asked me to paint the landscape in my photo for him. So I did, and when it was ready I took it and another painting of mine to him at his home. He bought my painting on the spot. It turned out he was having a get-together when I stopped by, and a friend of his, Mr. Victor Gbolade Osibodu (Chairman of Vigeo Holdings in Lagos Nigeria), saw my second painting, which was a 3D mixed media piece, and he bought that one as well. The General continued buying art from me after that. He was affluent and well known in Nigeria, and through my affiliation with him, I eventually got commissioned to provide 26 paintings for an army building that was being renovated for the military.
The third key to my success was I was surrounded by people who really believed in me and challenged me to never give up. For example, I had a neighbor who really believed in my work. He kept encouraging me to take my art to the next level. He also suggested that I go back to school and get a masters in fine arts.
Years earlier, I had found an art school online called the Academy of Art University in San Francisco. I wrote to them about studying there, but it was too expensive. I kept all that information and would look at it once in a while, but I felt it was only a dream. My parents told me that I was on my own after my bachelor's degree, and I just didn't have the money myself. I remembered the Academy of Arts University when my neighbor made his suggestion. He told me to apply and get the admission first, and then worry about how to pay for it afterwards and that I'd somehow find a way to go. I told him he was crazy. I only had $17K in my account, and they wanted $36K minimum. My neighbor was insistent though, so much so that he filled out an application for me online without me knowing it. I was surprised and a little annoyed at him for doing that, but I followed up with the school and got the admission.
The fourth key to my success was letting go of people who were standing in my way. My (then) husband came back from graduate school in February 2011. While he was away, I mentioned to him that I wanted to pursue my art and he said to go for it. When he came back though, he thought it was just a joke. I remember going through this very dark period. My (then) husband had trouble finding a job when he got back to Nigeria and he was frustrated all the time. I was working, taking care of our kids and working hard to supply 26 paintings and sculpted mirrors for that military building.
It reached a breaking point for me one evening when my husband decided he had to watch a football match in our bedroom, even though I had to get up early the next day to go to work. I asked him to watch the match in the living room so I could get some rest, but he insisted he needed to watch it in our room because the reception was better. We argued, and at one point he locked me out of the room. My mobile phone was still in the bedroom and I needed it's alarm to get up in the morning, but he wouldn't let me back in. I kept banging on the door and screaming at him to let me in.
That's when he came out and started hitting me. It wasn't the first time my husband hit me. This had happened before when I was 8 months pregnant and expecting our second child. He had been abusive in other ways, but when it became physical that was the worst. That evening though was the lowest point in my life. This was a man that I had supported through school and had taken on all sorts of responsibilities to help. I expected he would return and repay me with love. I was frustrated with my job, I had to get out of this bad marriage, and that's when I realized this project for the military was my best chance. I had planned to commission other artists to help supply most of the artwork, but I realized that if I supplied most of the pieces myself I would have enough money to go to art school. It would take a lot of hard work, but I finally had a plan to pursue my dream of an art career and get away from my husband and that's exactly what I did. There were many sacrifices that I had to make, but getting out of that abusive relationship freed me to pursue my dreams. It was like a heavy weight had been lifted off of my shoulders.
If you had it all to do over again, what would you do differently?
I would have never studied real estate. I would also have stood up to my parents sooner. I remember when I told my parents I was going to study in the US, they didn't approve of my decision. I was so angry with them, I didn't speak to them for a whole month. When I finally did go see them, I came over to their house with magazine clippings, brochures and other articles about my art career. I presented them with examples of my success and finally told them about the most recent physical abuse from my husband.
It felt like I was being interviewed for a job. They were shocked and appalled by my husband's behavior. They knew of the past incident, but also like me had expected him to be a changed man upon his return from Scotland. He wasn't, they recognized my danger and acknowledged my drive and ultimately they supported my decision. When I graduated from art school my mom came to see me graduate. My dad couldn't come, and as it turned out he died while my mom was here visiting. But my mom said that they were both so glad that I didn't listen to them. I realized then I could have put my foot down a long time ago and I would still have my parent's love and respect. I was just too afraid to risk it back then. In some ways, I am grateful for my challenging journey. Sometimes I feel that you have to go through terrible things to really appreciate what you have.
Which artists influenced you the most?
While I was in Nigeria, I really liked this artist called Peju Alatise. She is one of the most successful Nigerian artists. I got to meet her at an exhibition and got to visit her studio. She studied architecture, but found a way to become a pretty successful female artist in the mostly male dominated art community of Nigeria. After coming to the US, I really started getting into Daniel Sprick and Jeremy Mann. Jeremy paints cityscapes and figures and Daniel paints everything. I also follow two French artists, Pascal Vicollette and Patrice Marciano. I like that their art is expressive. I know how to paint classical style, but when I tried starting to find my own voice. I liked that their work was loose and expressive but still came together. Some people compare me to Ann Gale. I like some of her work. Jeremy Mann, though, is my #1 favorite.
When did you first start using FASO?
I started in 2011 or 2012. I was browsing on the Internet and reading about an artist who was talking about her success. She had a FASO website and I loved it. What I loved most about it was the sense of community. I belonged to this community of artists under the umbrella of FASO.
What type of an impact did FASO have on your art career?
Well, it has exposed me to a larger audience. I got to learn and see the work of other artists. It also gave me the chance to compete. I entered the BoldBrush contest every month. Although I initially didn't win, it allowed me to expose my art to a larger audience. In 2013, I submitted my painting titled "Put Your Feet Up" which is about trying on shoes at Macy's and got in the top 15%. I eventually won BoldBrush in July in 2013. Then I got a review on FASO on my portraiture. I started showing up in the Daily Art Show, and then Brian Sherwin started pinning me on Pinterest. He also gave me an interview and people started noticing my work more. More than anything else, FASO gave me the opportunity to compete and get reviewed outside of school. I have classmates that say I'm really lucky I won an award outside of school. It let me get a sense of how my art would be received in the broader world.
What do you like the most about FASO?
I feel like my website is my office. FASO has given me my office. I have my newsletter, and I have a mailing list that I can use to engage my collectors. And that is what my website is for me.
Anything else you'd like to share with our audience?
I'm just really grateful there is a service online that exists for artists like me. It's made a big difference in my career, and can make a big difference to many other artists.
If you'd like to learn more about Nina Fabunmi and her art, you can visit her FASO website at www.ninafabunmi.com.