This article is by Carrie Turner, editor of FineArtViews. During her tenure as editor, FineArtViews has been mentioned or referenced by The Huffington Post, MLive, WorldNetDaily (WND), artnet, COMPANY, American Artist Magazine, ArtBizBlog, The Abundant Artist, EmptyEasel and many other publications and blogs. FASO Featured Artists (FFA) is a regular blog series on FineArtViews. Art critic Brian Sherwin is a consultant for the FFA series. The FFA selections are featured prominently on the FineArtViews newsletter -- and are shared with over 29,553+ subscribers. You can read about other recent FASO Featured Artists by clicking here.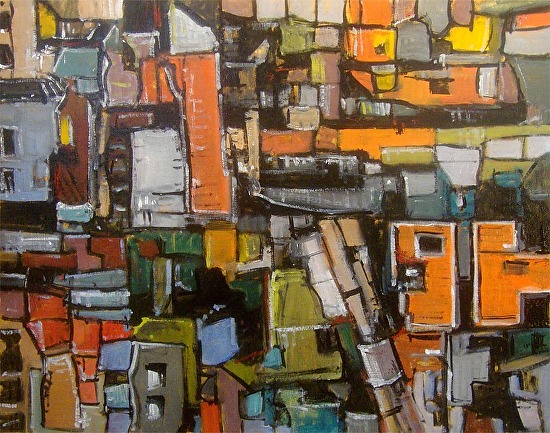 Mexico City by artist Bill Guffey
(Oil on Linen)
Artist Bill Guffey is an extremely prolific painter. He has completed an average of over 100 paintings per year. Lately Bill has been painting in a more abstract way, including a series of aerial landscapes, called the Farmland Series, that consists of dozens of paintings. Bill's exploration of abstraction can also be observed in his Urban Rooftop Series. Informed Collector offered the following statement about Bill Guffey's landscape paintings: "Dynamic and invigorating, the sumptuous work of Bill Guffey tantalizes our senses and keeps our attention riveted."
Farmland No. 69 by artist Bill Guffey
(Oil on Canvas)
Art critic Brian Sherwin, Editor of The Art Edge, commented on artist Bill Guffey's Farmland Series. Sherwin said, "Abstract painting is deeply rooted in landscape painting. In fact, several notable abstract painters started out as traditional landscape painters. The connection between landscape and abstract painting has been noted by a wave of artists and art historians over the decades -- some painters still mesh the two directions in a visibly noticeable way. Artist Bill Guffey's Farmland Series is a prime example of this direction. I enjoy his visually engaging work."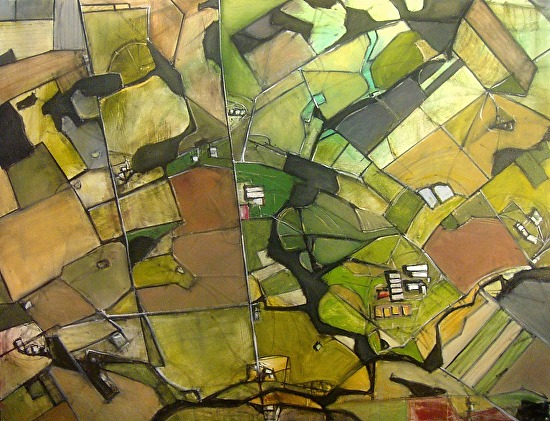 Farmland No. 18 by artist Bill Guffey
(Oil on Canvas)
Artist Bill Guffey is a member of the American Impressionist Society and Oil Painters of America. You can learn more about Bill and his landscape paintings by visiting www.bnguffey.com.