This article is by Clint Watson, former art gallery owner/director/salesperson and founder of FineArtViews. You should follow Clint on Twitter here or sign up for his newsletter here.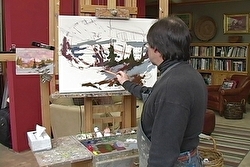 Kevin Macpherson, a Master, in his studio.
There are lots of people out there who want to teach you how to market your art with social media. And that can be a good thing.
Sometimes though, the advice seems to focus so much on "how to get more followers".
So here's the thing. If your profession is being a social media consultant...then it's probably important to have a lot of followers. It's proof you're good at what you do.
But if you're an artist, that's not what you do. What you do is create art. And having a lot of followers tells the world nothing about how great of an artist you are.
In fact, sometimes when I find artists with tens of thousands of followers, it makes me wonder if the artist is great at art...or is that artist just great at social media?
There's a famous business maxim, attributed to Peter Drucker [1], that says "What gets measured, gets managed", which is another way of pointing out that what you focus on determines what actually gets done.
If you focus on the number of Twitter followers you have, you're going to optimize your art business to get Twitter followers, but if you focus on the quality of your artwork, you're going to become a better artist and, in my experience, in the end, better artists sell a whole lot more art, even without Twitter followers.
I love the following quote by Dustin Curtis, and I think he's correct:
"The difference between what drives traffic and what drives respect is enormous. Even worse, they are often mutually exclusive."
- Dustin Curtis [source]
Measure the number of pieces you've completed. Measure whether you're getting better or not. Get a journal and measure the way you feel about your progress as an artist. Be brutally honest with yourself - how good is your art work?
Do these things and measure your mastery. And if you can honestly hold your head high if asked to hang your art next to the masters whom you revere, you will have achieved a career milestone and one that will lead to sales.
Sincerely,
Clint Watson
FASO Founder, Software Craftsman, Art Fanatic
[1] It's often attributed to Drucker, but I could find no proof he is the one who actually coined the saying.
----------------------------------------------------------------------
Editor's Note: You can view Clint's original post here.