This article is by Carrie Turner, editor of FineArtViews. During her tenure as editor, FineArtViews has been mentioned or referenced by The Huffington Post, MLive, WorldNetDaily (WND), artnet, COMPANY, American Artist Magazine, ArtBizBlog, The Abundant Artist, EmptyEasel and many other publications and blogs. FASO Featured Artists (FFA) is a regular blog series on FineArtViews. Art critic Brian Sherwin is a consultant for the FFA series. The FFA selections are featured prominently on the FineArtViews newsletter -- and are shared with over 25,802+ subscribers. You can read about other recent FASO Featured Artists by clicking here.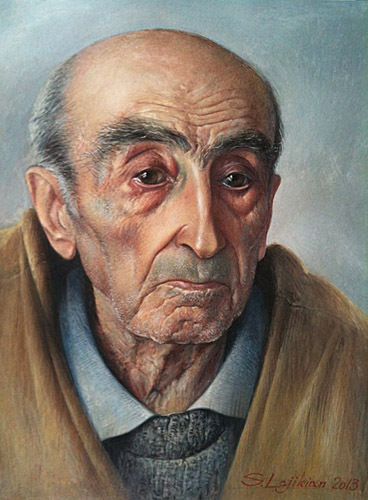 My Father by artist Samvel Lajikian
(Watercolor)
Artist Samvel Lajikian is known for creating masterful portrait, landscape and still life paintings. The mastery of his watercolor, acrylic and oil paintings -- all of which reveal strong technique -- is further strengthened by his ability to capture a sense of old world charm. Informed Collector stated the following about Samvel Lajikian's paintings: "Lajikian's renaissance style breathes life onto the canvas, magnificently displaying the beauty and potential of human beings."
The Life's Journey by artist Samvel Lajikian
(Watercolor)
Art critic Brian Sherwin, Editor of The Art Edge, offered the following statement about artist Samvel Lajikian's paintings: "Lajikian's portrait and figure paintings are simply powerful to observe. He establishes a sense of timelessness with every stroke of the brush -- an achievement that is no doubt elevated by his bold practice as a painter."
Self Portrait by artist Samvel Lajikian
(Watercolor)
Samvel Lajikian's work has been acquired by the the State Gallery of Armenia and the Merkurov Museum. You can learn more about artist Samvel and his paintings by visiting www.hrac1984.fineartstudioonline.com.