This article is by Carrie Turner, editor of FineArtViews. During her tenure as editor, FineArtViews has been mentioned or referenced by The Huffington Post, MLive, WorldNetDaily (WND), artnet, COMPANY, American Artist Magazine, ArtBizBlog, The Abundant Artist, EmptyEasel and many other publications and blogs. FASO Featured Artists (FFA) is a regular blog series on FineArtViews. Art critic Brian Sherwin is a consultant for the FFA series. The FFA selections are featured prominently on the FineArtViews newsletter -- and are shared with over 25,702+ subscribers. You can read about other recent FASO Featured Artists by clicking here.
Ladies' Man by artist Kathleen Dunphy
(Oil on Linen)
Artist Kathleen Dunphy has garnered a strong reputation for her ability to capture the light and life of nature. Steve Doherty, of Plein Air Magazine, stated the following about Kathleen's work: "Ask anyone which artists are certain to be among the next generation of great plein air painters, and Californian Kathleen Dunphy's name will be at the top of the list." Kathleen's work has been featured on the Informed Collector newsletter.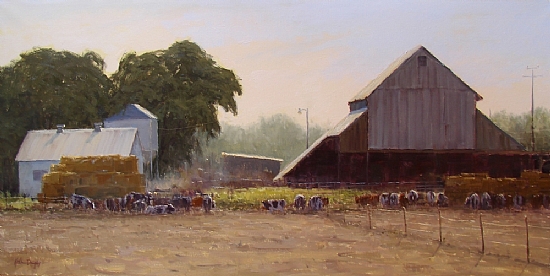 Hay and Holsteins by artist Kathleen Dunphy
(Oil on Canvas)
Dunphy has stated the following about her love of painting: "Painting allows me to keep my finger on the pulse of the natural world. Standing at the edge of the ocean or looking up to the peaks of the mountains, I feel a communion with a higher source -- God, Nature, the Creator, whatever you want to call it -- that humbles and inspires me. Each season has its own beauty; each time of day its own visual rewards."
Art critic Brian Sherwin, Editor of The Art Edge, offered some thoughts about artist Kathleen Dunphy's paintings, remarking, "Kathleen Dunphy's paintings are marked by her ability to capture the raw beauty of nature. Her impressive body of work -- which is filled with a love of light and life -- reminds viewers to take a closer look at our world."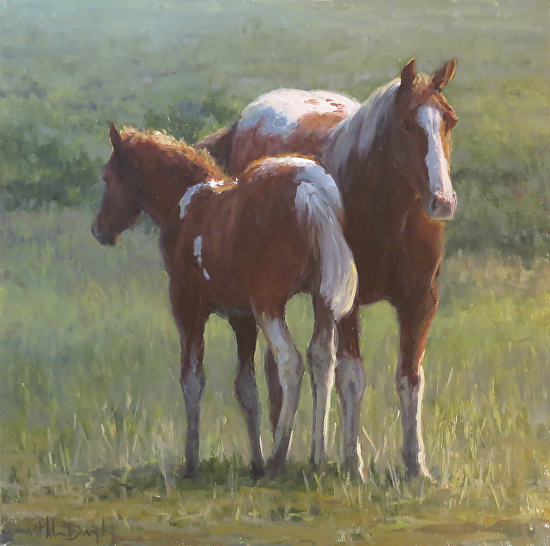 Just Like Mama by artist Kathleen Dunphy
(Oil on Linen)
Artist Kathleen Dunphy is currently represented by Argosy Gallery, Illume Gallery of Fine Art, Knowlton Gallery and Sloane Merrill Gallery. You can learn more about artist Kathleen Dunphy by visiting www.kathleendunphy.com.