This post is from our Informed Collector newsletter. If you would like to receive daily briefs about today's finest artists, visit InformedCollector.com for your free subscription.
Informed Collector Recommends:

Patrick Meehan
TODAY:
Tuesday, September 30, 2014

Dedication to his craft is evident in Meehan's work. The life and emotion displayed in his figurative works are simply stunning.
---
---
Focal Point: Patrick Meehan
Visit Patrick Meehan's Canvoo Focal Point on the web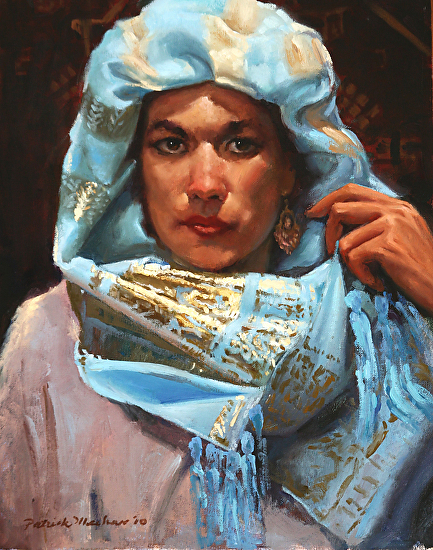 Dedication to his craft is evident in Meehan's work. The life and emotion displayed in his figurative works are simply stunning.

- Informed Collector


---
Artworks by Patrick Meehan:
---

Other Web Pages with info about Patrick Meehan

Patrick Meehan's Main Artist Website



Art Galleries Representing Patrick Meehan
McBride Gallery
Annapolis, Maryland - 410-267-7077
---
Biography
Patrick Meehan is a California-born artist now residing in Old Town Alexandria, Virginia. His love for painting is evident from his dedicated studies as well as his affinity for teaching. Previously at the San Diego Museum of Art, Meehan is currently teaching at the Academy Art Museum in Easton, Maryland. His land/seascapes, figurative paintings and his drawings have become well-known for their beauty. He has been juried into two regional and one national Oil Painters of America Shows. In addition to his affiliation with the Oil Painters of America, Meehan has been featured in James Lightner's "Land of Sunlight" which highlights contemporary paintings of San Diego County's foremost artists and is currently represented at McBride Gallery in Annapolis Maryland.

The Road to Becoming a Painter....

I was drawing since I can remember. During grade school I would draw during class. I went to Catholic Grade School so the practice was not encouraged, aggressively. High School offered no Art Curriculum so drawing continued but no formal drawing. After High School I moved from LA to Santa Maria. I worked as a grocery clerk and deck hand on an oil production rig. In my early 20's I moved back to LA. I visited the Art Center College of Design and endeavored to get accepted. Took drawing classes at the local JC and night classes at Art Center and after about a year my portfolio was accepted. Once in school I realized how unprepared I was. Had no experience painting or rendering skills so I was constantly chasing more capable peers.

After graduation I got a job at Cinnabar Studios in Hollywood mostly painting commercial (TV and movie) sets. I Met my wife, Lien and moved to San Francisco in 1992. While in SF began working for an elevator company and with the income continued painting and drawing at the Art Institute of San Fran and drawing at the open studios at the local JC. I became an elevator mechanic and later Service Manager for Atlas Elevator. The work allowed me to continue practicing and keeping a studio.

I moved to San Diego in 2004 where I began working for Thyssenkrupp Elevator as a Service Superintendent. Also attended classes at Los Angeles Academy of Figurative Arts but the most significant instruction came from Watts Atelier of the Arts in Encinitas. I had a studio in Point Loma (San Diego) where I practiced painting and drawing from life. Eventually, I was represented by a small gallery in Point Loma.

My wife and I moved to the east coast in November of 2013. I quit elevators and now paint full time. I currently teach figure drawing and landscape painting at the Academy Art Museum in Easton. ??I think the desire to become better at drawing and painting has a larger influence on me than any artist. The frustration at trying to get good with little support and lack of information can (in my youth) either squash the desire to become an artist or create an environment to get better. I have no bitterness or regrets on how I got to this point. The jobs I held and some were pretty crappy (moving furniture, yikes) can steel and mature a person and actually help to create a point of view. I'm just happy to be able to do this full time and continue to improve.


---
Books that Patrick Meehan Recommends:

Land of Sunlight


Search for more books related to Patrick Meehan >>
---

Other Web Pages Patrick Meehan Recommends
(These pages are not necessarily about Patrick Meehan)

Academy of Art Museum, Easton MD

McBride Gallery Annapolis, Maryland

Oil Painters of America Association