This article is by Carrie Turner, editor of FineArtViews. During her tenure as editor, FineArtViews has been mentioned or referenced by The Huffington Post, MLive, WorldNetDaily (WND), artnet, COMPANY, American Artist Magazine, ArtBizBlog, The Abundant Artist, EmptyEasel and many other publications and blogs. FASO Featured Artists (FFA) is a regular blog series on FineArtViews. Art critic Brian Sherwin is a consultant for the FFA series. The FFA selections are featured prominently on the FineArtViews newsletter -- and are shared with over 25,603+ subscribers. You can read about other recent FASO Featured Artists by clicking here.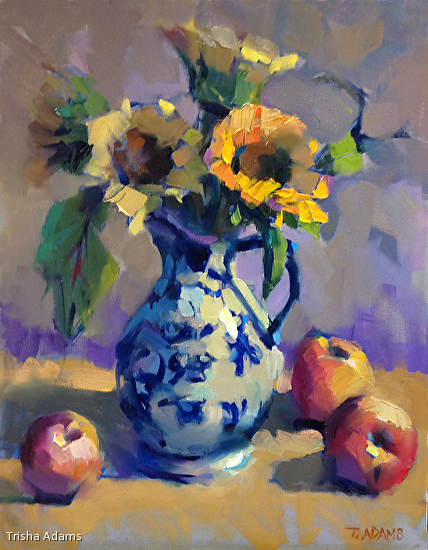 Blue & White Pitcher by artist Trisha Adams
(Oil on Canvas)
Artist Trisha Adams is known for creating expressive floral and landscape paintings. Trisha describes her work as Contemporary Impressionism. Her paintings offer viewers a delicate balance between representational work and abstraction -- a direction that is strengthened by her skillful approach to painting.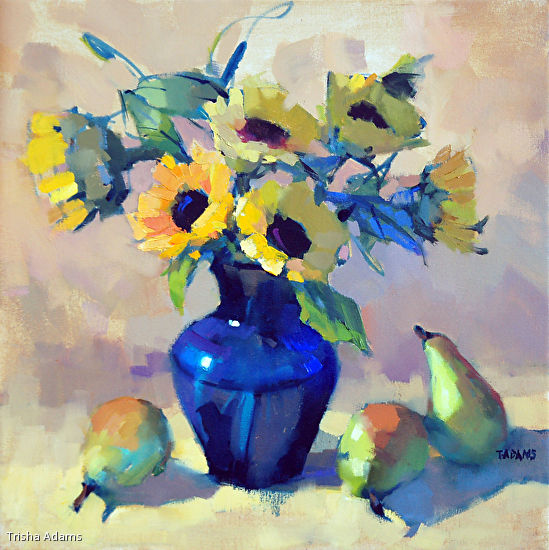 Sunny Pears by artist Trisha Adams
(Oil on Canvas)
Adams offered some thoughts about painting, stating, "I am interested in the way a painting - a flat, inanimate object - can evoke feelings, especially those of joy, whimsy, wistfulness or serenity. I believe the "aesthetic response to color harmonies" is responsible for stimulating these feelings and for that reason much of my study has focused on color."
Brian Sherwin, Editor of The Art Edge, commented on Trisha's paintings, saying, "Trisha's paintings are marked by an energetic use of brushstrokes. She establishes a sense of movement – building upon visual exaggerations that demand attention from viewers. The resulting work is powerful… a joy to behold."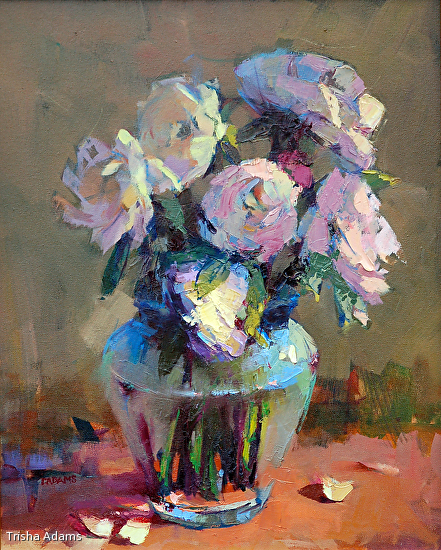 Delicate Flowers by artist Trisha Adams
(Oil on Canvas)
Artist Trisha Adams is a member of the Washington Society of Landscape Painters and the American Impressionist Society. You can learn more about Trisha by visiting www.trishaadams.com.