This post is from our Informed Collector newsletter. If you would like to receive daily briefs about today's finest artists, visit InformedCollector.com for your free subscription.
Informed Collector Recommends:

William Houston
TODAY:
Wednesday, June 4, 2014

Intricate woven patterns and layers of paint evoke tremendous passion and energy, giving us a glimpse of a constantly evolving inner landscape.
---
---
Focal Point: William Houston
Visit William Houston's Canvoo Focal Point on the web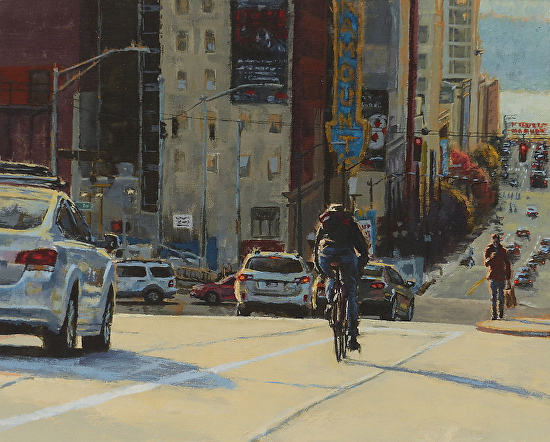 Intricate woven patterns and layers of paint evoke tremendous passion and energy, giving us a glimpse of a constantly evolving inner landscape.

- Informed Collector



Quick Facts about William Houston:

* Price Range: $225.00 - $3,000.00
(This price range was estimated with limited info and may be inaccurate)

* Main Website: http://passiveegression.com

---
Artworks by William Houston:
---

Other Web Pages with info about William Houston

William Houston's Main Artist Website



Art Galleries Representing William Houston
Cole Gallery
Edmonds, WA - 425-697-2787
---
Overview:


Riding with Giants (#6), 2014. Acrylic on panel (8x10)



---
Biography
PASSIVE* EGRESSION**

*passive (pas iv) adj. Influenced, acted upon, or affected by some external force, cause, or agency.

**egression (e gres shun) n. The emergence of a celestial body from eclipse or occultation; becoming apparent.

------------------------------------------------------------------------

Biography:

William Houston was born in Montgomery, Alabama. However, being from a military family, he spent most of his childhood in Southwest Idaho, where he held handlebars, B.B. guns, and snowballs more often than crayons or paintbrushes. His first interest in art was spawned by a most common motivation... sibling rivalry, after seeing his older sister win a junior high drawing contest for her delicate pastel rendering of a bunny. Though it started as a endeavor of envy, his relationship with art has since matured into an essential and unending journey with many starts and stops, diversions, excuses and moments of triumph, doubt, eureka, and humility.

Even though Mr. Houston earned a BFA in painting and illustration from Boise State University, his professional work has not always been related to the fine arts. However, he has been lucky to have experiences that have proven that art is his mirror, telescope, life-jacket, and soap box. William was blessed to work as a caregiver and personal assistant for a Seattle family for the past 11 years, and because of their kindness and love, he is currently able to focus all of his time and energy into living an "Art life."

Mr. Houston is currently represented by Cole Gallery in Edmonds, where his Fremont Bridge series of paintings are on display.


Artist Statement:

"Whether I am painting a portrait, a cityscape or an abstract piece, the experience is the same. Every empty canvas holds innumerable possibilities, and each mark I leave is the result of a negotiation with the infinite. Every stroke, whether made with surgical precision or with reckless abandon must make its case to be left where it is. So often, some of the most cherished areas of a painting, I end up having to regrettably cover because they either can't be equaled or they don't speak the same language as the marks that surround it.

Each painting is a constant balancing act between composition, and color. Since I don't always try to emulate nature and what the eye sees, I am able to use color freely, but not arbitrarily. Every patch of color leads to the next and calls for an answer, which is either contrasting or harmonious, depending on the mood or situation. Navigating those questions is my job as the artist, and sometimes I get the answer right, and sometimes, a wrong answer is not wrong if I change the question" ~William Houston.