This article is by Carrie Turner, editor of FineArtViews. During her tenure as editor, FineArtViews has been mentioned or referenced by The Huffington Post, MLive, WorldNetDaily (WND), artnet, COMPANY, American Artist Magazine, ArtBizBlog, The Abundant Artist, EmptyEasel and many other publications and blogs. FASO Featured Artists (FFA) is a regular blog series on FineArtViews. Art critic Brian Sherwin is a consultant for the FFA series. The FFA selections are featured prominently on the FineArtViews newsletter -- and are shared with over 25,541+ subscribers. You can read about other recent FASO Featured Artists by clicking here.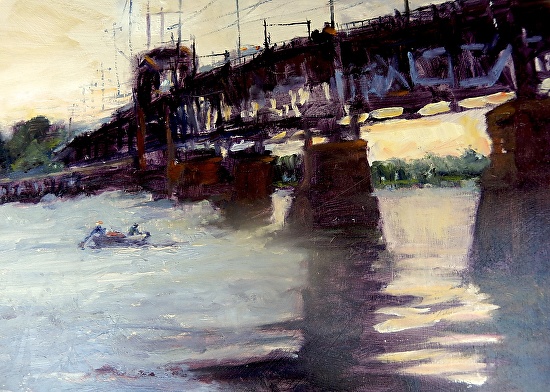 Crossing Over by artist Janice Kirsh
(Oil on Panel)
Artist Janice Kirsh is known for her loose and impressionistic style. Her work – which includes a wide range of plein air paintings -- has been described as painterly and luminous. She has noted that she enjoys exploring color as a painter.
Industrial Baltimore by artist Janice Kirsh
(Oil on Panel)
Concerning her love of painting color, Janice stated, "I love to paint directly from life in a place that has a special quality of light and color that reminds me of a story." She added, "Spring is here bringing a rebirth of colors. I can't wait to paint outside in plein-air. The maple tree in my back yard has shades of red but when the sun shines through the leaves they have a glowing translucent orange."
Art critic Brian Sherwin, Editor of The Art Edge, offered some thoughts about Kirsh's paintings, stating, "I really enjoy Janice's painterly approach. She is able to capture the simplistic rawness, if you will, of a moment in time... revealing the brilliance of scenes that we may otherwise take for granted. Her work is proof that we are surrounded by beauty."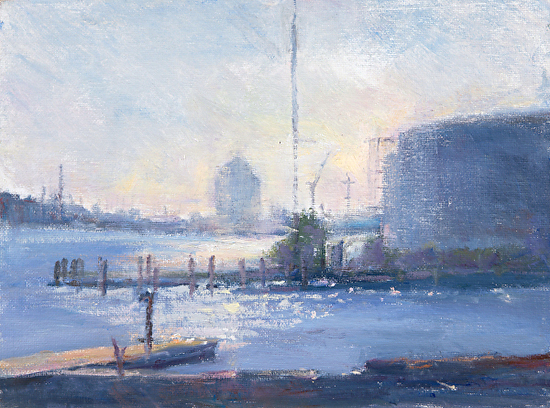 Tide Point Taxi Stop by artist Janice Kirsh
(Oil on Panel)
Artist Janice Kirsh has exhibited at Crystal Moll Gallery and Gallery International. You can learn more about Janice and her paintings by visiting www.janicekirsh.fineartstudioonline.com.