This article is by Carrie Turner, editor of FineArtViews. During her tenure as editor, FineArtViews has been mentioned or referenced by The Huffington Post, MLive, WorldNetDaily (WND), artnet, COMPANY, American Artist Magazine, ArtBizBlog, The Abundant Artist, EmptyEasel and many other publications and blogs. FASO Featured Artists (FFA) is a regular blog series on FineArtViews. Art critic Brian Sherwin is a consultant for the FFA series. The FFA selections are featured prominently on the FineArtViews newsletter -- and are shared with over 25,541+ subscribers. You can read about other recent FASO Featured Artists by clicking here.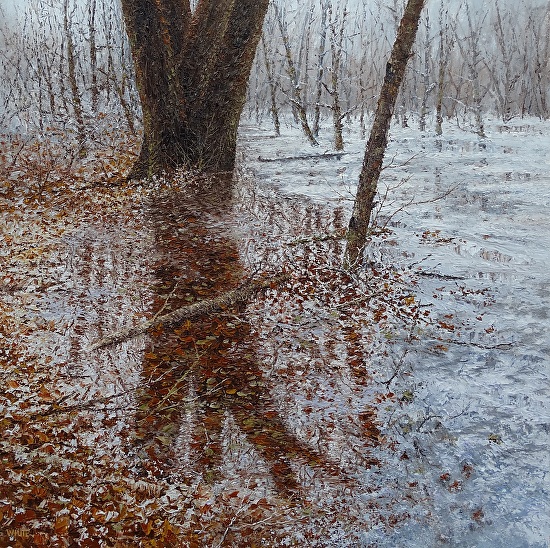 Winter Reflections by artist Steven White
(Oil)
Steven White describes himself as being a self-taught artist. Steven has gained acclaim for his traditional landscape paintings. He has noted that rural Pennsylvania farms, the Adirondack Mountains and Schuylkill River Heritage areas serve as a source of inspiration for his paintings.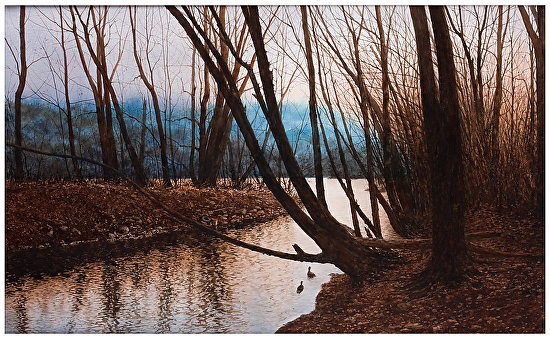 Journey by artist Steven White
(Watercolor)
Concerning his landscape paintings, Steven has said, "My paintings are primarily landscapes done in oil or transparent watercolor. I have always been emotionally drawn to render scenes and events where I live. My attachment to the outdoors motivates me to record scenes as a way to preserve what I see disappearing."
Art critic Brian Sherwin, Editor of The Art Edge, offered some thoughts about artist Steven White's landscape paintings, stating, "The paintings I viewed, such as Crossover, are like moments caught in time. Several of Steven's paintings are strengthened by what I can only describe as a haunting quality... they serve as reminders of days past. In a sense, they offer a glimpse into the past -- that goes 10 fold if the viewer happens to have rural roots."
Sudden Light by artist Steven White
(Oil)
Artist Steven White is represented by Chadds Ford Gallery (click here for more gallery representation info). He is a Signature Member of the Pennsylvania Watercolor Society and Philadelphia Watercolor Society. You can learn more about artist Steven White and his landscape paintings by visiting www.stevenwhiteart.com.