This article is by Carrie Turner, editor of FineArtViews. During her tenure as editor, FineArtViews has been mentioned or referenced by The Huffington Post, MLive, WorldNetDaily (WND), artnet, COMPANY, American Artist Magazine, ArtBizBlog, The Abundant Artist, EmptyEasel and many other publications and blogs. FASO Featured Artists (FFA) is a regular blog series on FineArtViews. Art critic Brian Sherwin is a consultant for the FFA series. The FFA selections are featured prominently on the FineArtViews newsletter -- and are shared with over 25,528+ subscribers. You can read about other recent FASO Featured Artists by clicking here.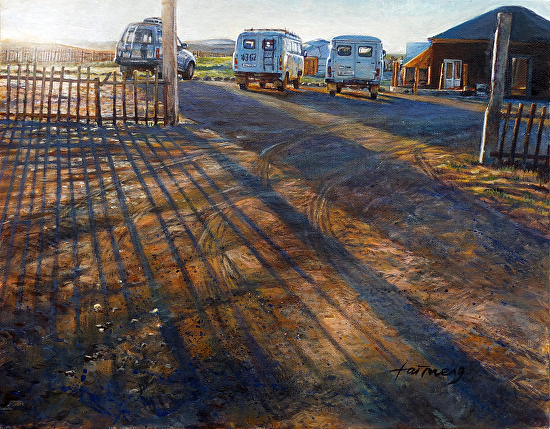 Contented Return by artist Tai-Meng Lim
(Acrylic on Panel)
Artist Tai-Meng Lim notes that he has long had a curiosity and passion for the arts. Tai-Meng's creative journey has spurred him to experiment with various mediums, techniques, and studio methods. His goal is to capture the essence and beauty of moments that inspire him.
Unlit Hopes by artist Tai-Meng Lim
(Oil on Panel)
Concerning his art, artist Tai-Meng Lim stated, "I understand that there are unlimited possibilities as well as endless variations that can be explored throughout my journey as an artist and the creative process that comes with it. I tirelessly play with various techniques to produce and bring to reality my concepts and ideas." He added, "Nothing would be of greater joy to me than to be able to convey through my work that 'There is art in nature, and nature in art'."
Art critic Brian Sherwin, Editor of The Art Edge, commented on Tai-Meng's acrylic and oil paintings, saying, "Tai-Meng reveals the complex -- yet simplistic -- beauty of life. My statement may seem like a contradiction... but as we all know, life is combination of the two. When viewing a field one may notice a burst of light upon a blade of grass -- yet a shadow may be observed nearby. Life is filled with these juxtapositions. In a sense, Tai-Meng captures that harmony with paint."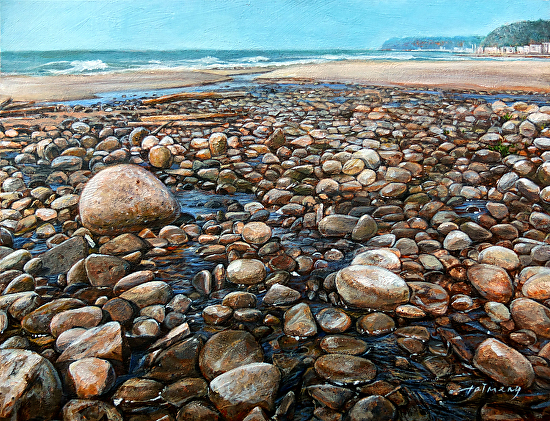 Sand and Stones by artist Tai-Meng Lim
(Acrylic on Panel)
Artist Tai-Meng Lim graduated from the Malaysian Institute of Art in 1997. You can learn more about Tai-Meng Lim and his art by visiting www.taimenglim.fineartstudioonline.com.