This article is by Carrie Turner, editor of FineArtViews. During her tenure as editor, FineArtViews has been mentioned or referenced by The Huffington Post, MLive, WorldNetDaily (WND), artnet, COMPANY, American Artist Magazine, ArtBizBlog, The Abundant Artist, EmptyEasel and many other publications and blogs. FASO Featured Artists (FFA) is a regular blog series on FineArtViews. Art critic Brian Sherwin is a consultant for the FFA series. The FFA selections are featured prominently on the FineArtViews newsletter -- and are shared with over 25,632+ subscribers. You can read about other recent FASO Featured Artists by clicking here.
Wallflower by Ardith Starostka
(Oil on Linen mounted on panel)
Artist Ardith Starostka is known for her extraordinary realistic style. Ardith works primarily with oils, however, she is also an accomplished watercolor and pastel painter. Her body of work reveals a keen eye for detail.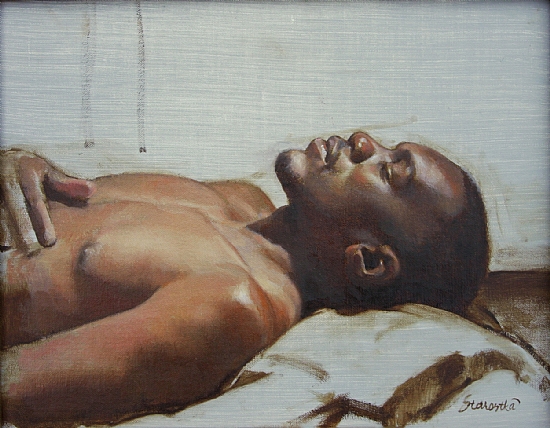 TG Resting by Ardith Starostka
(Oil on Linen mounted on panel)
Ardith notes that figurative work and portraits are her main focus as an artist. She has said that her passion for capturing the human form started at a young age and that early interest in painting was nurtured by visits to art museums. Eventually, she studied with distinguished artists -- such as Richard Whitney and Nelson Shanks. We at FASO suggest that Ardith Starostka is a master in her own right.
Art critic Brian Sherwin, Editor of The Art Edge, commented on Ardith Starostka's paintings, stating, "I learned of artist Ardith Starostka after being introduced to her painting studies and drawings... all of which stand on their own as fantastic works of art. That said, I was blown away when I learned of her more polished work." Sherwin added, "Her paintings, such as Wallflower, are strengthened by her strong eye for intricate detail, her ability to capture emotion in her subject, and her use of visual narrative. She is definitely an artist to watch."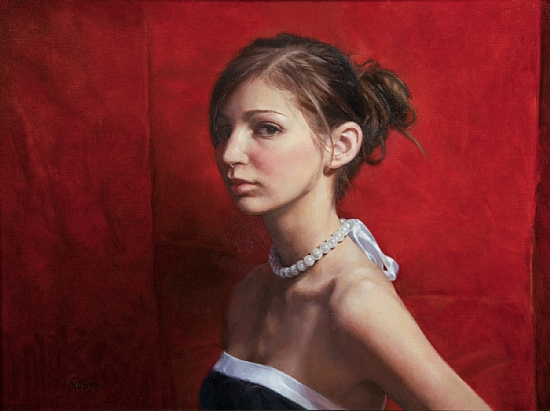 Pearl Necklace by Ardith Starostka
(Oil on Linen)
You can learn more about artist Ardith Starostka and her figure / portrait paintings by visiting www.starstudioarts.com.