This article is by Carrie Turner, editor of FineArtViews. During her tenure as editor, FineArtViews has been mentioned or referenced by The Huffington Post, MLive, WorldNetDaily (WND), artnet, COMPANY, American Artist Magazine, ArtBizBlog, The Abundant Artist, EmptyEasel and many other publications and blogs. FASO Featured Artists (FFA) is a regular blog series on FineArtViews. Art critic Brian Sherwin is a consultant for the FFA series. The FFA selections are featured prominently on the FineArtViews newsletter -- and are shared with over 25,632+ subscribers. You can read about other recent FASO Featured Artists by clicking here.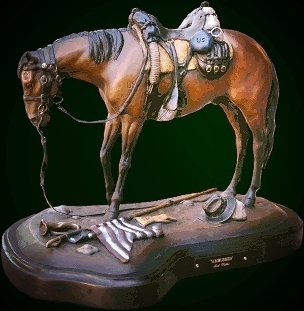 Ambushed by Jack Walker
(Bronze)
Artist Jack Walker has made a name for himself within the Western art scene. Jack's sculptures are reflections of his past experiences among cowboys and horsemen. He launched his art career in Scottsdale, Arizona and is currently a resident artist at the Bosque County Emporium in Clifton, Texas.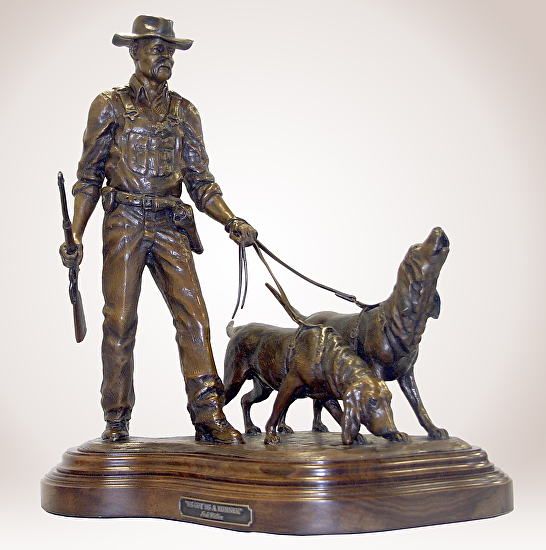 We Got Us A Runner by Jack Walker
(Bronze)
Artist Jack Walker notes that his life was redefined after a friend gave him a block of sculpting clay in 1999. Jack soon realized that he had passion and talent for sculpting lifelike figures that are based on ranch life. He sculpted figures of cowboys, horses and cattle with accurate detail. His wife, recognizing his skill, urged him to give up the physically demanding life of a cowboy in order to further develop and exhibit his sculptures -- launching a career that has helped to secure the legacy of a crucial page of US history.
Art critic Brian Sherwin commented on Jack Walker's bronze sculptures, stating, "Jack Walker's western bronzes are clearly strengthened by the direct experience he has had working with horses and cattle.". Sherwin added, "A lot of artists explore this direction with little to no ranch experience... the pages of western themed magazines are the closest they have been to horses and cattle. Jack Walker is the real deal. It shows in his work. The accuracy of his sculptures captures the memory of an artist who has truly 'been there'."
Midnight Acquisition by Jack Walker
(Bronze)
Artist Jack Walker has been featured in Southwest Art, Horses In Art, The Judges Choice and Western Horseman magazines. You can learn more about Jack Walker and his western bronze sculptures by visiting www.jackwalkerbronze.com.