This article is by Carrie Turner, editor of FineArtViews. During her tenure as editor, FineArtViews has been mentioned or referenced by The Huffington Post, MLive, WorldNetDaily (WND), artnet, COMPANY, American Artist Magazine, ArtBizBlog, The Abundant Artist, EmptyEasel and many other publications and blogs. FASO Featured Artists (FFA) is a regular blog series on FineArtViews. Art critic Brian Sherwin is a consultant for the FFA series. The FFA selections are featured prominently on the FineArtViews newsletter -- and are shared with over 25,632+ subscribers. You can read about other recent FASO Featured Artists by clicking here.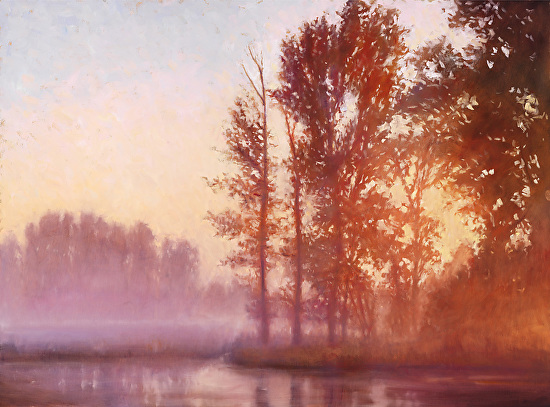 Misty Morning Memory by Michael Orwick
(Oil on Canvas)
Artist Michael Orwick states that he has always been inspired by the ability of landscapes to tell stories. Michael's landscape paintings -- specifically his Zenscapes series -- explore the pure beauty of nature. His landscape paintings are strengthened by his eye for negative space, reflections, and various aspects of minimalism found in nature.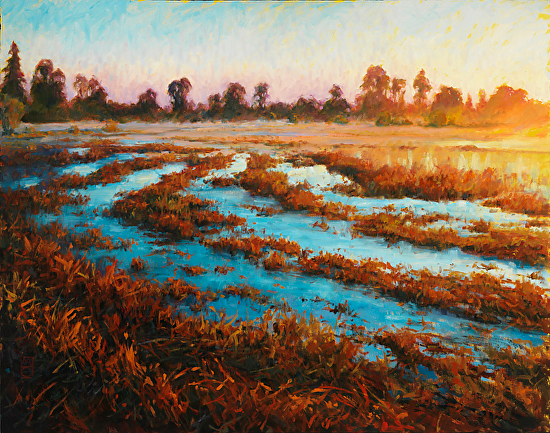 Sunrise by Michael Orwick
(Oil on Canvas)
Concerning his approach as a painter, artist Michael Orwick states, "I blend from a primary color palette, painting wet into wet and with layers, to both reveal and hide what lies behind; in this way I entice you into the painting." He adds, "I love it when people share the feeling and stories my paintings evoke. It is my sincere wish that you will want to revisit these beautiful locations and painterly stories again and again."
Art critic Brian Sherwin commented on artist Michael Orwick's landscape paintings, saying, "People often fail to acknowledge the connection between nature and abstract painting... Michael's work serves as a bridge toward understanding that connection." Sherwin added, "The work I viewed reveals a keen eye for forms and structures found in nature. Furthermore, Michael is gifted in the sense that he has a wonderful ability to express mood in a landscape painting -- establishing scenes that permit viewers to take an emotional, and dare I say, spiritual journey."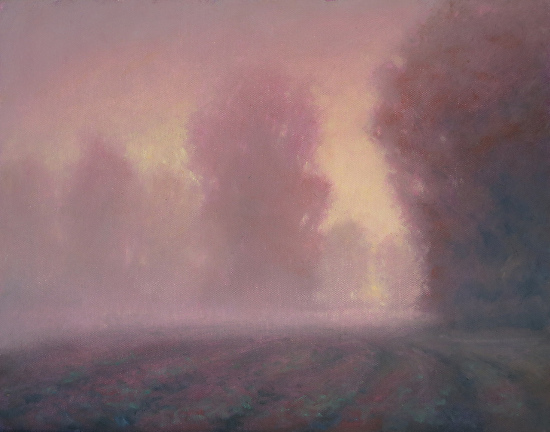 Foggy Morning by Michael Orwick
(Oil on Panel)
You can learn more about artist Michael Orwick and his landscape paintings by visiting www.michaelorwick.com.