This article is by Carrie Turner, editor of FineArtViews. During her tenure as editor, FineArtViews has been mentioned or referenced by The Huffington Post, MLive, WorldNetDaily (WND), artnet, COMPANY, American Artist Magazine, ArtBizBlog, The Abundant Artist, EmptyEasel and many other publications and blogs. FASO Featured Artists (FFA) is a regular blog series on FineArtViews. Art critic Brian Sherwin is a consultant for the FFA series. The FFA selections are featured prominently on the FineArtViews newsletter -- and are shared with over 25,632+ subscribers. You can read about other recent FASO Featured Artists by clicking here.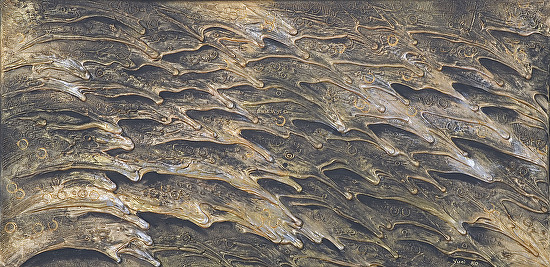 Together by Yuni Ko
Artist Yuni Ko notes that she has been focused on a series called The Flow. Concerning the series, she has said, "The Flow is a series of mixed media pieces. I express my feelings using gold ,silver and copper paints. This choice of color is very symbolic in that it is considered good luck in Asian culture, especially the gold." She adds, "These color choices also represent my father's over 30 years in the metal business and his research lab influences -- which inspired me to put all these metallic colors into my flow paintings."
Almost by Yuni Ko
Artist Yuni Ko has offered further thoughts about her Flow series, stating, "I hope the series will rekindle thoughts or memories of unique experiences in the lives of viewers. In life, we are sometimes challenged with the weakness of our mind, body and spirit. If we are fortunate, new opportunities arise and we cannot help but to feel liberated. A new chapter of life begins. This is the gift of life, to recognize that it flows." She adds, "The flow of life is something that we cannot stop or control; it is rather recognized and adopted as we live in it. This is the cycle of life....somehow, it flows and we move forward."
Art critic Brian Sherwin commented on The Flow series by artist Yuni Ko, "I admire the philosophy that Yuni Ko has meshed, if you will, into this series. The series reflects on her cultural heritage -- while also serving to explore her unique experiences... yet the movement of this series permits viewers to reflect upon their own experiences. In that sense, The Flow offers a philosophical and psychological feast for the eyes."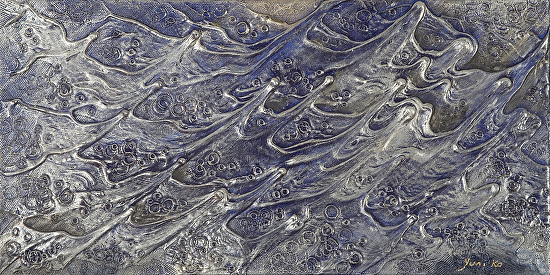 To The East by Yuni Ko
You can learn more about artist Yuni Ko by visiting www.artistyuni.fineartstudioonline.com.