This post is from our Informed Collector newsletter. If you would like to receive daily briefs about today's finest artists, visit InformedCollector.com for your free subscription.
Informed Collector Recommends:

Bill Davidson
TODAY:
Wednesday, December 11, 2013

Calm bodies of water nestled at the feet of majestic mountains emphasize the dynamic relationships in nature and ourselves.
---
Focal Point: Bill Davidson
Visit Bill Davidson's Canvoo Focal Point on the web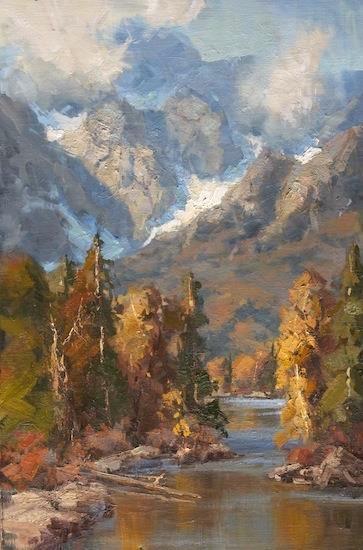 Calm bodies of water nestled at the feet of majestic mountains emphasize the dynamic relationships in nature and ourselves.

- Informed Collector


---
Artworks by Bill Davidson:
---

Other Web Pages with info about Bill Davidson

Bill Davidson's Main Artist Website

Overview:

Honored, Scottsdale Salon International 2013, Legacy Gallery


---
Biography
BILL DAVIDSON

Oil Painters of America, Signature Member

Plein Air Painters of Southeast

SELECTED EXHIBITIONS:

Scottsdale Salon of Fine Art 2011, 2012 and 2013 Shows

International Masters of Fine Art 2013, Greenhouse Gallery of Fine Art

2012 ,2013, and 2014 Western Visions Artist, National Wildlife Museum, Jackson Hole

BEST LANDSCAPE AWARD by Southwest Art Magazine Salon International 2011 Show

BEST LANDSCAPE AWARD, Judge Everett Kinstler, Greenhouse Gallery

Plein Air Rockies 2012 POSTER AWARD AND DIRECTORS GOLD MEDAL

Carmel Arts Festival 2011 juried paint out

Oil Painters of America 2013, 2012,2010,2009 2008,2007 and 2006 National Shows

Modern Maritime Masters 2010 , 2011, 2012 and 2013 Shows Mystic Seaport Maritime Gallery

Maritime Master Miniature Show 2009, 2010 , 2011, 2012 and 2013 Mystic Seaport Maritime Gallery

Mystic Seaport Maritime Gallery Invitational Paint Out and Show 2009, 2010 , 2011, 2012 and 2013

Salon International 2009, 2010, and 2011 Greenhouse Gallery

American Society of Marine Artists National Traveling Museum Show 2008-2009

Paint America 2008 Top 100, Top 200, 2 top Mini 100

Oil Painters of America 2006, 2007, 2009, Regional Shows

National Arts for the Park 2006 Top 100 Mini Show?National Arts for the Parks 2006 top 200

American Art Collector, Issues May 2009, Jan 2010, Feb 2010, May 2010 Western Art Collector, Issue Jan 2009


GALLERIES :

Anderson Fine Art Gallery, St Simons Island

Burton Gallery, clarkesville, Ga.

Greenhouse Gallery of Fine Art , San Antonio

Huff Harrington Fine Art, Atlanta

Legacy Gallery, Wy., Az.,& Mt.

Maritime Gallery at Mystic Seaport

Principle Gallery, Charleston



Workshops internationally and throughout the United States, approximately 8 per year