This post is from our Informed Collector newsletter. If you would like to receive daily briefs about today's finest artists, visit InformedCollector.com for your free subscription.
Informed Collector Recommends:

Stephanie Birdsall
TODAY:
Tuesday, December 10, 2013

Sophisticated representational work that resonates with deep passion.
---
Focal Point: Stephanie Birdsall
Visit Stephanie Birdsall's Canvoo Focal Point on the web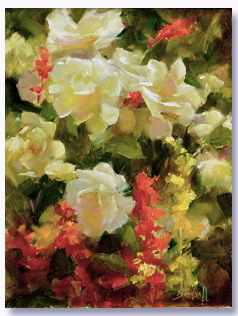 Sophisticated representational work that resonates with deep passion.

- Informed Collector


Quick Facts about Stephanie Birdsall:

* Year Born: 1952

* Teaching painting in France

* Teaching Oil Painting at the Scottsdale Artist's School

* Teaching Pastel Painting at the Pastel Society of America

* Price Range: $2,000.00 - $10,000.00

* Main Website: http://stephaniebirdsall.com

---
Artworks by Stephanie Birdsall:
---
The Artist Says:

I always paint from life. I believe it to be the ultimate in representational art because it is about real experience and demands the highest level of skill. When you paint from life, the subject, the environment and you interact as one together.


---

Other Web Pages with info about Stephanie Birdsall

Stephanie Birdsall's Main Artist Website



---
Biography
"I always paint from life. I believe it to be the ultimate in representational art because it is about real experience and demands the highest level of skill. When you paint from life, the subject, the environment and you interact as one together."

STEPHANIE BIRDSALL received her formal training at the City and Guilds of London Art School in England. After graduation she spent time traveling through Europe honing her skills as a plein air painter. Upon her return to the United States, Stephanie continued her study under several top artists including: Doug Dawson, Albert Handel, Ramon Kelly, and Frank Federico.

In 2006 Stephanie was invited to join a group of painters under the tutalage of renowned artist Richard Schmid. This opportunity gegan an intense focus and rapid growth. Painting for the last 8 years with Richard, and his wife Nancy Guzik and the others in this small group which has become known as the Putney Painters has provided inavluable support and insperation.

Her work has garnered recognition and more than 50 major awards in national and international juried exhibitions. She has exhibited at the Royal Academy Summer Exhibition in London, England, Bargemon in France and at the National Arts Club in New York. Among the awards she has received are Best in Show at the Bridgeport Museum of Arts and Science, the Grumbacher Gold Medallion Award, the Degas Pastel Society Exceptional Merit Award, the Connecticut Pastel Society Herman Margulies Award and the Catherine Lorillard Wolfe Art Club, John Manship Award. In 2004 her work was selected by the National Academy of the Arts for inclusion in the Arts for the Parks National Exhibition.

Stephanie and her work has been featured in popular publications such as International Artist Magazine, Southwest Art, Plein Air Magazine and The Pastel Journal. Public Broadcasting station WGCU aired a special on her work in June of 2005 as part of their "Expressions" television series.

Stephanie's work is among the permanent collections of the Museum of the Everglades, Everglades National Monument; Florida Museum of Art & Culture, The Florida State Art Collection at the Florida State Capital and The Sonoran Desert Museum in Tucson Arizona. Stephanie was honored with a succesful one-women show at the Florida Museum of Art and Culture in 2006.

Stephanie holds Signature Membership in The Pastel Society of America where she holds the designation of Master Pastelist, International Association of Pastel Societies where she is a Member of the Master's Circle, Oil Painter of America, Salmagundi Club NYC, Putney Painters, The National Association of Women Artists, and the The Rockey Mountain Plein Air Painters.

Stephanie is a distinguished workshop instructor. When not traveling on location to paint plein air, she spends her time working and teaching in her studio and gallery.

Her love affair with painting is well expressed by her words:
"I am constantly inspired by the beauty of this world, each moment is precious, infused with feeling and worthy of recording. I paint the moment. The instant a subject captures my attention; it is etched in my mind. Whether I am plein air painting in the Rockies or in my studio, I work to convey the feeling of the moment. My life and soul are dedicated to art and I have been blessed with the freedom to live my life as an artist. There has never been anything else I wanted to be or do."

REPRESENTED BY:
ILLUME GALLERY OF FINE ART Salt Lake City UT 801-210-2853

LEGACY GALLERY Scottsdale AZ 480-945-1113

SAKS GALLERY Denver CO 302-333-4144

SUSAN POWELL FINE ART Madison CT 203-318-0616

WHISTLE PIK GALLERIES Fredericksburg TX 800-999-0820






---
Workshops:
2. Alla Prima in Pastel(622)
Au Coeur Academy
4/8/2014-4/12/2014
In this workshop, Stephanie will teach you to master your pastels, using a palette of color based on Richard Schmid's famous color charts. Using a limited palette of pastels designed especially for her by the well-known pastel company, Holbein, you will discover how to get the most out of you materials (Stephanie's Holbein kit is available. Purchasing information will be made available upon registration). You will also have opportunities to work with soft colors to create flowers, sky, and grass - so bring your favorite soft pastels along, too. This workshop will focus on seeing correct values, descriptive edges, and atmosphere. Stephanie will also teach you how to incorporate under-paintings, and explore various ways of starting a painting.
Workshop will be held from 9 AM to 4 PM, Wednesday, April 9th to Friday, April 11th. Participation in all Celebration events, including Welcome Reception, "The Sound of Charleston Concert," Friday Night Special Event, Saturday Group Paint Out & Wet Paint Exhibition, and Au Coeur Online Exhibition is included. Lunch is included during the 3-day workshop and as part of the Saturday Paint Out. Workshop space is limited to 16 participants, so we suggest you register soon.
Itinerary
April 8 - Tuesday Night
April 9 - Wednesday
April 10 - Thursday
April 11 - Friday
April 12 - Saturday
Morning – Paint Out in the Gardens!

Lunch - Low country Specialty Buffet in the Pavilion

Wet Paint Exhibition

Participants Invited to Participate in online "Au Coeur Exhibition - Charleston, 2014"

Later Afternoon-Evening - Art Gallery Reception in Downtown Charleston
Accommodations recommended at The Inn at Middleton Place, space is limited so reserve early through Au Coeur Academy. For Inn at Middleton Place guests, a "healthy start" breakfast is included daily as well as admission to Middleton Place. Participants not staying at the Inn at Middleton Place will need to add $19.50 Middleton Place admission daily. Lunch is included daily for all participants. For more information, call 508.221.0064 or email info@aucoeuracademy.com.

Sheryll Reichwein(sheryll@cape.com)

3. Still Life, Pastel or Oil(400)
Edgemon Art Studio,16722 Stagecoach Rd, Gravett AR
4/29/2014-5/1/2014
Stephanie Birdsall, one of the Putney Painters, painting with Richard Schmid and Nancy Guzik, works in both oil and pastel and is often told that it is hard to tell them apart. She will be teaching a 3 day workshop in oil or pastel on April 29, 30 and May 1, 2014 from 9-4 at Edgmon Art Studio, 16722 Stagecoach Rd, Gravette, AR. Her limited pastel palette is based on Richard Schmids oil palette so her color combinations work in either medium. the focus will be on using different underpaintings and various ways to start a painting, and then work it to completion. Correct values, descriptive edges and atmosphere will also be an important part of this class. all of these contribute to a beautiful, successful painting. There will be time spent on composition, along with learning to simplify shapes in order to build strength in the painting. On April 28, Stephanie will be giving a Demo/Open discussion on her techniques. this is included in the class fee. Option 1 class fee is $400. the deadline to sign up for this workshop is April 1, 2014.

Susan Edgmon(info@edgmonart.com)

4. Painting France in Pastel or Oil(4700)
La Bonne Etoile Maison d'Artistes
5/18/2014-6/1/2014
Its about Painting in Pastel or Oil!!!! The focus will be on flowers in still life, the garden and en plein air. If you're not into flowers, there will be plenty of other things to paint. Stephanie is a member of the Putney Painters, founded by Richard Schmid and Nancy Guzik in Putney , Vt. There will be emphasis on beautiful clean color based on Richard's color charts , values and edges. Click below for link to information
http://www.labonneetoile.com/workshops/Birdsall2014.pdf
14 nights of lodging in an authentic French Farmhouse with on-location studio
All meals, drinks, and gratuities
All instructional sessions with Stephanie
Excursions to Paris and the medieval cities of Provins, Sens, Nogent sur Seine, Troyes, Fontainebleau, and more
A host from La Bonne Etoile will accompany your group for the duration of your stay
All ground transportation costs, including airport transfers, excursions, and shuttles to lodging for off-site guests
All admissions to museums and sites
Unlimited studio time with easels supplied
En plein air excursions in the beautiful French countryside
Internet access and access to laundry facilities
To enhance your workshop studies, in-home and restaurant dinners, the following excursions have been chosen to help you experience the local flavors of France.
Provins- The ancient fortified city of Provins sits atop a ridge overlooking the Seine valley and the Champagne chalklands, roughly equidistant from both Paris and Troyes. The town has a famous outline, dominated by a tower and the dome of Eglise St-Quiriace. Provins' role as an important center of commerce was confirmed in the 12C when it became one of the two capitals of the County of Champagne.

Troyes is a charming, medieval city. We will begin the day with a guided walking tour with an English-speaking tour guide. You have a choice to explore the numerous museums and churches in the ancient city or to sketch with Stephanie.

Paris - A one-day excursion to visit the Musée d'Orsay; shop on the Left Bank of the River Seine, at Sennelier a little shop that has provided supplies to artists for more than 100 years where Cezanne bought his oils & Picasso his gray pastels; and even some time to paint a Paris street scene.

Sens This rather small town was important well before Caesar came to Gaul. The Cathedral St-Etienne is Sens' outstanding glory. Begun before 1140 it is the oldest of the great Gothic cathedrals and the attached museum houses the most outstanding Gallo-Roman collection in France.
And much, much more!!

With a maximum 11 participants, double occupancy, there will be plenty of time for personalized instruction to take your painting to the next level. Open to artists of all experience levels, even beginners.

Kippy Hammond(kristina@labonneetoile.com)