This article is by Carrie Turner, editor of FineArtViews. During her tenure as editor, FineArtViews has been mentioned or referenced by The Huffington Post, MLive, WorldNetDaily (WND), artnet, COMPANY, American Artist Magazine, ArtBizBlog, The Abundant Artist, EmptyEasel and many other publications and blogs. FASO Featured Artists (FFA) is a regular blog series on FineArtViews. Art critic Brian Sherwin is a consultant for the FFA series. The FFA selections are featured prominently on the FineArtViews newsletter -- and are shared with over 25,445+ subscribers. You can read about other recent FASO Featured Artists by clicking here.
A Long Lunch by Shirley Fachilla
(Oil on Linen)
Artist Shirley Fachilla often works wet-on-wet -- finishing her oil paintings in one session. Shirley explores a number of subjects within the context of her painting practice. Her paintings, be it a figure painting or landscape, reveals the essence of time... capturing a moment that pleases the eye.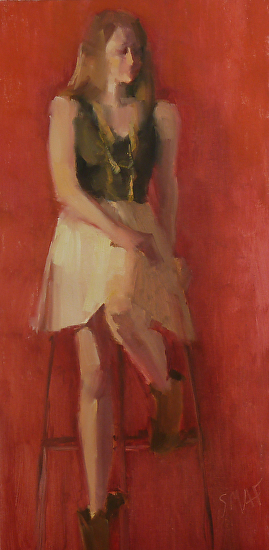 Against the Red by Shirley Fachilla
(Oil)
Concerning her work, artist Shirley Fachilla has remarked, "I enjoy painting from life both when working with a model and when painting landscapes. I am lucky to live in Middle Tennessee, where extraordinary subjects wait for me around every corner." She adds, "In my painting, whatever the ostensible, and quite often very ordinary, subject, I attempt to find and show the beauty and the mystery that surrounds us, every one of us each and every day."
Art critic Brian Sherwin commented on artist Shirley Fachilla's paintings, stating, "Of the work I've viewed... I would describe Shirley Fachilla's paintings as visual whispers that express moments that have passed. A fleeting glimpse of a conversation... a moment of concern or joy -- Shirley captures the essence of moments that surround us."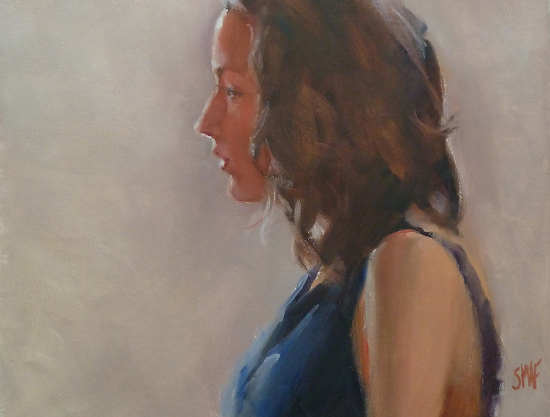 The Tenderness of Youth by Shirley Fachilla
(Oil on Linen)
You can learn more about artist Shirley Fachilla by visiting www.shirleyfachilla.com.