This post is by guest author, Ruth Soller. This article has been edited and published with the author's permission. You should submit an article and share your views as a guest author by clicking here. We've promoted this post to feature status because it provides great value to the FineArtViews community. If you want your blog posts listed in the FineArtViews newsletter with the possibility of being republished to our 25,000+ subscribers, consider blogging with FASO Artist Websites. This author's views are entirely her own and may not always reflect the views of BoldBrush, Inc.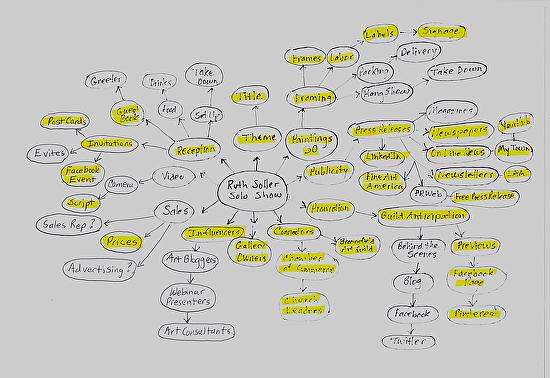 Behind the Scenes
If you have been invited to present a solo exhibition of your artwork, you may relate to my feeling of overwhelm at the number of tasks neccessary to produce a first-rate show. I'd like to share with you how I corralled my runaway thoughts into a manageable order. Mind mapping is a form of brainstorming which I studied in the book How to Think Like Leonardo da Vinci by Michael J. Gelb. The benefit of this process is that you allow both sides of your brain to function together while thinking creatively.
Using a large sheet of paper, begin in the center with your main concept which you wish to explore or your key problem which you wish to solve. Allow your mind to suggest main ideas or steps which naturally flow from your main concept or problem. Place these categories as channels or bubbles flowing outward from the central idea. In order to achieve each of these categories, you will likely require smaller steps or sub-categories. Continue to draw arrows out from each category to its subcategories. Proceed with this until you think that you have covered all elements which will be needed to complete your project or solve your problem.
Make your map as simple or as elaborate as you desire by using drawings, colors, or varying scripts. Remember, the purpose of the mind map is not to create an aesthetic illustration but to organize all of your rambling thoughts and concerns about your project on one diagram. You will feel your confusion and anxiety drift away as you realize that you now can begin productive work, knowing that nothing will slip through the cracks. If you think of additional points later, simply add them in the appropriate section of your mind map.
The image above is my example which I created in order to manage the production on my solo exhibition. I chose to highlight tasks as I tackled them; so that I could see at a glance what needed to be done next. In general, I began at the top center of the mind map by deciding on the theme and title of my show. I was able to start here because I had already completed a large number of paintings and needed to narrow them down for a cohesive theme. I engaged my husband and son in selecting a title for the show with the prerequisite that I prefer descriptive titles which I think aids visability in search engines.
Once the theme, title, and paintings had been selected I worked mostly clockwise around my map, keeping in mind any deadlines which I scheduled on my calendar. Next, I focused on the most physically demanding chore of framing my works. Since my venue is local I was able to take photos of the walls in the gallery and to use my limited Photoshop skills to virtually place my paintings in the gallery. I wrote press releases and submitted them to newspapers, newsletters, and online newsletters. I designed and ordered large postcards from VistaPrint.com with a printed invitation to my artist reception and mailed them to collectors, galleries, media contacts, friends, family and acquantances. I posted my show invitation on my social media and wrote an article for my monthly artist e-newsletter.
Share in the comments how you plan for a solo exhibition? How have you found mind mapping helpful?
------------------------------------------------------------------
Editor's Note: You can view Ruth's original post here.