This article is by Carrie Turner, editor of FineArtViews. During her tenure as editor, FineArtViews has been mentioned or referenced by The Huffington Post, MLive, WorldNetDaily (WND), artnet, COMPANY, American Artist Magazine, ArtBizBlog, The Abundant Artist, EmptyEasel and many other publications and blogs. FASO Featured Artists (FFA) is a regular blog series on FineArtViews. Art critic Brian Sherwin is a consultant for the FFA series. The FFA selections are featured prominently on the FineArtViews newsletter -- and are shared with over 25,354+ subscribers. You can read about other recent FASO Featured Artists by clicking here.
Twilight Melody by Takayuki Harada
(Oil on Canvas)
Artist Takayuki Harada is a rising master of drawing and painting. He notes that he is primarily a self-taught artist - having focused on Japanese literature during his academic years. His devotion to literature is reflected by the powerful visual narratives that are present in his paintings. As suggested by Informed Collector, Takayuki Harada's paintings evoke a special introspective moment - delighting viewers with soft and gentle lighting.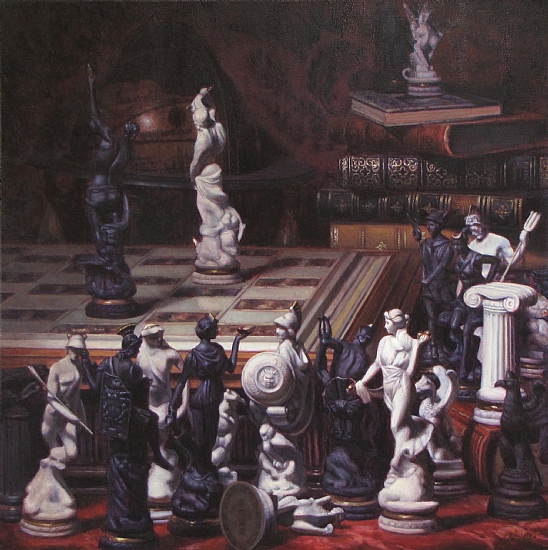 Greek And Roman, Game Of The God by Takayuki Harada
(Oil on Canvas)
Concerning his development as an artist, artist Takayuki Harada has said, "I was attracted to impressionistic painting in my twenties. As I visited many museums in my early thirties, I was deeply impressed by the beauty of the classical painting, especially the Italian Renaissance painting in which I observed such skillful drawing techniques. At that time I understood very clearly that in order to master painting, I had to first study drawing seriously. For two years I studied only drawing, not working with paint at all this time." He adds, "Now my paintings contain accuracy through the academic drawing skills yet have bright impressionistic colors found in modern paintings. Strong design and vivid color get the viewer's attention. Detail combined with accurate drawing keeps them in front of my paintings."
Art critic Brian Sherwin commented on artist Takayuki Harada's paintings, stating, "Takayuki Harada combines the classical elegance of painting with a contemporary twist. In a sense, his figure paintings offer viewers an open-narrative that is strengthened by his thought-provoking use of lighting." Sherwin added, "These paintings, such as Twilight Melody and A Tranquil Moment, beckon viewers to build upon the sensual mystery that Takayuki Harada has provided."
A Tranquil Moment by Takayuki Harada
(Oil)
Artist Takayuki Harada has been involved with Gallery 1870, Greenhouse Gallery, and Petroglyphe Gallery. You can learn more about Takayuki Harada and his paintings by visiting www.takayukiharada.com.