This article is by Clint Watson, former art gallery owner/director/salesperson and founder of FineArtViews. You should follow Clint on Twitter here or sign up for his newsletter here.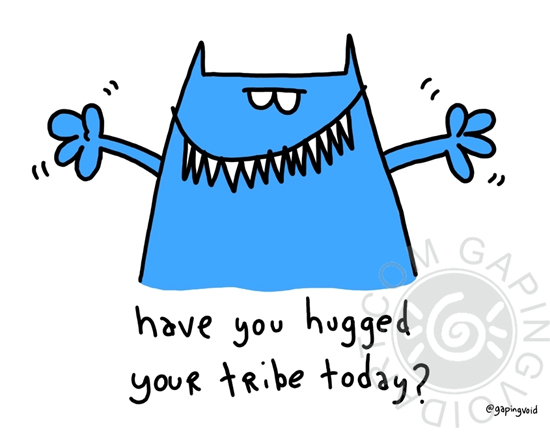 Image courtesy Hugh MacLeod, Gaping Void. [1]
Perhaps the following question haunts you:
How do I find new customers?
Do you monitor worry about your website's traffic? Do you encourage beg people to "like" you on Facebook? [2] Do you wonder if hope search engine marketing will ride in on a white horse and hand you new buyers?
On the surface, worrying about those things seems logical. More traffic = more sales. Right? Wrong. Wrong. Wrong.
Listen, you don't have to beg. Instead, do what we tell artists over...and over...and over: focus on your existing fans. No matter how small your newsletter list is... start using it. No matter how few collectors you have... hug them, reward them, communicate with them.
Think about what Seth Godin wrote:
If you've got an idea or you're working in marketing, the temptation is to seek out and evangelize those that 'don't get it,' to find and sell to the skeptics. In fact, real change comes from finding and embracing and connecting and amplifying those that are inclined to like you and believe in you. Ideas spread from person to person, not so much from you to them. So find your biggest fans and give them a story to tell. [source]
Your existing fans are how your message... your art.... will spread and amplify.
Your existing fans are your marketing department.
Treat them accordingly.
Clint Watson
FASO Founder, Software Craftsman, Art Fanatic
*********
[1] Image courtesy Hugh MacLeod, Gaping Void. [source]
[2] Seriously is there any other word other than "begging" to describe the following in my Facebook notifications?
"Artist Name has invited you to like Artist Name".
---------------------------------------------------------------
Editor's Note: You can view Clint's original post here.