This post is from our Informed Collector newsletter. If you would like to receive daily briefs about today's finest artists, visit InformedCollector.com for your free subscription.
Informed Collector Recommends:

Ingrid E. Albrecht
TODAY:
Wednesday, January 23, 2013

The integration of the exotic and the sublime. Albrecht's paintings take us to a world beyond that of everyday, ordinary life, touching a place deep inside our soul.
---
COLLECTOR ALERT
CHICAGO FOG
by Ingrid E. Albrecht (shown below) was selected as Outstanding Watercolor in the November 2012 BoldBrush Painting Competition.
---
---
Focal Point: Ingrid E. Albrecht
Visit Ingrid E. Albrecht's Canvoo Focal Point on the web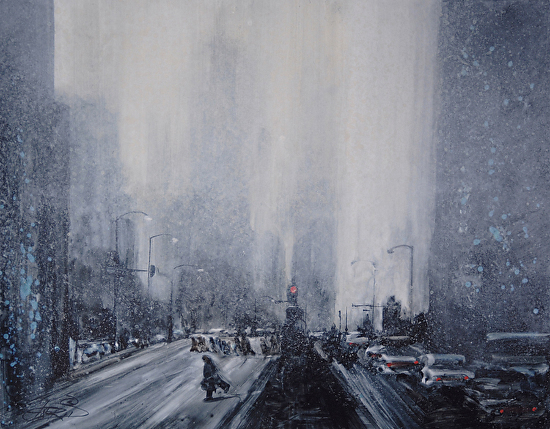 The integration of the exotic and the sublime. Albrecht's paintings take us to a world beyond that of everyday, ordinary life, touching a place deep inside our soul.

- Informed Collector


---
Artworks by Ingrid E. Albrecht:


---

Other Web Pages with info about Ingrid E. Albrecht

Ingrid E. Albrecht's Main Artist Website

CHICAGO IL INFO


---
Overview:

NEWS: Ingrid will be showing work in the 146th International AMERICAN WATERCOLOR SOCIETY Exhibition held in New York City in April 2013! More to follow!


On my website site you will find many paintings created in various mediums and subject matter. Some paintings are painted in watercolor on watercolor paper, on YUPO, on textured watercolor paper, but the paintings I am most passionate about are those created in mixed water media on canvas and handmade paper, depicting the ancient global rock writings, known as petroglyphs and pictographs. These disappearing images are fragile and have fallen victim, often times, to looting, vandalism, and weathering from the elements. I have documented many of these writings from Hawaii, Australia, Africa, China and the USA. It is through my paintings that I hope to evoke a connection to this vanishing distant past.

"When I create, it is my desire to evoke a connection to the viewers of my work, to have them experience the emotional excitement I feel at the time I pick up the brush." Ingrid



---
Biography

My Grandmother Dequisne placed a stick of pastel in my four-year-old hands so that I could paint alongside her, and unknowingly started me on the path toward a career in art.

Today, my most persistent inspiration comes from the rock writing I have seen during my travels in the Southwestern United States, Hawaii, and Central to South America, Australia, Africa and China. Mysterious petroglyphs and pictographs are universal and meaningful symbols written on the rocks by people who have long since disappeared.

Art is my vehicle for preserving the last remaining traces of this ancient visual language that is, literally, an endangered species. When I replicate the authentic pictographs and petroglyphs I have seen in my mixed media creations on paper or canvas, I feel a relationship with the archaic artists who originally pecked them on stone or painted them on cave walls.

Prior to becoming an artist, I taught school for fifteen years. Four years in Argentina plus one year each in Costa Rica and the jungles of Guatemala left me with a residue of beautiful imagery and a deep fondness for the native people of those countries. After teaching nine more years in Elgin, Illinois schools, I enrolled in the American Academy of Art in Chicago where I graduated with a fine arts degree in 1988. Since then I have developed a contemporary, expressive style.

I create my work on various surfaces: some seem stone-like, others are on handmade paper, while others are on canvas. Their irregular edges and textural qualities suggest the cave walls and rocks on which aboriginal artists left their designs. In addition to my work with the ancient rock art, I also create paintings dealing with how weather and light affect the mood of shapes found in cityscapes, landscapes and bodies of water. I love to explore unique painting surfaces that can replicate the effects of these changing and subtle visual patterns. With special attention to light and dark patterns, I express my passion for subject matter that I have directly experienced. My work is meant to have heart. If the viewer enjoys my paintings as much as I enjoy creating them, I have accomplished my goal of evoking connections. To evoke connections is also to teach. In my art, I have synthesized my deepest commitments.

My hope is to encourage respect and appreciation for the fragile treasure of rock writing that links us to a shared, distant past. Although some of these images are easily interpreted, others remain unknown, waiting for the insight of someone who can bring us to their full meaning. Perhaps one of my paintings will provide the key, a Rosetta stone for the future.

EDUCATION
Fine Arts Degree, American Academy of Art
MA Southern Illinois University
BS Southern Illinois University

TEACHING
Palette and Chisel Academy of Fine Art, Chicago, IL
Northwestern University, Norris Mini Courses
Beijing Educational Institute, China
Latin School, Chicago, IL
International Workshops: Eleuthera, Bahamas; Tuscany, Italy
Peninsula Art School, Door County, WI
Channing Memorial School, Elgin, IL
El Estor, Guatemala for EXMIBAL
Lincoln School, San Jose, Costa Rica
Lincoln School, Buenos Aires, Argentina

MEMBERSHIPS
American Watercolor Society, Associate Member
National Watercolor Society, Associate Member
Illinois Watercolor Society, Signature Member, Life Member
Transparent Watercolor Society of America, Life Member
Palette and Chisel Academy of Fine Art
Chicago Artists Coalition
National Museum of Women in the Arts, Charter Member

SELECTED GROUP EXHIBITIONS
Ingrid's Originals Gallery
Cool Globes: Hot Ideas for a Cooler Planet
New York International Art Expo, New York, NY
Gallery Northwest, Palatine, IL
Cows On Parade, Chicago, IL
Midwest Pastel Society
Dellora Norris Cultural Arts Center, St. Charles, IL
Georgia Watercolor Society, Albany Museum of Art, Albany, GA
Illinois Watercolor Society
Palette and Chisel Academy of Fine Art, Chicago, IL
International Miniature Exhibition, Toronto, Canada
Bottger Mansion Gallery, Albuquerque, NM


SELECTED SOLO EXHIBITIONS
Ingrid's Originals Gallery, Chicago, IL
Arms Akimbo Gallery, Chicago, IL
American West Gallery, Chicago, IL
The Tavern Club, Chicago, IL
Artist's Cove Gallery, Elgin, IL
Santa Fe Style Gallery, Madison, WI
The Body Politic Theater, Chicago, IL

PUBLICATIONS ABOUT THE ARTIST
American Artist Magazine, Watercolor 90
Fox Valley Living, 1992
Chicago Tribune, Arts & Entertainment, 1996


SELECTED COLLECTIONS
SmithAmundson, Chicago, IL
Levin Riback Law Group, P.C., Chicago
Bank One, Chicago, IL
McCormick Museum Cantigny, Wheaton, IL
IBM Corporate Building, Chicago, IL
Freeborn & Peters Law Firm, Chicago, IL
Kenosha Museum, Kenosha, WI
Lincoln Park Zoological Society, Chicago, IL
Jane Goodall,U.S.Headquarters Jane Goodall Institute, Silver Springs, MD
H.R.H. Prince Charles, London, England
Bill Cody, (grandson of Buffalo Bill Cody) Cody, WY
Tim Wrightman (former Chicago Bear player, NFL Championship Team)
Mayor Obed T. Mlaba, Durban, South Africa

SELECTED AWARDS

Illinois Watercolor Society National Small Waters Exhibition Honorable Mention Award

Illinois Watercolor Society 28th National Exhibition Evelyn Ecale Schultz Creative Spirit Award

Illinois Watercolor Society 27th National Exhibition Dillman's Award

Illinois Watercolor Society National Small Waters Exhibition First Place Award

Illinois Watercolor Society Mayors Award

Watertown Arts Council Exhibit Best of Show Award

Watertown Arts Council Purchase Award

AAUW Art Showcase Best of Show Award

Rockford Area Artists Best of Show Award

Watertown Arts Council (25th Anniversary) Best of Show Award

Palette and Chisel Academy of Fine Arts Harriet Bitterly Award

Midwest Pastel Society National Exhibition First Place Award

Skokie Art Guild Exhibition The Dottie C. Martin Memorial Award

Rockford Area Artists Exhibition Best of Show Award


---
Upcoming Events and Exhibits
Creating ON Water Workshop
3729 N. Ravenswood Ave., Suite # 138, Chicago, IL
3/9/2013-3/10/2013
Creating ON Water is a unique process that combines science with art. The process involves floating an acrylic mixture on a 'specially' prepared bath and allows the artist to manipulate the paint into delightful shapes and compositions to be eventually printed. The images created are very unique to this process and can't be reproduced with a paint brush! I am offering this as a two-day extensive workshop. The tuition price includes some of the supplies, 12 hours of instruction, critiques, and workshop treats. Many of the final prints are FABULOUS works of art on their own, or they can be incorporated into other works of art at a later date.
This is TRULY a unique workshop that guarantees some FABULOUS results! Reserve your spot now because the space is limited to allow for plenty of room for working and all of those prints!
The hours for the workshop are from 9:00 AM - 4:00 pm, both Saturday and Sunday.

---------------------------------

CHICAGO SPRING WATERCOLOR CLASSES with INGRID
3729 N. Ravenswood Ave., Suite # 138, Chicago, IL
3/20/2013-5/8/2013
This eight-week course is designed for ALL levels of watercolor painters. Those who are new to watercolor painting will find Ingrid's patience and understanding of the learning process, from her previous teaching career, extremely valuable. Through her lectures, painting demonstrations, and personal attention to each student, the students will be exposed to the elements and principles of design, the importance of value relationships in painting, color mixing, how to plan a painting, along with the various interesting techniques used in watercolor to create unique painting results. Students will learn HOW TO EXPRESS instead of copying. Each class is followed by a class critique where students gain knowledge from the works of their fellow classmates. This is a FUN class where the FEAR of the blank paper disappears and everyone learns how to EXPRESS in paint!
Two Sessions:
WEDNESDAY AFTERNOON 1:00 PM - 4:00 PM
WEDNESDAY EVENING 6:30 PM - 9:30 PM
WHAT PAST STUDENTS HAVE SAID:
"AN ENTHUSISTIC and GENEROUS TEACHER!"
"I've really loved the classes and you are such an enthusiatic and generous teacher. You've awakened a real love for watercolor painting for me!" SK Chicago, IL
"A WONDERFUL EXPERIENCE"
"Ingrid was great. She shared her knowledge (and materials). She always had a lesson planned for class, but was flexible if a student had their own ideas. There were people in the class of all levels, and she made the class a learning experience for each one. The critique at the end of class was particularly helpful." Marsha, Elmhurst, IL
"GREAT WATERCOLOR PAINTING TEACHER & CLASSES"
"Ingrid Albrecht is both a gifted artist and a gifted teacher--and a very nice person to boot! From the first moment I entered I entered the class, Ingrid made me feel as welcome and valued as the students who regularly 're-up' with her every time she offers a new set of courses. It was great getting back into painting again, especially since the atmosphere in the class was so supportive. If you've been toying with the idea of picking up a paintbrush and trying your hand at watercolor painting, but feel a little shy about it, Ingrid's the perfect teacher. She concentrates on your strengths and celebrates every new skill that you've mastered. She gives you the straight 'skinny' on what you need to do to improve your work, but never makes you feel personally criticised or "less-than" anyone else. I highly recommend her classes! Jude M. Chicago, IL
"EXCELLENT TEACHER"
"Ingrid is an excellent teacher. She can focus on the level of an individual student to help them learn and grow to become a better painter. I particularly enjoyed learning the use of watercolor on different surfaces. She always challenges the student." Suzanne Kroeger