This article is by Brian Sherwin, regular contributing writer for FineArtViews. Brian Sherwin is an art critic, blogger, curator, artist and writer based near Chicago, Illinois. He has been published in Hi Fructose Magazine, Illinois Times, and other publications, and linked to by publications such as The Huffington Post, The Boston Globe, Juxtapoz Magazine, Deutsche Bank ArtMag, ARTLURKER, Myartspace, Blabbermouth, Milwaukee Journal Sentinel, Conservative Punk, Modern Art Obsession, Citizen LA, Shark Forum, Two Coats of Paint, Vandalog, COMPANY, artnet, WorldNetDaily (WND) and Art Fag City. If you want your blog posts listed in the FineArtViews newsletter with the possibility of being republished to our 22,000+ subscribers, consider blogging with FASO Artist Websites. Disclaimer: This author's views are entirely his/her own and may not reflect the views of BoldBrush, Inc.. You should submit an article and share your views as a guest author by clicking here.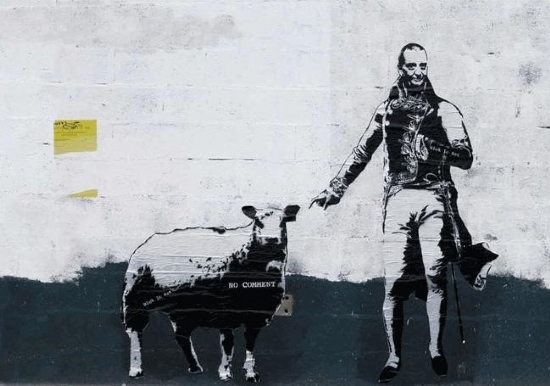 Blek le Rat "No Comment", Strasbourg 1987
The value of graffiti art has been a hot topic in recent years. In fact, many voices within the art world have suggested that any legal 'attack' on graffiti, in general, is an attack on the art world itself. Some feel that all forms of graffiti should be defended because major art museums have acknowledged a handful of graffiti artists -- thus, they feel that all graffiti works should be protected. Others view criticism against graffiti art -- even when graffiti is placed illegally on private property (homes, small businesses, etc.) -- as a form of censorship that should be openly challenged. There is a lot of false bravado to go around concerning the topic (I will explain later). All of the fuss and intellectual chest-thumping makes me wonder if graffiti art is worth defending.
I question whether or not graffiti is worth defending because it often appears that graffiti has become little more than a selfish act -- there is no 'greater message' to speak of within the context of the majority of the works we find on the streets today. This is a problem because historically / traditionally graffiti art has been utilized in order to spread social messages -- this direction in art has long offered a voice to communities (specifically minority communities) that would otherwise not be heard. That, in my opinion, is what makes graffiti as a form of art significant. If that connection is lost... the value of graffiti as an art form is lost as well.
With the above in mind, a lot of recent graffiti (and other forms of street art) has become more focused on 'the self'... the broader message has been exchanged by a hunger for fame and fortune. It has been shaped into a high-end art market outlet rather than an authentic declaration of struggle and call for change. It has become an 'In' rather than a cause-fueled movement, if you will.
I'll say it... because I know art critics who pander to the whims of the high profile corners of the art world won't (they need to please their ad buyers, right?) -- that being, the graffiti / street artists championed today in our museums and galleries tend to be the children of white doctors and realtors (example: Shepard Fairey) -- they tend to come from affluent backgrounds... art school degree in hand. Perhaps their work focuses on 'the self' (even when supporting causes) because they have never truly faced social struggles -- and always had a 'bail out' in the forms of daddy's wallet? Food for thought.
It is no wonder that many street artists, such as The Phantom Street Artist (Joey Krebs), view this direction as a 'rape of culture' -- the exploitation of the real voices of the streets. After all, the big art institutions -- and high profile art galleries, for that matter -- did not pay much attention until the art form became 'comfortably white'. They did not take graffiti seriously until it included a roster of white names, white backgrounds, and white faces. In that sense, the recent institutional critique of graffiti as an art form is a form of sabotage in my opinion -- conveniently erasing a longstanding tradition embraced by poor, often minority, communities. It is institutional manipulation of history AND culture.
I interviewed Blek le Rat for FineArtViews in 2011 (click here to read the interview). Blek is known worldwide for his stencil graffiti. He is considered by many to be the Father of Stencil Graffiti. Point-blank, Blek le Rat knows graffiti / street art -- and has explored it as an art form long before the likes of Shepard Fairey, Banksy, and others who are championed by institutional critique. He and I discussed the state of graffiti / street art today. The interview forced me to consider that perhaps we, the art community, are defending the current direction of graffiti (and other forms of street art that museums have championed) for the wrong reasons.
Problem #1: The direction of institutionally critiqued graffiti art has continued to be fueled by self-serving hype and art market power players. Many artists now view graffiti as an 'In' rather than a 'voice'.
A View of the Problem: As Blek le Rat described it, "Street art is more recognized today than thirty years ago. Although I am not sure that this is a good thing. It doesn't depend on the institutions or the audience -- but on the artists.". He added, "If there are ten thousand pseudo-street artists whose only aim is to get fame and money it is going to be difficult. But if there are talented people who have a true message and choose to share this on the walls, then street art is heading for good days.".
Problem #2: Institutional hype leads to 'bigness' that lacks 'bite'. As art critic Jerry Saltz has pointed out about the art world itself, bigger is not always better. Yet we continue to see market-minded / celebrity embracing graffiti artists, such as SABER, create works that are clearly spurred by the need to be seen by the powers that be within the high profile art world. The focus appears to be about bringing attention back to the 'self' (with money and marketability in mind) rather than social causes (though social causes may be exploited for the purpose) or distributing an authentic message born from the streets.
A View of the Problem: Blek le Rat offered some more thoughts on the problems facing graffiti art -- and other forms of street art -- stating, "One of the negative outcomes today is, in my opinion, the trend of some artists to produce huge big, gigantic frescoes and paste ups which are out of human scale.". He added, "These artists use the urban space to express their megalomaniac desire, but don't care about the impact of art in public space. I believe street art has to be human, on the scale of the eyes of the passers-by.".
Is there a solution? Is there a way to place the focus back on authentic messages that are 'screamed' on the streets in the form of graffiti -- specifically the visual social messages explored in minority communities? I hope so. BUT I don't think the solution will be found in our major art institutions anytime soon. They are too busy 'whitewashing' the history of graffiti art in the United States with marketability in mind. Our major art institutions / museums have become too focused on the high profile art market rather than preserving / documenting authentic cultural growth -- and they apparently don't care if culture (specifically minority culture) is exploited in the process. Yet people continue to use institutional critique as a defense for graffiti. I, for one, think that we need to see graffiti return to its roots. That is worth defending -- worth exploring.
Art critic Hrag Vartanian, of Hyperallergic, has suggested that graffiti art, in general, has value because major art museums have finally acknowledged it as a form of art. Thus, Hrag would likely suggest that removal of graffiti art is an 'attack' on the art world. I take that position because he has also suggested the same of the videos games -- stating, "With the institutional stamp of approval by MoMA and other museums, video games are being firmly established as part of the art world." And added, "Any attack on the integrity of video games is something that should concern the art world in its entirety". Hrag is quick to stamp himself as a slave of institutional critique.
Oddly enough, Hrag Vartanian – who openly supported the Obama campaign in 2008 and 2012 -- has remained silent on the fact that Vice President Biden recently pressed the video game industry over the assumed connection between violent videos games and school shootings. Gamasutra reports that Biden said the following to members of the video gaming industry during a meeting about gun violence legislation: "Though you had the Supreme Court ruling go your way... just because you have that on your side doesn't mean you have public opinion on your side.". Additionally, Hrag Vartanian has remained silent concerning State Sen. Leland Yee (D- Calif.) -- who has long been a thorn in the video gaming industries side. Vartanian appears to lack the courage of his convictions -- at least when it comes to speaking out against politicians involved with the political party he supports.
I mention the above because it presents another problem facing graffiti art and the art world in general. Point-blank, the likes of Hrag Vartanian are quick to beat their intellectual chest over controversial issues... but all the chest-thumping tends to result in little to no action when it comes down to the line. This is an example of the false bravado I mentioned earlier. Hrag, like so many 'loud' voices in the art world, chooses his battles selectively -- even if it comes at the cost of his integrity being tattered. His opinion, and the same can be said of the institutional critique he references, tends to be nothing more than a facade. Graffiti art -- and the same can be said of art in general -- deserves more than a paper-tiger defense that is market / gimmick fueled.
The irony of the current direction of graffiti art is that graffiti art traditionally champions the poor (specifically minorities)... it has long been the voice of the poor -- yet the majority hailed in our museums as 'the greatest graffiti artists of our time!" have never heard that voice. They have not experienced those struggles OR had a choice to escape it -- flirted with it out of curiosity... knowing they had another 'home' to return to. They were not forced to live it, if you will. Most of these 'greats' only know how to market the struggles of others for personal gain. Defending them is like defending a lie. Our museums need to dig deeper -- until that happens their critique is not a valid defense of graffiti art.
In closing, I would suggest that the current direction in graffiti art -- at least the institutionally critiqued version -- can be described as a selfish act. It is a thirst for fame and fortune, rather than a tool for facilitating real change... it is a market ploy rather than a tool for exposing social struggles -- a chunk of culture reduced to a mere gimmick. I refuse to defend that. I won't. Consider this an open debate about the current state of graffiti art.
Take care, Stay true,
Brian Sherwin