This article is by Carrie Turner, editor of FineArtViews. During her tenure as editor, FineArtViews has been mentioned or referenced by The Huffington Post, WorldNetDaily (WND), artnet, COMPANY, American Artist Magazine, ArtBizBlog, The Abundant Artist, EmptyEasel and many other publications and blogs. You should submit an article and share your views as a guest author by clicking here.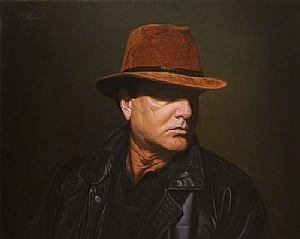 Incognito by Gary J. Hernandez
(Oil on Canvas)
Gary J. Hernandez is an award winning artist specializing in representational art with an emphasis on the human figure. Hernandez is the owner and Principle Instructor of The Gary J. Hernandez School of Fine Art.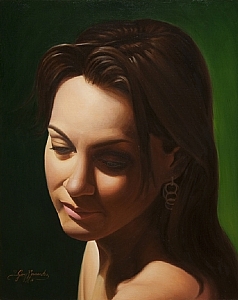 Muse II by Gary J. Hernandez
(Oil on Panel)
Artist Gary J. Hernandez has stressed that he strives to dispel the myth of what it means to be an artist who happens to be Hispanic. As his wife, Josie Hernandez, has stated, "When people see Gary they ask him: 'Do you do murals?' Well, not every Hispanic artist does murals." Hernandez describes his art focus as classical realism with an emphasis on color, figurative work and landscape. He notes that his style defies what he describes as the "Hispanic artist label".
Art critic Brian Sherwin commented on the impact of Hernandez's opinion concerning the 'Hispanic artist label', saying, "If you follow my art writing you know that I'm wary of how labels – such as gender labels and racial labels – are used within the art world to categorize artists. Labels can easily box an artist in professionally... they can become a form of discrimination." Sherwin added, "I must applaud Gary J. Hernandez for boldly stating that he is more than a label. You can't place an artist like Hernandez in a box."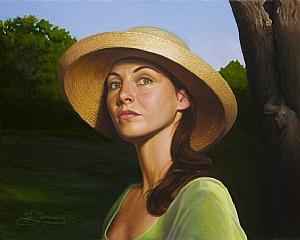 A Warm Gaze by Gary J. Hernandez
(Oil on Panel)
Artist Gary J. Hernandez has been involved with several art organizations: He has served as President of the Art League of Houston and as Board Member of the Visual Arts Alliance. Additionally, Hernandez is an Associate Member of the International Guild of Realism and the Oil Painters of America. You can learn more about artist Gary J. Hernandez and his artwork by visiting www.garyhernandezstudio.com.