This post is by guest author, Tim Breaux. This article has been edited and published with the author's permission. You should submit an article and share your views as a guest author by clicking here. We've promoted this post to feature status because it provides great value to the FineArtViews community. If you want your blog posts listed in the FineArtViews newsletter with the possibility of being republished to our 20,000+ subscribers, consider blogging with FASO Artist Websites. This author's views are entirely his own and may not always reflect the views of BoldBrush, Inc.
Artists often encounter problems with value confusion that is manifested as light values in dark areas or dark values in light areas. This revelation might occur at a workshop when the teacher suggests "Paint your trees as a mass, not as things. You are painting things." Of course, that is what we do! Or maybe we finish a painting and decide that it just does not have that elusive quality that more accomplished artists find so seemingly easy! There are a few factors that I have struggled to understand and will try to explain that will help artists get beyond this problem.
Artists use many contrasts in their arsenal to communicate ideas including varied edges, color contrasts, temperature changes and light and dark opposition. To communicate clearly, artists often strive for effective value massing to simplify the message and to create interesting patterns. Value massing is the process of keeping areas of a painting within the same value family, usually lights, darks or mid tones. By varying the shapes and sizes of the areas, the artist can create interesting patterns of light and dark in an effort to make a compelling statement.
Why do artists fail at effective value massing? Usually, the simple answer is found in the shadows, especially whites or near whites in shadows. We tend to see them and paint them too light in value. The result is confused value massing which can detract from the expression we are intending. So what factors cause this?
First, as children we learn that roses are red and violets are blue. Later, as artists, we quickly learn that a red rose is many colors composed of differing wave lengths that the brain recognizes as a red rose. We also learn that under a warm light shadows tend to be bluer in color. A red rose, therefore, would take on a darker, bluer tint resulting in purple. In this case, you can take a dark value color and add another dark value color (red and blue) and stay in the dark value family. Add a little yellow and/or white to the red and you bump it up into the higher value "light" family. Piece of cake right? Then one day an instructor suggests that you place that reddish blue rose in shadow on a white plate... in shadow.
How do you paint a white plate, a very light value, in a dark value mass? After all, we were taught that white is white, right? That is a struggle that probably all artists face and the problem is one of both value and color. It is just much harder for the brain to understand that a white plate in shadow can have almost every color on the palette except white. Eventually, we come to understand that the white plate is probably blueish and a little of every color around it reflecting onto it. Possibly an instructor or a fellow painter eventually suggests "Just paint what you see." That makes sense. But the problems of ineffective value massing persists, why? Is it an illusion?
The next problem deals with color constancy. Color constancy is the subjective perception by the brain that allows it to perceive the color of an object regardless of the illumination. Therefore, the brain sees the plate referenced above in shadow with all of its reflected colors and it tells the brain.... WHITE! White is light in value and we tend to paint it or any of its representative colors lighter, closer to white. The brain is constantly taking in color and value data and perceiving the plate which the brain normally registers as white. It reminds me of driving in a foreign country where you drive on the other side of the road. The brain keeps telling you that the other side is much safer!
The worst issue working against us, in my opinion, is what I call the value illusion. This illusion is related to the concept of lightness constancy. Lightness constancy is the ability of the brain to recognize objects or colors of objects based on relative illumination reflectance or reflectance ratios. This allows us to identify a white square in shadow as white even though it is much darker than a white square in sunlight. It also allows us to identify a black square in sunlight as black even though it is much lighter than a black square in shadow. This principle is essential for the brain to identify objects across a wide field of illumination and it works very well. So where does the value illusion occur?
The problem for artists starts when we are faced with multiple fields of illumination within the same visual field. Lets use a black and white Rubiks cube for example. A white square surrounded by black squares in shadow still registers as white and "lighter". A black square surrounded by white squares in sunlight still registers as black and "darker". We now have two logical data sets that inform us that white is lighter and black is darker. The problem is that reflectance ratios don't apply to objects within different illumination fields such as comparing the single black square in light to the single white square in shadow. In this situation the brain falls back on the data sets that makes sense... black is darker than white. The brain identifies the single black square as darker than the single white square, but this is an illusion!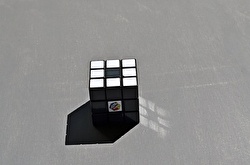 In the Rubiks Cube photograph the white squares in sunlight have a relative value = 1. The single black square in the middle of the white squares has a relative value = 5. The black squares in shadow have a relative value = 9. The single white square surrounded by the black squares has a relative value = 5. Which square looks lighter to you... the single black or single white square?
------------------------------------------------------------------
Editor's Note: You can view Tim's original post here.