This article is by Carrie Turner, editor of FineArtViews. During her tenure as editor, FineArtViews has been mentioned or referenced by The Huffington Post, WorldNetDaily (WND), artnet, COMPANY, American Artist Magazine, ArtBizBlog, The Abundant Artist, EmptyEasel and many other publications and blogs. You should submit an article and share your views as a guest author by clicking here.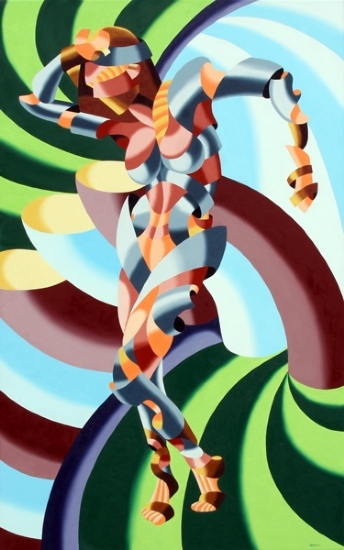 Felicia 0701 by Mark Adam Webster
(Oil on Canvas)
Mark Adam Webster is an award-winning artist deeply inspired by cubism and futurism. Concerning his focus, Webster has stated, "I wanted to convey the depth of motion of the human figure, landscape, or still life both active and at rest. The result became a form of sculptural abstract imagery of not only the subject itself, but rather the time and space that it occupies in a single moment, or several single moments reducing the form into less complicated shapes."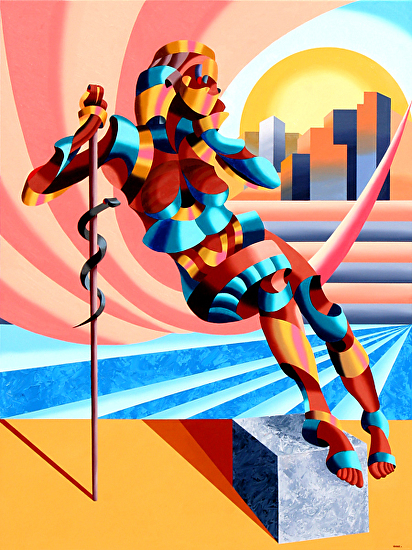 Cleopatra Modern by Mark Adam Webster
(Oil and Acrylic (mixed media) on Canvas)
Concerning his direction in art, Mark Adam Webster has stated, "I had studied a number of different artists' styles and ultimately started dabbling in cubism and futurism. I found that I wanted to paint like Umberto Boccioni sculpted. I particularly enjoyed the sculpture "Unique Forms of Continuity in Space". Webster adds, "Over time I have fused these ideas as well as several other styles into my own style of painting which is not really cubism, and not exactly futurism, but these descriptions will do for the time being."
Art critic Brian Sherwin stated the following about Mark Webster's paintings: "Mark Webster is the perfect example of how an artist can carry on traditions from the past ... and do so in ways that are relevant today." Sherwin added, "I enjoy seeing another example of new life offered to futurism."
Mandy on the Staircase by Mark Adam Webster
(Oil on Canvas)
You can learn more about artist Mark Adam Webster by visiting his website – www.markadamwebster.com