This post is from our Informed Collector newsletter. If you would like to receive daily briefs about today's finest artists, visit InformedCollector.com for your free subscription.
Informed Collector Recommends:

David Cheifetz
TODAY:
Thursday, July 05, 2012

Sensitive, dramatic lighting combined with his use of color and brush strokes create an expression of reverence in his luscious oil portraits and still lifes.
---
---
Focal Point: David Cheifetz
Visit David Cheifetz's Canvoo Focal Point on the web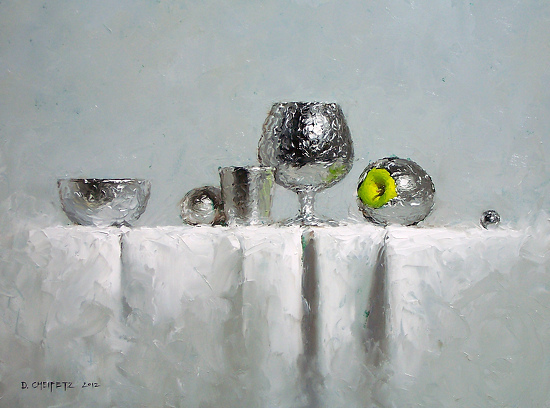 Sensitive, dramatic lighting combined with his use of color and brush strokes create an expression of reverence in his luscious oil portraits and still lifes.

- Informed Collector



---
---

Other Web Pages with info about David Cheifetz

David Cheifetz's Main Artist Website



---
Biography

David Cheifetz (pronounced "chay-fits" or "high-fits") was born in the Pacific Northwest in 1981. A former architect, David started learning to paint with oils in the fall of 2007 while attending the Schuler School of Fine Arts in Baltimore, and in 2009 made the transition to full-time artist. David currently lives in Palo Alto, CA with his wife, Yasmine.


Exhibitions, Awards, and Publications:

2012 Solo Show, R.S. Hanna Gallery 2012 "Waterfront" Group Show, Studio Gallery
2012 "City Streets" Group Show, Studio Gallery 2012 Oil Painters of America National Juried Exhibition, Evergreen Fine Art
2012 BoldBrush Painting Competition, May: 3rd place 2012 RayMar Art Painting Competition, May Finalist
2012 RayMar Art Painting Competition, March Finalist 2012 "Delicious" Group Show, Studio Gallery
2011 Informed Collector by Fine Art Views, November 21st
2011 Annual Holiday Small Works Show, Legacy Gallery
2011 Grand Opening, R.S. Hanna Gallery 2011 RayMar Art Painting Competition, August Finalist 2011 One-Man Show, Carmen's Gallery 2011 Oil Painters of America National Juried Exhibition, Devin Galleries
2011 Scottsdale Salon of Fine Art, The Legacy Gallery 2010 RayMar Art Painting Competition, October Finalist
2010 RayMar Art Annual Painting Competition, $1000 Finalist
2010 Southwest Art Magazine, 21 Under 31
2010 BoldBrush Painting Competition, July Finalist
2010 Salon International, Greenhouse Gallery, San Antonio TX
Honorable Mention for Artistic Excellence 2009 RayMar Art Painting Competition, November Finalist 2009 Artist's Magazine 26th Annual Competition, 1st Place Student Portrait 2009 Artist's Magazine 26th Annual Competition, 1st Place Student Still-life 2009 Interviewed by artist/author John Paul Thornton . 2009 Zoll Studio Student and Faculty Exhibit
2009 Foxhall Gallery Christmas Showcase
2009 Roby King Galleries Annual Invitational Miniature Show 2009 Informed Collector Newsletter, Issue #135, Issue #268
2009 American Artist Cover Competition , Finalist, June Issue
2008-2011 Schuler School of Fine Arts Annual and Holiday Exhibitions

Education:
Safehouse Atelier, Part-time/Evening Figure Drawing, January 2011-February 2012 David Leffel workshop at Zoll Studio, Timonium, MD, October 11-14 2011
Jeff Legg workshop at Zoll Studio, Timonium, MD, September 21-23 2009
Scott Powers workshop at Zoll Studio, Lutherville, MD, June 20-23 2008 Schuler School of Fine Arts , Fall 2007- Spring 2010 University of Washington, College of Architecture 1999-2004
BFA Architectural Studies, Minor in Landscape Studies
Study Abroad - Architecture in Rome, Autumn 2003
Recipient, Rolland Simpson Scholarship Award, 2003
Recipient, Robert Towne Scholarship Award, 2003



---
Upcoming Events and Exhibits

Oil Painters of America 21st Annual National Juried Exhibition of Traditional Oils
Evergreen Fine Art Gallery
6/22/2012-7/21/2012
Reception: 6/22/2012 (5pm to 8pm)


City Streets
STUDIO Gallery
7/11/2012-8/5/2012
Reception: 7/15/2012 (2pm-6pm)


Waterfront
STUDIO Gallery
8/8/2012-9/2/2012
Reception: 8/12/2012 (2pm-6pm)


Solo Show
R.S. Hanna Gallery
9/1/2012-9/30/2012
Reception: 9/7/2012 (First Friday Art Walk)


Tiny
STUDIO Gallery
11/1/2012-12/31/2012


Holiday Exhibition
Schuler School of Fine Arts
12/1/2012-12/6/2012
Reception: 12/2/2012



---

Other Web Pages David Cheifetz Recommends
(These pages are not necessarily about David Cheifetz)

ArtFrames.com

Carol Lee Thompson - Artist

David Buckley Good

Hans Guerin + Beth de Loiselle

Schuler School of Fine Arts

The Safehouse Atelier

Tom Foster Fine Art