This article is by Carrie Turner, editor of FineArtViews. During her tenure as editor, FineArtViews has been mentioned or referenced by The Huffington Post, WorldNetDaily (WND), artnet, COMPANY, American Artist Magazine, ArtBizBlog, The Abundant Artist, EmptyEasel and many other publications and blogs. You should submit an article and share your views as a guest author by clicking here.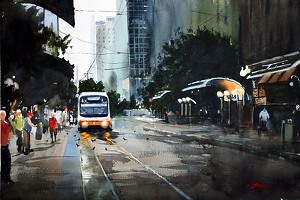 West End Depot- after the rain by Ron Bigony
(Watercolor and Gouache on Paper)
Artist Ron Bigony is known for creating scenes that are full of mood. Working primarily with watercolors and oils, Bigony captures the mysterious quality of what may otherwise be viewed as a typical landscape or cityscape scene. This is accomplished by Bigony's choice of values. For example, reviewers have noted Bigony's ability to capture the evanescent qualities of early morning light.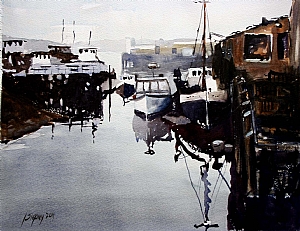 Boat Harbor Maine by Ron Bigony
(Watercolor and Gouache on Paper)
Concerning his approach to painting, Ron Bigony has stated, "I use high and low values in a painting in order to create a mood for the scene. Good composition and color are a must, but without the use of contrasting values, a painting becomes less visible and less noticed." Bigony has stated that he is moved by the details of a space -- be it a dilapidated barn, deserted farmhouse, or the presence of wildlife within a field.
Art critic Brian Sherwin commented on Ron Bigony's artwork, remarking, "I enjoy the way Bigony captures emotion in his scenes. The work I viewed allows the viewer to explore beyond the physical, if you will." Sherwin added, "For me... some of the scenes were haunting -- my imagination traveled down the streets and fields."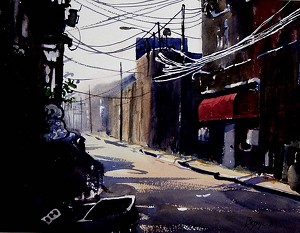 Bank Alley #2- Longview, Texas by Ron Bigony
(Watercolor on Paper)
Rob Bigony is affiliated with the American Watercolor Society, Southwest Watercolor Society, and Mt. Pleasant Art Society. Visit www.ronbigony.com if you would like to learn more about artist Ron Bigony.