This post is by Jack White, regular contributing writer for FineArtViews. Jack has enjoyed a forty-one year career as a successful fulltime artist and author. He has written for Professional Artist Magazine for 14 years and has six art marketing books published. In 1976 Jack was named the Official Artist of Texas. He has mentored hundreds of artists around the world. Jack authored seven Art Marketing books. The first, "Mystery of Making It", describes how he taught Mikki to paint and has sold over six million dollars worth of her art. You should submit an article and share your views as a guest author by clicking here.
I realize probably more than half of you reading this column care nothing for sports, but in truth, Inside Baseball is a metaphor rather than the nuts and bolts of how to hit the ball. The term has little to do with the game; rather, it's about technical matters concerning almost any industry. The words are typically applied to discussions of science, technology, entertainment and politics. I've included art. It's the 'inside stuff' outsiders don't understand. For example, a film critic may write a review using 'Inside Baseball' or movie jargon, information which regular movie goers would have little knowledge of or really even any interest. I want to give you a little 'inside art' on how we close such a high number of sales when Mikki is able to speak with the potential client.
The last eleven times one of Senkarik's art gallery sales people have called asking Mikki to speak with the prospect, they have made sales 100 percent of the time working as a team. In the past sixty days, four different galleries have taken advantage of using Mikki to help them close a sale. Our biggest challenge was getting those selling Senkariks to put the prospect on the phone with Mikki. I'm not sure of the reason why more gallery folks don't take advantage of this teamwork. Perhaps they think they don't need any help or are not comfortable phoning us and then handing the receiver to the prospect. All they need to do is say, "Mikki is on the line and she would love to say hello." Then hand the receiver to the prospect. It's so very simple and, the best part is, the system works.
One couple was thinking about a smaller piece until they got on the phone with Mikki. They ended up buying three. Another client was interested in one, but ordered two commissions. It's dreamlike for the art buyer to actually get to speak with the artist.
My fellow artists, you are missing a great opportunity during these slow times to add sales. There is something magical about the prospect speaking with the artist. You can hear the nervousness in their voices. They say things like, "I can't believe I'm talking with you." A common theme among the comments Mikki hears is, "I never thought I would get to talk with the artist. Your paintings are so happy. I love your use of color. You paint with so much texture. I'd like to walk into your painting and just relax."
Christian Reese Lawson's Gallery on Maui invites potential clients to have dinner with him at his home on the side of the mountain. If we lived near one of our major art galleries I would hire a chef to cater dinners for our potential clients. Christian Reese Lawson has earned a small fortune having dinner with his future clients. I would bet my boots - my best boots - they close 95 percent of those who dine with him. Contact with the artist is powerful.
Here is a little 'Inside Baseball' on Team Senkarik. I'm pulling back the curtain so you can see our secret weapon. I taught an extremely introverted young lady how to sell. It's the goal of every coach to see his student surpass him. I can say with certainty Mikki is a better salesperson than me and I've written a book on selling art. She has one advantage I don't, she is female. People grow up trusting mother. All women have a head start on selling, because they are not facing the trust issue. I have to first get the prospect to trust me, women begin at that level. Look at my photo, is that a face you can trust? (Smile)
Let me make sure you understand this point, Mikki doesn't sell the prospects. She listens and is interested in them. She talks about their wants and needs, giving them direction. There's no hocus-pocus or slick trick pulled to make the people buy. She doesn't have any clever words or unique messages. Her goal is to make the future client feel so warm inside they will want to take home that exceptional sensation. When I use the word sell I'm really saying, giving the prospect permission to own the art. Trust me; it took a lot of coaxing to get our galleries to let Mikki get involved. You may not succeed on your first try, but keep on, the effort will pay off.
The purpose of this article is to persuade you on the importance of the potential client getting to spend a few minutes on the phone with the artist. If I owned an art gallery I would ask all of my artists to be willing to help by saying a few words to those interested in their work. On second thought...I do know a few artists I'd have to pass on, they have zero personalities.
When the phone rings, I'm normally the one to answer. I spend a lot of time writing my books and the telephone is next to the computer. I hand the receiver to Mikki. Her first words are, "Who am I speaking with?"
They answer, "Betty Jo Smothers."
Next Mikki asks, "Betty Jo, where are you guys from?"
The follow up question usually has to do with their occupation. I hear Mikki ask, "What do you guys do in Portland?"
In between a few more little warm up questions, Mikki makes sure to tell them that this is FUN. By then it's clear to the prospect there will be no pressure on our end. From the beginning, we want them to have a memorable experience.
Some place early in the conversation Mikki asks, "What is your email address?" Then she follows up with, "While I have you on the phone, let me get your mailing address and phone number. I'd love to add you to our mailing list." We try to never let a prospect off the phone without asking for their contact information. Just in case the gallery doesn't get the information, we can follow up. All too often, good prospects slip out of the gallery without giving any contact information. Trust me; that will never happen with the galleries on Maui. They are sharks. They hang onto your leg as you try to get out the door. Other than closing the immediate sale, the second most important thing a gallery can do is to get the prospect's vital information.
Artists doing studio shows, fairs and outdoor events also need to know the importance of getting contact information. We closed a commission last year after eleven follow up contacts over several months. Mikki is working on two commissions for a Member of Team Senkarik that has taken six follow up contacts on our end.
Let's get back to the conversation on the phone with the potential client. Note at this point, nothing has been said about the art. After the prospect gives Mikki a little history and she has obtained their vital info, she asks, "Which pieces of my work are you interested in?" Note the subtle use of pieces, plural. At that point Mikki listens to the prospect talk. Many times the prospect will say, "This is our first time to even think about buying art, I'm not sure we can afford your work."
When the money issue is injected Mikki asks an editorial question, "Betty Jo, what is a comfortable budget for you guys?" Or she might say, "What have you budgeted for art?" Then the phone goes silent as the prospect pauses. Mikki doesn't jump in and rescue the prospect, she remains silent. Finally the prospect will say, "We were thinking about $3,000. We have kids in college." Or any number of other reasons.
Mikki will usually answer, "The piece you are looking at is just a little more. If you would like to buy the art and make payments, we will let you take the painting home now and begin to enjoy it while you finish clearing the balance."
We have discovered this is one of the most impressive things Mikki does. Many, many times the prospect tells the sales person they were so impressed that we trusted them, they purchased the art and paid in full at the time of the transaction. We have never lost any money on payouts. We did have one couple take sixteen months to pay for their piece, but since then, they have purchased four more.
Betty Jo says she needs to speak with her husband. Sometimes Mikki will be talking to the husband and he wants to speak with his wife. We use the same approach if the prospect is man or woman. Mikki will say, "Betty Jo, is Billy Bob nearby? I would love to just say HI to him."
She responds, "Oh yes, he is right here." Mikki can hear them talking in the background. Billy Bob gets on the phone and says, "Hi Mikki. What is the best you can do?"
Unfortunately, this is especially prevalent in today's market. Some art galleries are marking art up so they can give bigger discounts. In New Orleans many galleries have signs at the door, "40 percent off everything." Then they end up selling the art at half price. The truth is the art has already been marked way up. Art loses value in the eyes of the collector when they get such deep discounts. In their minds, they are wondering how much lower they could have gotten the art if they had driven a hard bargain.
When things like that happen Mikki answers with an editorial question, "What do you folks have in mind?"
"We were thinking $3,200 is about as high as we can go."
"Billy Bob, I don't think we can give that much of a savings, but we can make you honorary Members of Team Senkarik. This will allow us to automatically give you a 10 percent savings." Notice we use the term Savings, not discount.
Billy Bob comes back with an answer, "Let us think about it."
Rather than giving in Mikki asks, "What do I need to explain better? I know you both love that piece. We are going to let you take the painting home and make payments that are comfortable for your budget. We trust you. Also, I'll instruct the gallery person (we name them) to let you take a copy of my big tabletop book with you. I'll mail you a personalized book plate when you get home." The idea is not to give in to his escape attempt. Billy Bob wants permission to leave rather than make a decision. He is getting ready to ask the salesperson, "Do you have a card?" The moment the salesperson hands them a card Betty Jo and Billy Bob feel they are free and will say, "We'll be back." There is a big black hole just outside the front door of the gallery all of the "be backs" fall in. That's the last you will ever see of them.
After a pause Mikki softly asks, "What would be a comfortable monthly payment for you?"
95 percent of the time the answer will be, "We will just pay the full amount. We don't like to make payments."
Mikki responds with enthusiasm, "Well, Welcome to Team Senkarik. It's really been fun visiting with you. If you are ever down in our part of the country please stop by the studio so we can give you a hug. I'm so pleased you have added one of my paintings to your collection. Before you hang up please let me speak to the salesperson so I can make sure they give you our tabletop book and know the price we worked out. I'll personalize a book plate and stick it in the mail tomorrow."
The conversation is pretty much the same with commissions, or collaborations as we like to call them. The only difference is Mikki also tells the client, "I take your ideas and wants and will make them into the perfect piece for you. I'll do a pen and ink sketch, email it to you and when it has your total approval I will do your original painting. I'll show the entire step by step process on my blog. You'll feel like you are in our studio as I paint. We are going to have so much fun."
Every sale is different but basically Mikki gives them all a warm welcome and does a lot of laughing. Her main objective is for the potential client to connect with her and build a bond. She wants them to feel like they are friends. By making the call all about the desires of the potential client, most of the time the word potential is eliminated. We just call them clients.
------------------------------------------------------------------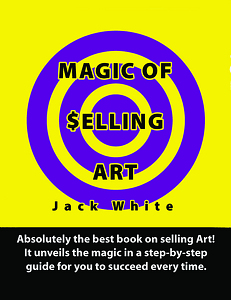 Click here to purchase your copy of Jack White's book, Magic of $elling Art.