This article is by Carrie Turner, editor of FineArtViews. During her tenure as editor, FineArtViews has been mentioned or referenced by The Huffington Post, WorldNetDaily (WND), artnet, COMPANY, American Artist Magazine, ArtBizBlog, The Abundant Artist, EmptyEasel and many other publications and blogs. You should submit an article and share your views as a guest author by clicking here.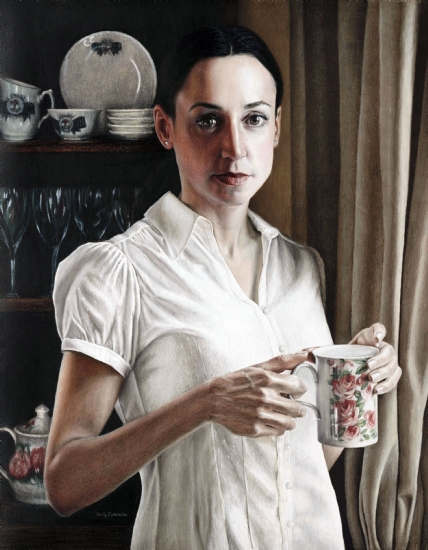 Self Portrait with Tea by Holly Bedrosian
(Colored Pencil)
Holly Bedrosian is an award-winning portrait artist known for utilizing oil and pastel -- but she primarily works with colored pencil. Concerning her use of colored pencil, Bedrosian has stated, "As soon as I tried colored pencil, I was hooked." She focuses on realistic portraits and figurative fine art.

Sanguine Expectation by Holly Bedrosian
(Colored Pencil on Sanded Paper)
Bedrosian is a self-taught artist. She studied physics in college and worked as an engineer for over a decade. During those years she nurtured her love for creating art. She now focuses on her art full-time. Concerning her background in science, Bedrosian has stated, "The sciences are not that different from the fine arts, requiring methodical processes and rigorous attention to detail." Bedrosian's attention to detail is captured in every mark that she makes.
Art critic Brian Sherwin commented on Holly Bedrosian's art, stating, "When I first viewed Bedrosian's 'Sanguine Expectation' I thought I was looking at a painting. I was delighted when I discovered that she created the piece with colored pencil." Sherwin added, "Holly's level of drawing skill is rare. Holly Bedrosian 'paints' with pencil."

Smile by Holly Bedrosian
(Colored Pencil on Sanded Paper)
Holly Bedrosian has stated that she has had an ongoing fascination with the form of the human face. Bedrosian explains, "I appreciate the intricate nature of the complex contours that comprise the face, but most of all I am passionate about how the parts come together as a whole to create a personality, character, and evoke the essence of the subject."
Bedrosian is involved with the Colored Pencil Society of America, The Portrait Society of America, and The International Guild of Realism. She is currently represented by Francesca Anderson Fine Art | Portraits North, 56 Adams Street in Lexington, MA.
Visit www.hollybedrosian.com to learn more about artist Holly Bedrosian.