This article is by Carrie Turner, editor of FineArtViews. During her tenure as editor, FineArtViews has been mentioned or referenced by The Huffington Post, WorldNetDaily (WND), artnet, COMPANY, American Artist Magazine, ArtBizBlog, The Abundant Artist, EmptyEasel and many other publications and blogs. You should submit an article and share your views as a guest author by clicking here.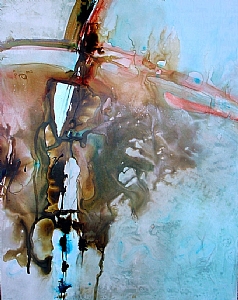 Microburst by Joyce Gabiou
Watercolor on Yupo


Joyce Gabiou is an award-winning artist known for creating powerful abstract paintings that often involve a highly intuitive process of mixed-media collage. Concerning her artwork, Gabiou stated, "My joy in painting comes from tuning into my inner being, sharing the core of myself and the creative process with the viewer, thereby creating a dialog between artist and viewer." She added, "I do this abstractly and non objectively, painting - collaging and mixing media as the process sees fit."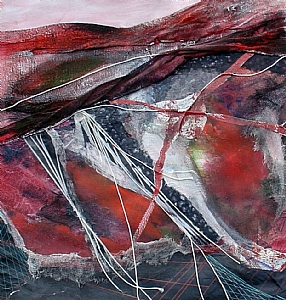 Infrastructure by Joyce Gabiou
Collage/Mixed Media on Paper


Artist Joyce Gabiou has stated the following about her artistic process and methods: "I love to use dry brush over textured formats. Most of my work is nonobjective. Meditation, Reiki, and studying magazines, galleries, museums and other artists are all important to my process. I use lost and found papers, rice paper, hand-painted papers, newsprint, watercolor paper or gallery wrapped canvas, along with glue and soft body acrylics in my collages." She addeed, "I work mainly by intuition and I sometimes texturize the surface of the paper before applying paint."
Art critic Brian Sherwin commented on Joyce Gabiou's art, stating, "Gabiou's artwork is powerful. I happen to be a fan of texture in art... and her work offers that and so much more. Several of the works I viewed offer the perfect balance between being bold and soft -- they come together well.". Sherwin added, "Her methods are solid. I'm truly impressed."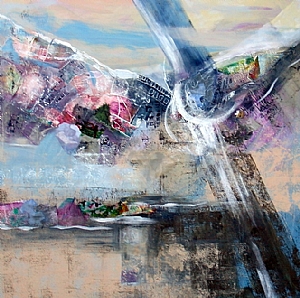 Gloria Who? By Joyce Gabiou
Collage/Mixed Media on Canvas


Joyce Gabiou has been published in Watercolor Artist Magazine. She has been involved with exhibits at the Atlantic Beach Center for the Arts, Cultural Center of Ponte Vedra Beach, and the Museum of Contemporary Art, Jacksonville. To learn more about Joyce or view more art, please visit http://joycegabiou.com/.