This article is by Carrie Turner, editor of FineArtViews. During her tenure as editor, FineArtViews has been mentioned or referenced by The Huffington Post, WorldNetDaily (WND), artnet, COMPANY, American Artist Magazine, ArtBizBlog, The Abundant Artist, EmptyEasel and many other publications and blogs. You should submit an article and share your views as a guest author by clicking here.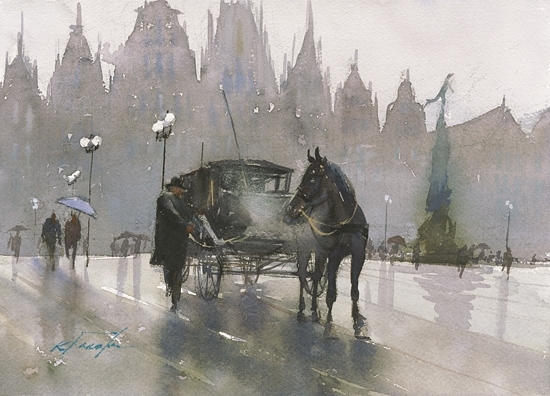 Antwerp, Belgium I by Keiko Tanabe
Watercolor on Paper
8 1/4 x 11 1/2 inches (21 x 29 cm)
Artist Keiko Tanabe has established a strong reputation for creating captivating watercolor cityscapes and landscapes. Her award-winning watercolor paintings are known for their unique balance of soft and powerful brushstrokes. Viewers have described Tanabe's watercolor paintings as having a "soothing and inviting effect".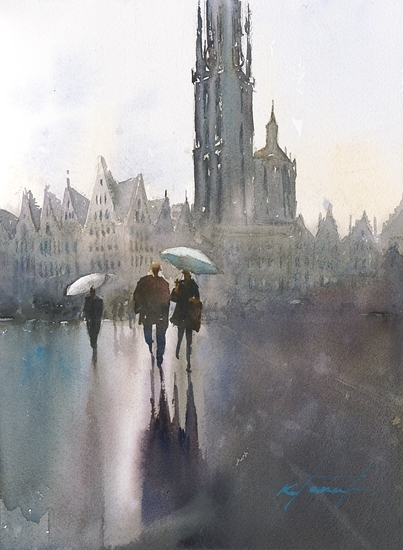 Antwerp, Belgium IV by Keiko Tanabe
Watercolor on Paper
11 1/2 x 8 1/4 inches (29 x 21 cm)
Art critic Brian Sherwin noted the "pleasantly haunting quality" of Keiko Tanabe's watercolor paintings, stating, "In a sense, Keiko's paintings can be interpreted as being caught somewhere between the 'physical' and the 'spiritual'. It is as if they are glimpses of who we are and where we have been." He added, "The inspiration for these paintings may be a scene from present day... but there is an underlining feeling that they are calling back to the past at the same time." Concerning her artwork, Keiko Tanabe has stated, "When I am true to my inspiration, my brushstrokes sometimes surprise me by exposing something of my inner spirit I was not even aware of."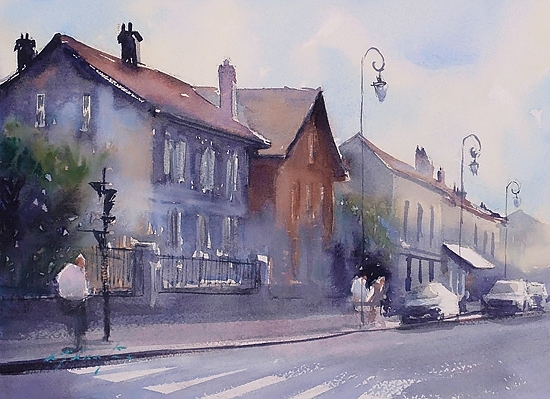 Auvers-sur-Oise, France III by Keiko Tanabe
Watercolor on Paper
8 1/4 x 11 1/2 inches (21 x 29 cm)
Keiko Tanabe is involved with the National Watercolor Society (signature member), the American Watercolor Society, the Japan Watercolor Society and is a founding member of North American Watercolor Artists (NAWA). Tanabe has been a recipient of the Merwin Altfeld Memorial Award and Edward & Gail Rogers Award. Examples of her artwork can be found in the permanent collections at Ye Qiangyu Art Museum and the Museu de Arte Contemporânea MAC Bahia.
Visit www.ktanabefineart.com to learn more about artist Keiko Tanabe.