This post is by Jack White, regular contributing writer for FineArtViews. Jack has enjoyed a forty-one year career as a successful fulltime artist and author. He has written for Professional Artist Magazine for 14 years and has six art marketing books published. In 1976 Jack was named the Official Artist of Texas. He has mentored hundreds of artists around the world. Jack authored six Art Marketing books. The first, "Mystery of Making It", describes how he taught Mikki to paint and has sold over six million dollars worth of her art. You should submit an article and share your views as a guest author by clicking here.
When I was in the eighth grade, my cousin and I spent our weekends during the school year out in the wilderness living off the land. We would leave when we got home from school late Friday and return Sunday night in time for supper. My uncle was a foreman on an 18,000 acre cattle ranch. There was plenty to explore, rivers and creeks were abundant with fish and all the wild game we could eat roamed the area.
On one of our trips we discovered a huge underground cave with a double entrance - much like a jug with two necks that extended from the ground level into a massive subterranean room. We lugged ropes to the cave, linked them together and then tied one end to a sturdy oak. I went first with the trusty candle. My cousin followed. The room must have been 60' x 80' with a 30' foot ceiling. We discovered broken pottery and arrowheads.
When it was time to go back up my cousin, being older, decided it would be better if I followed just in the event he had to pull me up. Looking back, I realize he was scared and pulled age rank on me. When I got to the rope, my light illuminated the space under the ledge. My eyes caught movement. I've never seen so many rattlesnakes in my life. The ground was covered with slithering killers and, as if on cue, they all began to rattle at the same moment. I guess the light woke them up. I have never been that scared before or since. I could almost feel them biting my legs as I scurried up the rope.
This is what I mean by appropriate fear. There are times when it's natural to have terror. I would have been brain dead not to have been frightened.
My uncle said the cavern had been the winter meeting place where the Comanche held council. I've always wondered if anyone else ever explored the big room. It was an archeologist's trove of historical evidence.
This is not original with me, but I've used the illustration many times. FEAR is False Evidence Appearing Real. Most of the things we fear will never happen. There are some wires in our brain that warn us of false danger with the same intensity of the real thing. This makes it difficult to train your children on what to fear. "Don't get in cars with anyone but your parents," you say. Then you ask your new next door neighbor to pick up little Sally because you are tied up in a meeting. Sally refuses to leave the school out of fear she is doing something wrong. Little Sally's fear is appropriate, because she has no way to discern what is false from real danger.
In the Bible, Paul said, "When I was a child I thought like a child, but when I became a man I put away childish things." He was saying, it's okay for a child to have fears, but we adults need to only fear appropriate things.
One of my readers wrote. "At the moment it seems like there are so many fears to face: I'm afraid I'm just not good enough, not smart or cool enough to deal with galleries, that I'm too old and it's too late. At the same time, I'm "done" with setting my paintings up in the wind, cold and rain with only tiddlywink results...I want a respectful setting that showcases what I pour into it my work." Speaking from their heart, they were able to express imagined fear much better than I can.
I will never forget my early fears with computers. I was afraid I was going to screw something up. Our first computer was a laptop that cost an outrageous amount. I knew if I hit the wrong button, the thing would explode. I mentioned my fears to the tech guy at the store. He smiled, "You can't hurt the thing, all you need is a Phillips screwdriver and you can fix what you mess up." That was a lot of comfort. I struggled with computer fear for several years.
We have two solid black shelter rescue cats. One loves to garden with Mikki. The other kitty will run out on the covered back porch until she gets to the edge. Looking up to the open sky, she whirls around and immediately scurries back into the house. The imagined fear of the outdoors is too great for her to give going out a try, while the other cat adventurously climbs trees and on our house. They are sisters, raised exactly the same, yet one is always frightened and the other doesn't know the meaning of the word FEAR.
After I finished writing my fifth art marketing book and got feedback from scores of artists, I came to realize I had not sufficiently addressed their biggest career blocker. FEAR holds more artists back than lack of talent or opportunity. So I wrote Malady of Art: FEAR. Readers tell me this is my most important book. I was able to pull back the imagined and point out what was appropriate fear. If you can't afford a copy of Malady, email and I'll send you a free book. I gave away 35 free copies of Magic of Selling Art.
I exchanged emails with an artist who was about to visit her first gallery. I could almost feel her hyperventilation on the monitor screen. She had spent several days conjuring up in her mind all the bad things that could happen. She sent me a list of what ifs that covered a page. I wrote her and asked, "You didn't mention that the gallery owner might eat your children." She saw the folly of what she had been saying. She emailed back, "You are correct, the very worst thing they can do is say no."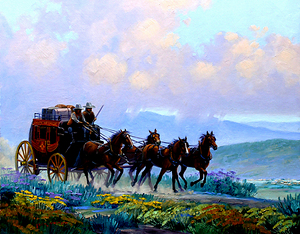 Beatin' the Rain ~ Jack White
Artists have more imagined fears than writers. Writers will boldly continue to send their manuscript to agent after agent, to publisher upon publisher, until they run out of names. They wear their rejection slips as a badge of honor. Stephen King received several dozen rejection notices for his first novel Carrie. He kept them on a very long spike in his bedroom. One rejection slip read, "We are not interested in science fiction which deals with negative utopias. IT DOES NOT SELL."
William Golding, author of Lord of the Flies, was rejected by two dozen publishers. John le Carré submitted The Spy Who Came in From the Cold and was told, "You have no future as a writer." One publisher wrote, "The Diary of Anne Frank is scarcely worth reading." J. K. Rowling's Harry Potter and the Philosopher's Stone (later Sorcerer's) was rejected dozens of times by publishers including Penguin, Harper Collins and many others. Blooomsbury, a very small London publisher, only took the project on at the prodding of the CEO's eight year old daughter. She begged her father to print the book. Her relentlessness helped her father win the lottery of publishing.
I love what Frank Sinatra is credited with saying, "The best revenge is massive success."
How many artists reading this have NOT gone to a gallery to seek representation or have NOT entered a show because of their fear of rejection? I suspect the number is larger than we will ever know. Artists shamefully keep those ugly imagined fears secret. Let me tell you something about art galleries. They all quickly learn how to brush artists off. Some are so adapt at telling artists NO that when it happens, you believe their excuse. An artist, I've been helping finally worked up the courage to make an appointment with a lower level gallery. When he walked through the door at the appointed time, the owner exclaimed, "I forgot to email you last night. I wanted to save you the drive. We took inventory and have too much art. We are going to have to get rid of some of the artists. Sorry you made the trip." He is still naive to the industry and bought into her lie. Instead of being honest when he called, she allowed him to fill his heart with hope and drive half the day to reach her gallery. She knew when he called she was not going to carry his work.
Here's the truth about galleries. They ALWAYS have room for an artist whose work sells. Every art gallery in the world has art that is not selling. They are happy to replace that work with some that people will buy. If you make art that people will buy, you will never be without gallery representation.
Shows are different. There's a lot of politics in outdoor shows and festivals. I know of several cases where an artist sold as much as anyone, some were even the top seller. These artists would plan their year of shows and take for granted they were going to be accepted again into Cottonwood, because the past five years they had done very well. They fill in their calendar with Cottonwood and are shocked when they receive a rejection letter with no reasons given. This happens all too often in the tent show world.
It's appropriate to fear being rejected from outdoor shows. Juries change. Maybe at last year's show you failed to pay proper attention to some lower level administrator who ended up being the head honcho this year. I didn't mention traditional juried shows because I think they are not worth the effort. Even if you are accepted the chances are 97 to 3 that you will find rejection. One artist will win the first prize and two others a lower level. If you don't place in the top three, you consider yourself rejected.
Artists take rejection much harder than writers. They will mope for weeks trying to recover from a show rejection. Or worse yet, the artist in the booth next to them wins the blue ribbon. The fear of rejection is the core of failure. Artists have a deep memory of how the sting of rejection feels. We go to great efforts not to experience that pain again.
It's very difficult to help artists. If I don't tell them the truth, I'm not helping. When I tell them the truth, they get their feelings hurt. One guy offered to kick my 80 year old butt for telling him he was not gallery ready. In truth, he had a lot to learn. He didn't understand warms and cools, how to bring light into his paintings or perspective.
I was a baseball pitcher in high school and college. I found batters didn't like chin music so I would throw my fastball up under the batter's jaw. The next pitch I threw high and inside, the batter would bail out for fear of being hit. I wasn't going to hit them because that would award them with a walk to first base. I wanted to create the fear that I was a little wild and could hit them with a ninety mile an hour fast ball. I caught the eye of the then Brooklyn Dodgers scout, but a knee damaged in football ended my professional baseball career before it even began. Yet after all these years, I can still remember the fear in a batter's eyes when I came in tight. A curve ball low and away always struck him out. Once I had established fear, I owned him.
In the art world many are controlled by imagined fear. There are actually very few situations in art that merit appropriate fear. The rattlesnakes artists face are imagined. Unless, of course, you just happen to have found our secret underground cave.