This post is from our Informed Collector newsletter. If you would like to receive daily briefs about today's finest artists, visit InformedCollector.com for your free subscription.
Informed Collector Recommends:

Deepak Patil
TODAY:
Tuesday, March 13, 2012

Life, culture, and the history of his homeland, India, are eloquently embraced as one. Passionate about his art and his subjects, each painting resonates with deep emotion and grace.
---
---

Focal Point: Deepak Patil
Visit Deepak Patil's Canvoo Focal Point on the web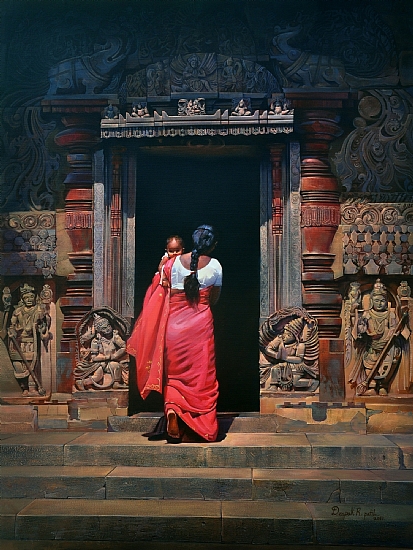 Life, culture, and the history of his homeland, India, are eloquently embraced as one. Passionate about his art and his subjects, each painting resonates with deep emotion and grace.

- Informed Collector



---
---

Other Web Pages with info about Deepak Patil

Deepak Patil's Main Artist Website


---
Biography
Deepak Patil an artist, young and expressive. In near future Indian art world will see this artist with a great skill and strength. Deepak is deeply rooted in his small village 'Kapadne' in Dhule district.

At present he is working as a principle in art collage at Khopoli in district Raigad. In this small town he founds many subjects for his painting. His central focus is to paint traditional subjects. With his unique style he register's his experiences very strongly on canvas. The interchange of Aesthetic and Cultural ideas he is marching on his way. Deepak remains committed to his work as a creative artist. His strong expressions of ideas and images are rooted in the common villages and the environment in which he lives. His painting carries earth, water, goats, cows, bull carts, the great banyan trees, workmen and beautiful women.

Deepak Patil is having a masterly hold on Oils, Acrylic, Watercolours and Pastels. He enjoys each of the medium to paint. His watercolor handling is emotional, delicate and controlled where as he is bold and aggressive in oils and acrylic paintings. He has a great understanding of colours, light, mood. Deep expressions are being seen in his work and his brushing gives his work an uniqueness.

Deepak Patil is equally skillful in his drawings and sketches. In His pencil sketches, charcoal and pastel work, at a glance we feel the movement, light and shadow, mood and force. In this young age painting is a great passion for him.


source: http://www.deepakpatil.com/aboutus.htm