This post is by Jack White, regular contributing writer for FineArtViews. Jack has enjoyed a forty-one year career as a successful fulltime artist and author. He has written for Professional Artist Magazine for 14 years and has six art marketing books published. In 1976 Jack was named the Official Artist of Texas. He has mentored hundreds of artists around the world. Jack authored six Art Marketing books. The first, "Mystery of Making It", describes how he taught Mikki to paint and has sold over six million dollars worth of her art. You should submit an article and share your views as a guest author by clicking here.
General Douglas McArthur is credited with saying, "There is a fog in war when so many things are going on at one time you don't know what to place your focus on."
As most of you know, I don't write to generate conflict. As a young man I thrived on battle but as I grew older, skirmishes have become less and less appealing. If you want articles you can go into a fury over I'm clearly not for you. I like to find ways to raise hope and leave the reader with positive thoughts on ways to improve their careers. In my historical novels however; I flourish on conflict because those books are written as page turners. But in art, I can't write about clashes and be of any constructive help. My goal is to instigate you to dream about improvement. I'm an encourager, not a combatant. I want all of you to succeed.
My friend and great writer, Stephen Pressfield, wrote a small book titled The War of Art. If you have not read his book get a copy. Stephen is best known for his books that were made into movies, The Legend of Bagger Vance and Gates of Fire, but he clearly understands our struggles in making and selling art. He understands the fog of war that keeps us from reaching our goals.
The movie Field of Dreams perpetrates the myth "if we make it, collectors will come". It's not enough just to have a nice website; we have to tell collectors where to buy our work. If you can't get in galleries or do tent shows, then put on a home/studio event. Reach out or otherwise your will work remain anonymous. Get a friend or collector to do an art event for you.
Myth number two: "I need an art agent". The truth is no agent worth their salt will take on an unknown, undiscovered artist toiling in seclusion. The top art agents split the fees like this: 50 percent goes to the gallery, 25 percent for them and the final 25 percent is for you. You do the work, plus pay for the materials out of your part of the gross sale. Any art rep charging less than 25 percent is a waste of time. Like eating pie, the best way is with your own fork. No one is going to market your work unless you are really well known. Grab hold of that truth and don't let your mind be fogged with myths.
A few have asked why I include short stories in all of my articles. Short stories are my gambit to help you to remember key points. If I can tell a worthy story, you just might remember the tale and then be able to nail my points to your mind. No matter how wise the advice, if the reader doesn't remember, it's useless. I've used quicksand, Josh Bell and pigeons, not to tell you their history but hoping the stories might help you remember the points being made.
In my historical novel, Ten Years in Texas, I tell the story of Dillard Cooper, an eighteen year old young man who came to the area in 1836 to fight for Texas Independence. Dillard was among the 400 men captured by General Santa Anna's top officer in Goliad. Under foolish leadership, the Texans allowed themselves to be trapped in an open field by a much superior Mexican Army led by General Jose Urrea. The general positioned his powerful army on a hill above the Texans stymied below in the valley. To continue to fight would have resulted in being blasted into tiny pieces, so Colonel James Fannin raised the white flag asking for a truce. In the surrender, Fannin was promised his men would be allowed to return to their home states if they agreed not to continue to make war against Mexico.
After the Texans had been locked in the Goliad Chapel at the fort for several days, a Mexican officer came to Colonel Fannin, telling him to get his men ready to march. They were being taken to Port Lavaca on the Gulf of Mexico to catch ships to their home states.
About a mile from the Fort, everyone was ordered to kneel down next to a long picket fence. Dillard felt something was wrong. He had noticed how heavily armed the Mexican soldiers were and that they were accompanied by a troop of deadly mounted lancers. These lancers were the most feared men on the battlefield because of their excellent horsemanship and long poles called lances that had razor sharp points on the end.
When the first shots were fired, Dillard threw his body forward, his face buried in the ground as if he had been shot. Black smoke and the acrid smell of blood filled the air as if one large explosion has just taken place. Visibility went to zero almost instantly as the soldiers continued to kill. When the shooting stopped over 380 Texans lay dead, stacked in a long line of cadavers.
Dillard, young and athletic, jumped to his feet and dashed through the cover of thick smoke into an opening. Looking up, he saw trees just two hundred yards away. Then two lancers spotted him. Rather than run, Dillard began walking toward the lancer nearest to the trees. The lancers relaxed, waiting for the young man to get close enough so they could kill him with little effort. Just as he got even with the lancer, Dillard tossed his jacket into the horse's face and broke into a full dash for the trees. The second lancer, seeing what happened, gave chase. When the lancer got close Dillard reversed his path and zigzagged into the tree line. He hid in the brush and leaves for thirteen days. The young man existed on bark and twigs before he reached Texana. He only traveled at night because during the day soldiers were in the woods looking for him and five other escapees.
I tell this story because if Dillard Cooper hadn't ran fast, and thought even quicker, I'd not be here today. He used the fog of battle to save his life and later become my great grandfather seven generations ago. I'm here today because of a rawboned lad's will to live, determination to survive and the ability to focus in the fog of battle.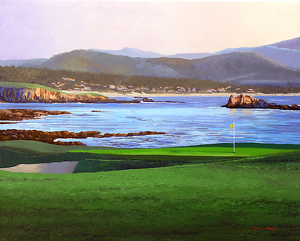 Pebble Beach, Unframed ~ Jack White
The invention of the Internet and the cell phone has spread a heavy fog over the art industry like nothing in the past. So much valuable inventive time is spent online or chatting, including tweets, texts, Skypes and whatever is the latest online gimmick. Carolyn has done some excellent articles on the subject. Brian wrote of the demise of MySpace, which no doubt was a fog for many artists. I hear stories of people spending hours playing games online. I have a group of retired folks that flood my inbox with tests and games. I freely use the delete button.
Artists are challenged to find time to make and market art. In the past 100 years, the availability of art supplies has vastly increased the number of those who call themselves artists. Keith began an ongoing banter of stretch or not to stretch. I voted for purchasing ready-made canvases to save time. In art, time is money. Time is something we all have the same amount of but never enough to do all we want. If I can save an hour and apply that to making art, I'm ahead of the clock. If I can save 30 percent by buying a quantity of quality stretched canvas, I'd be foolish not to.
When I began in art over four decades ago, very few artists earned their living making art. Most were selling litho-prints and teaching. One artist I knew, Charles Beckendorf, made detailed pen and ink drawings, printed them on heavy watercolor stock and hand painted the prints. Charles did editions of 100 and seemed to sell all he could produce. Dalhart Windburg was selling 12"x16" un-numbered litho-prints and teaching. Most fulltime artists also taught classes to make ends meet. There were few women even attempting to earn their living in art. Almost none dared to sign a feminine name on their work if they were looking for gallery representation. One famous western artist signed her work B. R. Garvin. Betty Ruth didn't dare let folks know she was an attractive, lady painting powerful western art. I remember there was a woman doing marvelous large bluebonnet paintings who signed them as a man. The gallery owner let me know her name in hushed tones, promising to take the life of one of my children if I told his secret. My lips are still closed.
Things have dramatically changed. We did a two day Art Seminar in Santa Fe last summer. There were thirty in attendance with only six men. From the responses I see on FASO, it appears the readership is tilted heavily toward women. Yet when looking for galleries to represent their work, it's still much easier for a man to get space than a woman. It is indeed wonderful to see so many women coming into the world of art, a venue that has been closed to them for generations. Camille Caudell dressed as a man and went at night to dig clay in order to sculpt in France in 1880. Women were forbidden to dig the clay.
Less than 2 percent of art in the museums in the United States is done by women. That's why we decided to brand my mate under the male sounding name Senkarik. Many first time buyers are shocked to learn her first name is Mikki.
With more competition and less galleries, open artists are being forced to seek new ways of marketing their work. We have the most complicated battle fog I've ever witnessed in the art world. I realize the news is saying the recession is over, but someone forgot to tell those who buy art! This is the slowest I've ever seen the art market.
A wise general finds a high place to watch the battlefield. He has to see through the fog of battle to find the weakest point where he can make a successful attack. For each of you, there is a weak spot in the market for you to penetrate. If we are not careful, we will get in the muddle of the everyday grind and fail to see opportunities. For each of us there is a path, it's up to us to uncover the way.
If you are bogged down by the complexity of getting everything done, figuratively find a tall hill to view the battle from. Then, look through the fog and focus on what's really important. We can't do everything, but we can do anything we place our focus on. Ladies, time has never been better for you to soar to the top. There is no glass ceiling in art for women these days other than those that are self-imposed. The playing field may not be totally level, but it's pretty darn close. It's level enough for any of you reading this to excel and grow into the giant you hope to be. Ladies, today greatness is yours for the taking. Take advantage of what has been denied women in the arts for generations. Blow aside the fog of battle; spur your mount to the front of the line.