This post is by guest author, Anna Rose Bain. This article has been edited and published with the author's permission.You should submit an article and share your views as a guest author by clicking here. This author's views are entirely her own and may not always reflect the views of BoldBrush, Inc.

Recently, I was asked to explain why I often work from a live model rather than working from photos entirely. While I know this subject is something many artists have discussed in the past, I thought I'd share my own perspective on it. I use both photo references AND life studies in my work. It is a fine line to walk, as I believe in working from life as MUCH as possible, but... my hope is that with a good understanding of both, we can become more excellent and well-rounded artists, without compromising our standards.

That being said, I am going to share my own personal reasons for choosing to work from life. I will also compare these points to how photographic reference can either help or compromise the integrity of an artwork.

Let's start with the technical reasons for painting from life...

Anatomy
Anatomy can be learned from textbooks and copied from photos, but an artist can't really grasp the 3-dimensionality of the human form until he or she has had the opportunity to work from a live (ideally nude) model, and not just during art school, but rather, on a continual basis. The advantage to practicing from life is that you can walk 360 degrees around the model to see where and how the form connects, overlaps, and turns toward or away from the light. Being able to observe the model's movements and see from all sides is invaluable for gaining further skill and understanding.

Values
Most of us know from experience that photography causes details to be lost, both in the light areas and the darks. The reason for this is that most cameras can only meter one extreme or the other, causing the lights to be over-exposed and/or the darks to be underexposed. When working from life, the artist has the advantage of being able to see into both the lights and the darks for their actual values. There are often way more details in the lights and shadows than a snapshot can capture. Of course, it is up to us to make the aesthetic choice of whether or not to include or leave out those details (classical technique discourages too much detail or thick paint in the shadows), but at least with life painting, we have that choice!

Colors
As much as we can enhance our photos later, photography often causes certain colors to be lost, especially bright reds or burgundies, or subtle colors in the sky. When painting landscapes in particular, I find that if I'm unable to complete a full painting on location, a small color study is still invaluable for finishing the painting in the studio. Our eyes are able to pull a lot more color out of a scene than the lens of a camera can.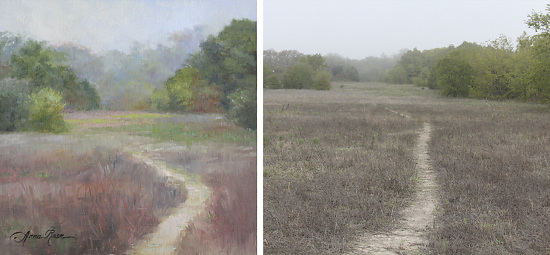 Perspective
As objects come forward in space, they appear larger... as they go back in space, they appear smaller. Photography usually exaggerates this fact, to a fault (unless you are standing a ways back from the subject and using a zoom lens). I paint portraits and figures from life whenever I can, because too often, if I am relying solely on photos, a hand or a foot will appear too large. Errors in perspective are always much more obvious in paintings than they are in the photos, so be sure to double check your photo references before starting your painting.

That being said, there are some technical reasons why you'd supplement your studies with photography and Photoshop...

Props or settings that the studio or location doesn't offer; Cropping / Composition
I can't always afford to buy new props for every painting. But I have a limitless imagination (and a sketchbook on hand to jot down ideas!), so usually, my lack of props can't stop me from coming up with a great idea. My best example of this is my painting, "Music of the Spheres". I wanted a spherical composition and a peaceful yet mysterious kind of setting. Thanks to Photoshop, I was able to work out my composition before starting the painting. I made the globe much larger and moved it around to where I wanted it, I changed the curtains to make them all satin, added the oriental rug, window and night sky, and moved the lanterns around to better serve the spherical composition. I also changed the model's hand to look more elegant holding the violin, which required using several different photo references in addition to working with the live model. Oh, and I added flowers to her hair. I'm sure I'm forgetting something, but the point is, with a clear vision and proper knowledge of the tools, one can make their vision come to life!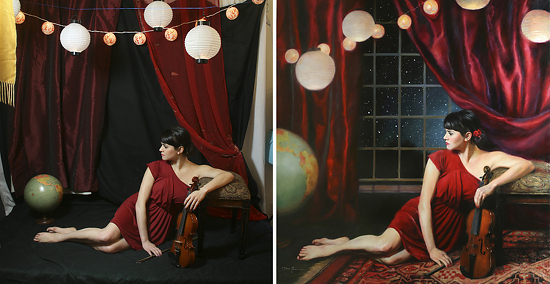 Dramatic color or value changes
There are times when I want to change a shirt color or make the painting more dramatic by pushing the values. Photos and tools in Photoshop can help me experiment with these things before committing to the change in the painting.

Capturing a pose that cannot be held for a long time
Of course, this is invaluable when painting moving figures, such as dancers or athletes, and very young children who can't sit still. Or, if you enjoy conveying candid moments, photo references are perfect for those as well (although if it's a great photo, then keep it that way, and paint something else!). With commissioned portraits, the client does not usually have time to sit for extended periods, OR the portrait is supposed to be a surprise gift. In this case, we artists are often forced to work from the client's photos. Having a good understanding of what to look for in reference photos and a solid background in working from life can help make a commissioned painting turn out without looking flat or obviously copied from a photo.
Putting aside the technical aspect of art, there are also a few aesthetic reasons for working from life...

Excitement and focus of the artist
Some go sky-diving for the adrenaline rush; others ride roller coasters, race cars, snowboard or water ski. Personally, I get the most wonderful rush when painting from life! Whether I am outside in the open air -- or in my studio working from a live model -- there is a pronounced difference in my overall mood when I'm engaging with the real, living, breathing thing rather than working from photos or props.

What does this have to do with aesthetics? Well, the more excited you are about your subject, the more focus and energy you'll be willing to invest in it, and therefore, you'll start to produce some of your best work. Having been to the Portrait Society of America's annual conference several times now, I can tell you, after having my portfolio critiqued, that the most experienced and successful artists know in an instant whether or not something was painted from life or from photos. Not only do they know for technical reasons (the photographer used flash, the whites are washed out, or the subject has a big toothy grin, etc.), but they can tell because there is something stale and stiff about the image. Working from life brings all of the artist's enthusiasm to the forefront and makes for a more lively, energized painting.
This leads me into my next point...

Speed and decision-making
When we first start out practicing from life, there is usually some fear and trepidation over the time crunch. Perhaps you are painting en plein air and the lighting will pass in just a moment, or your model can only sit for a couple of hours before she's gone forever, moving to Spain or something (yes, this did happen to me!). That time crunch can be used to your advantage! I do not promote "panic-painting;" rather, I would encourage you to take that wasted time looking at the clock and use it to zero in on the most important elements of your painting. Before you even lay down a mark, you should know (a) what your focal point is, (b) where your lightest lights and darkest darks are, and (c) what your hardest and softest edges will be. Those decisions can be made in an instant if you are willing to think carefully about your intentions from the very beginning. We should have a specific goal for each and every painting we start, rather than mindlessly slashing away at our canvases and then getting angry when we run out of time, with little to show for it! Some of my best life studies were done in less than three hours. The reason why they turned out was that I kept my goals simple and my expectations realistic.

During the decision-making process, the artist also has more control over how they use their brushwork to make a statement. Photos naturally lend themselves to being slavishly copied, but when working from life, you are much more likely to squint down. Squinting is key, as it helps you to simplify the scene before you and break it down to its most basic shapes, values, and edges.

Essence, Energy, and Empathy
Finally, there is something crucial that can only be captured fully when working from life: the essence of a person, place or thing. Some artists are so experienced that they can create posthumous portraits from photos and still capture that person's essence (Michael Shane Neal is a great example), but only because they have put in many hours of practice before a live model. I find that many of my life studies say more about the model's personality than paintings done from photos. I am also acutely aware of the model's physical and emotional presence while I'm working, making me empathize with them even more. I ask the question, "How can I make this portrait special? What is the model's story, as told by artist Anna Rose Bain?"
As artists, it is our privilege to convey a person or place based on our own unique experience. Let's really make that experience shine by working from life to the best of our aesthetic and technical abilities!