This post is by guest author, Brian Kliewer. This article has been edited and published with the author's permission. You should submit an article and share your views as a guest author by clicking here. We've promoted this post to feature status because it provides great value to the FineArtViews community. If you want your blog posts listed in the FineArtViews newsletter with the possibility of being republished to our 16,000+ subscribers,consider blogging with FASO Artist Websites. This author's views are entirely his own and may not always reflect the views of BoldBrush, Inc.
LinkedIn
eBay
Facebook
Twitter
YouTube
digg
del.icio.us
RedBubble

Tumblr
Etsy
flickr
Myspace
FriendFeed
Squidoo
StumbleUpon
Podcasts
Webinars...

Where does it end?

In a "perfect" online marketing world, I wouldn't have to throw myself or my work at a seemingly endless list of other sites...or even one other site, for that matter. But many artists are doing that in the name of "exposure," to get their work "seen." In a truly perfect online marketing world, collectors would come to my site and find my work on their own without any prompting from me. But without using any of the above listed options, what chance do I have of drawing that audience? Can I really do it all here on my site alone?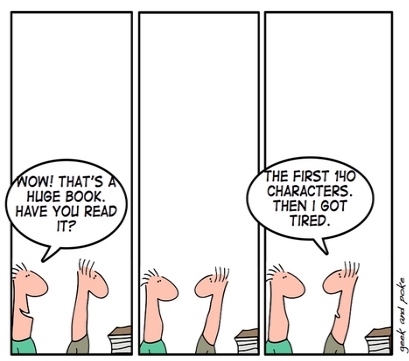 Yes, this is a rather long post... sorry. But after using "social media" for nearly three years, I feel I'm entitled to a small rant. Keep reading and I think you will find some useful info. And if you have read this far, congratulations...you've already gotten past the first 140 characters. (One of my favorite "Geek and Poke" cartoons, used by permission.)
The Internet Is Getting Crowded and Crazy!
Have you felt it yet? Have you felt the constant pull of the Internet? The "whining buzz", the clutter, the must do it now, this very second mentality? I have and I have to say, I don't like it. I can't tell you how many times I've signed on to the Internet to look something up and gotten caught up in other things, forgetting all about what I originally signed on for. That was especially true when I was using social media. When I signed off, things started to calm down in my head and a sense of normalcy returned.
What gallery offers art in a constantly moving display of text? What gallery has work by hundreds or thousands of artists on display at all times? For me personally, social media had become a mind-numbing, unwatchable blur. That's what I was getting out of it. (This is also my main reason for not joining "artist registry" or online gallery-type sites. After a certain point, overload becomes a problem. Too much of a "good" thing isn't necessarily "good.")
I don't want to send people to other sites (eBay, Facebook, et al.) to see my work. I don't want to contribute to that "frenzy." My work is special to me. It's mine alone. My feeling is that my site should stand alone and that it alone should be able to represent me as an artist on the "World Wide Web." I want people who discover my paintings online to feel as if they have discovered something "unique," something "special." My preference would be to offer my site visitors a "rest stop" or a sort of "oasis" on the blitz that is the Internet. Without meaning to be crude, one feeling I often got from using "social media" to promote myself was like "writing my name on a bathroom wall." At best, it made me feel like a "huckster." Facebook, Twitter, and social media in general are very popular. The question is...are they necessary for my marketing purposes?
How Large An Audience Do I Need?
Do I need to try to build an audience of thousands? Millions? Billions?? An artist friend on Facebook once told me..."It's a numbers game." Is it really? To my mind it's actually a"connection" game. If you want people to follow your work, you have to do work that people connect with. That's it. But how do you do that? The best advice I can give is to do work that you connect with yourself as an artist...as a human being. Put yourself into it without fear of emotion straining the technical side. Emotions are fleeting, they should be savored. Do that in paint, or whatever medium you use, and people will respond.

Seth Godin recently wrote a very good post about the Internet. It got me thinking...do I really want to offer my work to an "infinite" audience?
"In the digital age, for the first time ever, most of us come face to face with the opportunity for unlimited. No bakery can handle an infinite line, no orchestra could possibly have an infinite number of violins, no teacher in a classroom covets a classroom of infinite size... But in the digital world, the pursuit of infinity isn't just possible, it's the norm. The question: What price are you willing to pay for that pursuit?" Seth Godin.

From day one I've been sort of a rebel when it comes to the Internet and my approach to using it for marketing and self promotion. The one thing I've come to realize over the years is that I have to approach it in the way that works best for me personally regardless of what others are doing online. What you see is what you get.
Without Social Media?
But what about social networking? After thinking long and hard about it, something hit me. I realized I already have a "social network" that isn't "part and parcel" to someone else's whims... my readers. YOU are my social network. You subscribed by YOUR choice and I thank you for it! My opinion is, you deserve something of value in return. My time is highly valuable to me and I don't have enough of it to waste on re-tweets, #FollowFriday, games, status updates, and the "like". :)
The Challenge Of Being Seen On The WWW
If you Google my name, you no doubt will find my website very quickly. That's fine for those who already know or have heard of me. But what about those who don't/haven't? How will other art collectors find me? When I came up with the title for this blog, "I Wish To Speak To You," I meant it in three different ways...
1. First of all, it is a blog. That means writing. 2. Another intimation is that I wish to speak to you through my artwork. 3. But the third one is more direct. I really wish to speak to those who are specifically looking for what I do. This is where marketing art online can be challenging...and fun.
My 2008 100 Paintings in 100 Days project is where I first decided to put the power of the Internet to use for marketing via, what turned out to be, a one time only "special promotion." Eighty of those paintings sold without the use of social media at all. I wasn't on Facebook or Twitter back then. (I did have a Twitter account, but I hadn't started using it until after the project ended.) That project started some "buzz," and it spread. Word got around and before it was over I was picking up new subscribers on an almost daily basis. It was a start.
The Secret Weapon
When it comes to marketing art on the Internet, every artist has a "secret weapon" which I would venture to say, as such, the majority probably give little consideration. It does sort of "hide in plain sight." But it can be used to connect with the specific audience you want to find on the web...or more fittingly...those you want finding your art! Your artwork is your number one weapon in the 'art of marketing' it. The problem as I see it is that many artists are trying the "spray and pray" approach. Facebook, Twitter and "friending" or following everyone in sight seems to be the norm. I used this same approach until I got sick of social media. It just interfered too much with my work, and my life in general. So I shut it all down and left. So now what? How do I get people to discover my paintings without using these venues?
Well, I proved that I could do that with the 100 paintings. But that was just a special project, not really directed at anyone or working with anything specific. If you're reading between the lines here, you might see where this is going. I have specific work that I like to do and I sometimes work in series format. Knowing that search engines like pages that are regularly updated (they still love blogs) I can put this knowledge to use with my artwork. Searching for "Brian Kliewer" will give a list of links on the web, with my site at or near the top. But what if my name were "Joe Smith"? Well, in a sense it is...to those that haven't seen my work yet and know nothing about me, it might as well be as "generic" as that (sorry, Joe). So how do you get the needed exposure for your work if you're not widely known? Here's a confession - up until a couple of days ago I had never heard of "Adele." For those who don't know who she is, she's a singer. In fact, I noticed one of her videos on YouTube has over 188 million views. Wow! She must be very widely known. I read somewhere that she had the biggest selling album of 2011. Big deal...she wasn't known to me.
Making The Connection
When I was on Facebook, I "friended" everyone I could find who had an interest in art. But that wasn't necessarily to my benefit marketing-wise. Sometimes it was but many there were other artists trying to find their audience. Others were not interested in the particular work I do. So I didn't (and don't) see social media as the "be all/end all" that many seem to. (For the record...I'm not criticizing anyone who does use it and prefers to use it. That's fine. I just have to find my way, and social media isn't it. I did meet some excellent artists while there and made new friends, don't get me wrong. I just needed to get away from the "time consuming monster" it had become.)
Here's a problem with social media: While it did broaden my exposure, it wasn't "targeted" enough for me. My Twitter following was all over the place. And Facebook just had too many issues. Frankly, I didn't appreciate having the rug pulled out from under me after each major Facebook upgrade returned the default setting ... "view only those pages and friends you interact with most." Boom! In an instant many people I "friended" were hidden from me and I from them. Yes, that could be corrected. But after a while, with all the FB changes and updates, I began to feel as if I were working for Mark Zuckerberg and company, and not myself.

So without "social networking," how do I make that "connection"?
As I mentioned, I sometimes like to work in "series" format. This is a good approach to painting. You can really learn a subject well by painting in this way. (Does "Claude Monet" ring a bell?) But I believe it's also a good approach to marketing art on the world wide web. For those interested in your subject you've already made the connection and can add more paintings over time to build your audience further. But here's what I really like about working this way as it applies to marketing on the www.... I don't have to "sell" it! If a theme is developed well enough, search engines will send people to you! After all, when a collector sees and buys your work in a gallery, hasn't he/she naturally gravitated to it? Search engines can offer the same model. This same process can and does take place on the Internet, naturally. If things are managed properly, you can use this to your advantage. How?
Find Your Niche And Scratch It!
Let's go back to poor little "Joe Smith" for a moment. What's he going to do to be noticed on the world wide web? "Adele" has obviously benefited from a major marketing campaign, perhaps several. People everywhere know of her. Well, I didn't. But "Joe" wants to paint a scene he likes using various angles, compositions and different times of day and year. That's a built-in series right there. But this scene is of a certain cove in Maine. Who will ever see his paintings? Only people who visit the gallery he shows them with? He names his series of paintings based on the name of the place he's chosen as a subject and blogs about each painting as the series progresses. "Joe" most likely won't be seen by the "Adele" crowd or any huge number of people like that. But if you Google the name of that "certain cove in Maine," do you think you might find "Joe's" paintings? My Facebook friend said it was "a numbers game." Well, I say it's a "connection" game.
This is what I'm getting at. You don't need a "huge" audience, just a good one... the right one. To me, this is one of the best approaches to marketing art on the web...."niche" marketing. It's the most "natural" I have found. Working within a theme (series) and blogging about it provides the basis for finding the exact audience you want to connect with. In other words, it can provide the best opportunity for putting your work in front of those who will most want to own it. What better way could there be of being discovered online than being discovered by someone who specifically wants what you want to paint? No more "wasted bullets" from "shooting in the dark"! Is this approach for everyone? I'm not saying it is. I don't believe there is a "blanket" marketing approach for everyone, even though Facebook would like to think of itself as such and tries to present itself that way. But this is one way of finding a specific audience, or...better yet...being found by that audience.
Just Do It!
So that's where I'm going with this. I have a project planned to test my ideas. If all goes well, I'll be developing it in the coming months. If things go according to plan, I'll be able to expand my audience....without using eBay, LinkedIn, Twitter, YouTube or Facebook and the "like." Yes, I'm challenging some "behemoths" here, and am well aware of it. Really, though, what I'm challenging is more the idea than the sites themselves. That said... these sites have their own Terms of Service, but then, so do I, and mine weren't being met. I for one am sick and tired of being told what I have to do, how I have to do it, and where I have to go to do it while putting up with incessant site changes and updates. I can do whatever I want...isn't that what art is about? Why do I "need" social media to promote it? Why can't I take the same kind of creative thinking I use in my work and apply it to my online marketing as well? Why should I have to "schlep" along on what someone else's idea of "social networking" is or should be? I don't.
Will this work? I could fall flat on my face. But if I do, I'll at least have some paintings to show for my efforts.
As with any marketing endeavor, this one also is....
...to be continued.
© 2012 Brian Kliewer
(Note: If you have an interest in my larger, full-sized work, you can find it through my galleries or you can contact me directly for more information. )
--------------------------------------------------------------------
Editor's Note: You can view Brian's original post here.