This post is from our Informed Collector newsletter. If you would like to receive daily briefs about today's finest artists, visit InformedCollector.com for your free subscription.
Informed Collector Recommends:

Yen-Ching Chang
TODAY:
Wednesday, December 21, 2011

A true sense of the divine within each of her subjects. Her captivating style lingers within our mind's eye.
---
---
Focal Point: Yen-Ching Chang
Visit Yen-Ching Chang's Canvoo Focal Point on the web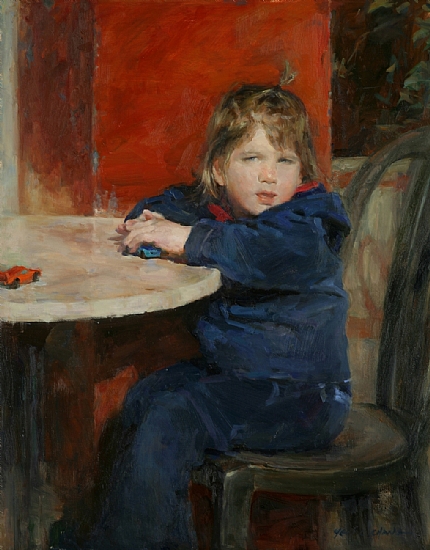 A true sense of the divine within each of her subjects. Her captivating style lingers within our mind's eye.

- Informed Collector



---
---

Other Web Pages with info about Yen-Ching Chang

Yen-Ching Chang's Main Artist Website


---
Biography
Yen-Ching Chang was born in Taiwan in 1980. She received her BFA in Design from the Chinese Culture University in 2001. Because of her love for painting, she started learning the foundation of drawing and painting and was instructed by her mentor Yimaukun in Taiwan from 2007 to 2009. Currently, she is pursuing a MFA degree in Figurative Painting at the Academy of Art University, San Francisco.

Yen-Ching has 5 years of art teaching experience as both a private tutor at her own atelier and a public school teacher after she graduated from college. She spends the majority of her time painting and drawing. Her paintings are the reflections and celebrations of life and she enjoys the challenge and freedom of painting from life. The artist seeks the art spirit with her paintings and wants to express the feelings and emotions she experienced from daily life by using representational paintings. She sees visual storytelling as one of the bridges of communication between her and the viewers. Her emphasis is on how to tell stories by using the relationship between people and their environments while capturing the vitality of her subject.

AWARDS

2011 Second Place - BoldBrush Painting Competition, October.
2011 Honorable Mention - SouthwestArt "Emerging Artists|21 Under 31"
2011 Finalist - The Artist's Magazine 28th Annual Art Competition Portrait/Figure.
2011 Finalist - 1st Annual Plein Air Salon
2011 Annual Spring Show, Academy of Art University, San Francisco, CA
Third Place - MFA Figurative
Small Work Award- MFA
2010 Annual Spring Show, Academy of Art University, San Francisco, CA - Selected
2008 Taiwan Natinal Exhibution Committee for Arts - Selected


GROUP EXHIBITIONS

2011 6th Great American Figurative Exhibition - Waterhouse Gallery, Santa Brbara, CA
2011 International Salon of Figurative Art - Silvana Gallery, Glendaale, CA
2011 "Greenhouse International Salon" - Greenhouse Gallery, San Antonio, TX
2011 "Nude to Us, Go Figure" - Arata Gallery, San Francisco, CA
2010 "The Magic of City Lights" - Arata Gallery, San Francisco, CA
2001 Young Designer's Exhibition - International Design Alliance. Taipei, Taiwan
2000 Hwa Kang Grow Show - Hwa Kang Museum. Taipei, Taiwan