This article is by Brian Sherwin, regular contributing writer for FineArtViews. Brian Sherwin is an art critic, blogger, curator, artist and writer based near Chicago, Illinois. He has been published in Hi Fructose Magazine, Illinois Times, and other publications, and linked to by publications such as The Huffington Post, The Boston Globe, Juxtapoz Magazine, Deutsche Bank ArtMag, ARTLURKER, Myartspace, Blabbermouth, Milwaukee Journal Sentinel, Conservative Punk, Modern Art Obsession, Citizen LA, Shark Forum, Two Coats of Paint, Vandalog, COMPANY and Art Fag City. Disclaimer: This author's views are entirely his/her own and may not reflect the views of BoldBrush, Inc.. You should submit an article and share your views as a guest author by clicking here.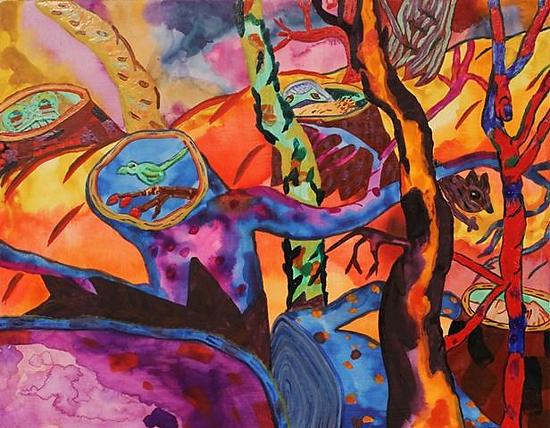 The Hill Bowed Dumbly by Carl Baratta. You can learn more about Carl Baratta by visiting his website.
Carl Baratta is a professor at the School of the Art Institute of Chicago (SAIC). He also instructs painting at the Oxbow School -- a unique, interdisciplinary semester program for art students. Baratta has been involved with a number of exhibits -- including exhibits at Vox Populi and the Grand Rapids Art Museum. Baratta recently offered his time to answer a few questions about the School of the Art Institute of Chicago painting program, his thoughts on art education today and advice for artists who are currently thinking about attending art school.
Brian Sherwin: Carl, you are a painting professor at the School of the Art Institute of Chicago (SAIC) -- I also understand that you are an instructor at the Oxbow School. In other words, you instruct artists from various age groups. Can you briefly discuss these experiences and how they have informed you as an instructor of art?
Carl Baratta: My first teaching gig was through SAIC and then shortly after starting there I taught my first class at Oxbow. Both classes were based on appropriation and were both multilevel. Both experiences are pretty great. I'd be lying if I said they weren't tough on me emotionally but in the end I think it's worth it. It's all about contributing to the community.
Although I had TA'd while in Graduate School these were my first classes I had run on my own and I remember being amazed when I asked the class to take out their art supplies and everyone took them out. Then I asked them later to take a break and they did. Then I asked them to do their homework and the next class they came in with their homework! I was stunned. I was actually in charge.
At first I thought it was my beard giving me a kingly air but I realized that the structure of teaching is that the students want you to be in charge. Once I realized that I had their ear, I tried to tell them as much as I could about being an artist and was surprised with how much I knew. Older artists who were in my class I felt I could more draw associations with through life experiences and with the younger students I could still commiserate with since I wasn't that much older.
Sherwin: In regard to your dual role as an art instructor -- what are your thoughts on early art education in general? As you know, schools -- specifically public schools -- often cut art programs before anything else... yet studies have shown that art classes improve critical thinking and memory development. In your own words, why is it vital for the United States to take art more seriously on all levels of education?
Baratta: I took remedial math for 4 years and kept taking Spanish 1 through high school. For me, other than reading, I had all my eggs in one basket (2D work). If I didn't have art to use as a forum to get my thoughts in order I'm pretty sure I would have been a criminal. Cutting art and music in school is about the stupidest, most short sighted thing our public schools could do for our country.
We all have things we're good at and other things that we're awful at. To actually marginalize a part of younger generations by not having them have an outlet is a huge mistake. It's cultural suicide. It makes young creative people feel bad if their world is based solely in some sort of demented notion of pragmatism.
Sherwin: What can you tell us about the painting department at SAIC? For example, what should students who are considering the programs offered by SAIC expect if accepted? Can you describe the environment of the department?
Baratta: SAIC has a huge program with a lot of very interesting professors. I mean not all of them will be good for every student but you can take a year trying out different styles of being taught and find what is right for you. But there are more than enough great professors here to get young artists excited about all the possibilities an art degree can afford them.
On top of that SAIC has amazing facilities for the students to use. The one thing I would say is that since it's such a large program you have to be self-motivated and seek out opportunities. Yes you can soak up a degree without really doing much but if you want to really make something of it you can at SAIC.
Sherwin: Can you tell us anything about your colleagues and the influence they have had on the painting department? It often seems that specific instructors stand out as the 'body and soul' of an art department -- though sometimes the students shine in that regard -- in your opinion, who is the 'body and soul' of the painting department at SAIC?
Baratta: I would say undergraduates look towards the grad students and recently graduated for guidance. I don't know who's popular right now, but when I was in school I really thought Barbara Rossi, Jim Lutes, George Liebert and Jim Trainor were really interesting. That's just to name a few, there were many others.
There are trends that pop up every couple years and then there are students who can't get into whatever trend is most predominant for a bunch of different reasons. They are the weird kids. Those are the ones I want in my class.
Sherwin: Aside from general requirements -- do you have any advice for prospective art students in regard to choosing a program and school that meets their needs? What consideration should individuals think about before applying to an art school?
Baratta: Ask yourself if you want a big community of peers or a small group with more professors. Also look into their visiting artist program to see who comes through. It's also very important to see what the students are making. If the work looks like slop to you, don't go there. If you want to focus on a type of painting, see if there are places for that.
Don't go to big named schools just because they have big names. Also, having little to no debt is cool but this is your life. If you know you need to go to an expensive school because you'll get the experience you need to be your best, then suck it up and get some loans. The worst thing you can do is have regrets. Learn to live lean and get the best education you can.
Sherwin: Prospective art students often worry about the portfolio aspect of college applications. It often seems that creating a portfolio is the hardest part of the process for many students. With that in mind, what advice do you have about creating and maintaining a portfolio in general? What should artists consider when putting their best work forward?
Baratta: Stay focused. If you're applying to a painting department only show paintings. If you're going for a mixed media department show work that is in different mediums but has strong visual/ conceptual connective tissue between each piece. I don't know if anyone still makes mix tapes, but that's how I set my slides up. Start out dramatically to rope people in, then space out the gems, put loud work next to softer work to play up the differences, end with a bang.
Sherwin: We all know the benefits of studying art in a large city -- opportunities, museums and galleries are readily available. That said, can you tell us about some unique experiences that students may have if they choose to study art at SAIC? In your opinion, what makes Chicago unique in regard to studying art compared to other cities in the United States?
Baratta: Chicago's history of art has The Hairy Who and the Imagists. I appreciate how many female artists the Imagists had in the group. Also it has been said that they didn't follow any trends and found their own voice through the use of surrealism and more obscure art historical references. Although there is an argument against going out on your own and creating a visual language like no other, I think it's important for young artists to see the possibilities in that in order to keep things fresh and exciting in the art world.
As teachers, the Imagists (a lot of them are still working and teaching in Chicago) tend to be very stringent with students' studio practice and formal concerns. I've also noticed that they are very open to content and how artist's personal issues feed the imagery. This is a strong combo for young artists. Also the young art community in the city gives plenty of opportunities to show in galleries and get experience in the art scene.
Sherwin: Can you point us to any current -- or former -- painting students at SAIC whom you feel are shining examples of the impact the school can have on a young artist?
Baratta: I didn't teach him anything, but Isak Applin is a fabulous example of SAIC alumni. He is a painter in Chicago and also an instructor at SAIC in the Painting Department. He's my age. Which is still young if you believe painting is a geriatric sport. I do.


Michael Garcia is a former student of mine. He's an interesting artist and runs an interesting program at Pentagon Gallery here in Chicago. I'm actually showing with him soon, so yes. I'm biased.
Josh Reams is a graduate student in painting at SAIC right now and co-owns a gallery here in Chicago called Manifest Exhibitions.
Sherwin: In closing, is there anything else you would like to say about SAIC or art instruction in general?
Baratta: There's no real money in teaching these days. Not for new teachers. It's the economy. It's trashed. So if you are going to go into teaching do so to enrich your local art community. Or at the very least, use teaching as a way to brainwash younger artists into doing your bidding and build a private army to take over your city.