This article is by Moshe Mikanovsky, Regular contributing writer for FineArtViews. An emerging artist searching his way in the art world, he loves to share what he learns. With over 20 years of technology experience, Moshe combines his technological background and his passion for the arts with the goal of "working his dream". You should submit an article and share your views as a guest author by clicking here.
A recent post Brian wrote about supporting your local art community by creating your own opportunities reminded me of Karen Taylor, a local artist. I met her through the local Artists' Network, she established couple of art initiatives, organizing several shows a year for each of them. So I decided to chat with Karen and hear how she's done it.
We met over a nice latte (I had a butterfly in mine!), and the conversation quickly evolved into the two groups Karen has established and is facilitating.
Abstract artists challenges
As an abstract artist, Karen saw the need for more exposure. Since starting, showing, and selling her art in 2007, she took on herself to enter as many calls for art as she can, as well as art festivals and other places where she could show her art to the public. But she still felt it was not enough, and she was relying mostly on others' judgment for acceptance. Feeling that most of these opportunities were for figurative art, seeing that the public does not have enough opportunities to be exposed to abstract art, and talking with fellow friend abstract artists who shared the same frustrations and need for more exposure, she eventually decided to do something about it.
SolidColour - the small group
With fellow artist and friend, Ben Stansfield (and next-door-neighbor to most of her art festival ventures), artist Kate Taylor (not sisters, just a coincidence), and artist Bill Philipovich, they created the smaller group of the two, naming it SolidColour, with the goals of showing their art together several times a year, in different locations throughout Toronto, with the abstract being the main theme.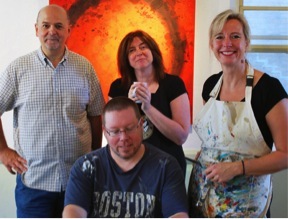 SolidColour members: back from left: Bill Philipovich, Karen Taylor, Kate Taylor. Front: Ben Stansfield.
The benefits of being a small group are that it is easier to make decisions and keep control over the group's output. Moreover, each show depending on the location, of course, allows each artist to showcase a nice number of art pieces. And indeed, as time went by, and with the growing shared experience of the group, they became like a family.
The downside though is usually budgetary. Giving the economics of the day, a smaller group usually will have a smaller budget. Karen and her fellow artists were able to secure locations throughout the metropolitan that still were in their budget. From smaller galleries who are looking for new ideas for shows and are susceptible to emerging artists, to heritage homes where weekly rent is usually subsidized by the city, to other community galleries where they had been doing artist demos alongside the shows.
There are other benefits of course:
Shared newsletter lists from each artist to distribute invitations and invite collectors.
Brand name building. People tend to remember brand names, as we see with many art groups out there and in art history.
Sharing the workload. Whether it is in preparation to the show, marketing efforts or manning the event, being a group of four people can really reduce some of the stress and anxieties coming with arranging it all by yourself. Moreover, each one can pick activities they are better with or feel more comfortable doing than the others in the group.
Finding locations. Again, with the power of the group and its larger networking reach, finding proper venues becomes an easier task.
Learning from each other. Talking with Karen and with the other members of the group, I got the sense that they learn and evolve from the experience of being together, artistically and businesswise.
Colourshift Collective – the larger group
Staying just with the smaller group was still not enough, but going into the motions of creating a larger group was a daunting task, at first. Even though, with the assistance of photographer Scott Garant, Karen took the initiative to start the second, larger group, Colourshift Collective. Again, with the aim of creating showing opportunities and public awareness for abstract art, in addition to the benefits already mentioned above with the smaller group, some of the unique advantages of the larger group are:
More diversity in both participating artists and medium presented. The collective includes not only painters but also photographers and encaustic artists.
Opportunities in larger galleries, where the cost is much higher and can be divided by a larger number of participants.
Opportunities in venues that only work with group initiatives, usually of certain size and experience.
Ability to grow and add more artists in the future, while still keeping the smaller group with it's current size.
Colourshift Collective. Back from left: Scott Garant, Lisa Hickey, Kate Taylor, Bill Philipovich, Karen Taylor. Front from left: Joe Calleja, Janice Colbert, Sann Sann Lam, Laurie Skantzos, Salomon Khammi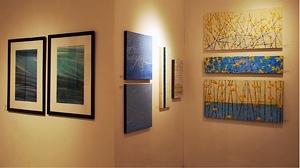 From one of Colourshift Collective shows at the 1313 Gallery, Toronto ON
What was most challenging?
In closing, I was really interested to hear what was the biggest challenge Karen faced in seeing these initiatives coming to life. Without hesitating, her answer was "reaching out to people". Being a shy person, she always feels apprehensive in approaching people - other artists, the media, galleries. Once she get over this hurdle, the rest is easier. Interestingly enough, looking as an outsider at these great initiatives, I wouldn't even believe that Karen had to face that challenge. And I am really happy for her that she perseveres against it and made it work.
I love the way Karen and her friends created these opportunities while enriching the local artistic scene, and are still going strong, with three upcoming shows before the end of the year. I am sure it will grow and we will see much more coming from these groups.
I hope this showcase helped you see how you can make your own opportunity in your local community. Do you have a similar experience making your own destiny?
Cheers
Moshe