This article is a guest post by UK based artist Sarah Maple for FineArtViews. Sarah Maple, winner of the "4 New Sensations" competition offered by Channel 4 and Saatchi Gallery in 2007, is no stranger to media bombardments and the rollercoaster of mainstream art gallery success. Sarah Maple has exhibited at White Box, Salon Gallery, INCEPTION Gallery -- among other art galleries. In this article she offers some advice for artists based on what she has learned about the mainstream art world in regard to some of the potential negative aspects of art galleries and dealers. Disclaimer: This author's views are entirely his/her own and may not reflect the views of BoldBrush, Inc.. You should submit an article and share your views as a guest author by clicking here.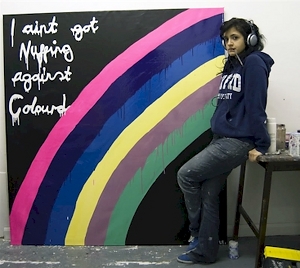 A few months ago, something remarkable happened in my life. I did a solo exhibition in Amsterdam. When the exhibition finished, the gallery sent me a document indicating how much I had sold and how much I would receive. Then a few days later, they paid the money into my bank account account. Looking at my bank statement. I realised that after 4 solid years of exhibiting internationally, solo and group shows, this was the first time this had ever happened to me. They sold the work, the show ended, they gave the money with no fuss. I have never experienced something so remarkable in my art career. I was in a state of shock.
Sadly, every person I know who works in the arts in some capacity (comedy, music, film) has been ripped off in some way. Early on in your career you sort of allow this to happen, you're just so happy to be given a chance, so grateful, that you'd rip out your own eyeballs to be included in a group show in a pub in the arse-end of nowhere, that no body ever goes in – just so you can say to people that you're in an exhibition. It's easy as a young artist to feel so desperate and do things you would not normally do. Like when you're madly in love with someone and you're so terrified they don't feel the same way that you turn into that nuts person that you never thought you would ever be.
In these four years I have worked professionally as an artist, I have encountered every kind of shit you can imagine. From a dealer saying I could get out of paying expenses I owed him by taking off my pants and sending them to him, to a man trying to claim he was 'so scared' to deal with my work that he couldn't possibly pay me (whilst on the phone to BBC news). I have so many other stories too. I'm 26 and I feel like I've experienced it all.
However, instead of giving up (which I would never do) I can only use this experience for the future and make sure it never happens again. And of course share my advice with others. It's not just visual artists! The arts seem to be the only profession where you work 24/7 and people think it's okay to not pay you for that.
Here's my top advice for young/new/graduate artists
1. Expect everyone you meet in the art world (especially people interested in exhibiting your work) to be either a) a bastard or b) sub-human. This way you will avoid feeling any kind of human emotion towards your dealer and if, for example, they make £100,000 selling your work and don't give you any money, you won't mind asking for some. Also, if they turn out to be nice then that'll be a nice surprise.
2. "We deal in graduate art" translates as "We deal with graduates because they're desperate and it's much easier to swindle them."
3. Contracts. Get a good contract. If they present you with one, get it checked by a lawyer. Because it's definitely going to be shit. Do not just ask your older brother to check it over just because he went to Oxford. Especially don't then ignore him when he points out an important part of it because you don't want to pay a lawyer to sort it out. Get a fucking lawyer. It is definitely worth the cash in the long run.
4. Don't trust anyone who wears tweed.
5. On the contracts note, make sure you double check expenses. Some people will claim expenses from you. This could be anything or any amount, which means you can end up with absolutely NOTHING. Make sure this is not in your contract.
6. If they say "You're an art star", kick them in the balls and run away.
7. Don't appear desperate. Because they can smell that a mile off and it'll create more leeway for them to rip you off. As convincingly as possible, pretend you've had other offers but that you "can't really say" what they are yet. As if something amazing is about to happen but you're not allowed to confirm it yet. Pulling the jinx card is good too "Oh I don't want to say as I don't want to jinx it, ahahahaaaaaa." (that's a personal fave)
8. Don't be fooled by a fancy website. Check out the credentials of their other artists and do research. Contact the other artists if need be, sometimes I get this and I really don't mind offering my advice.
9. Beware of name droppers e.g. I was told "The director of your residency is affiliated with MoMA." And yes it was true. They knew someone who worked in the admin department. Which leads to....
10. Don't trust anyone who bigs themselves up too much and take everything they say with a pinch of salt. It's often all mouth and no trousers.
11. Pretend you know what you're talking about. This is very important. If you don't know what to say, just nod and say "Yeah I get you, I'll have to have a think about that one and get back to you." (then go home and Google)
12. Don't take any shit. From. The. Start. I don't mean be an annoying twat, but if something bothers you, then there's a reason for that and speak up. You're not imagining things. Do not be fobbed off. Remember, they are a) a bastard or b) sub-human. Or both!! I thought playing the "I'm just a stupid artist" card would work. It doesn't. They just think you're a stupid artist.
13. If it sounds dodgy, it IS dodgy.
I really hope this helps. And I also hope it doesn't give a depressing view of life as an artist, because I have met as many amazing people as I have met morons. I suppose I wouldn't change the experiences I had, I have to be grateful that I realized this early on and can share my experiences with others.
-- Sarah Maple