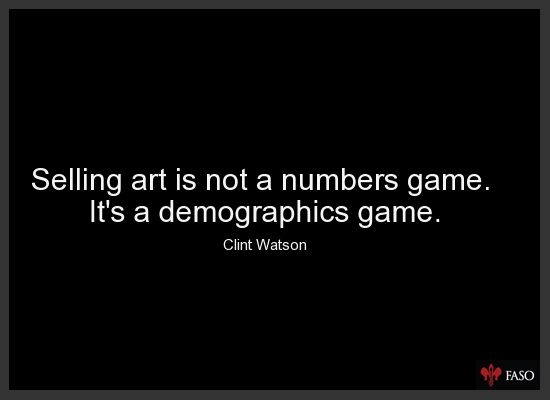 We're all so busy trying to look past the trees so that we can see the forest, that we're ignoring some pretty important trees.
Here are most people's web "forest" strategies: "Driving Traffic", Search Engine Keywords, "Branding", and Social Media "strategies."
The danger, for artists, is these strategies put us in the middle of a forest of maples when what we need is one big oak tree.
Selling art is not a numbers game. It's a demographics game.
Here's what I mean: find one person: the right person. Share your art with that person...and you'll enrich his life. When you enrich the right people's lives, they purchase.
Who wants your art more than anyone else? The people who already own it.
Who else? People who have asked about it. People who have signed up for your email newsletter. People who were referred by people who own your work. People who saw your work in a friend's house. People who your artist friends recommended take a look at your art.
Unfortuately, these people often get ignored while we pursue the "strategies" I listed above.
Case in point: I'm an oak tree. I must be on hundreds of artists' email lists, some whose work I own, some whose work I'd like to own. I almost NEVER get a newsletter or update from any of them.
I guess they're too busy looking for the forest.
Sharing Art Enriches Life. Rock on.
Sincerely,
Clint Watson
FASO Founder, Software Craftsman, Art Fanatic