This post is from our Informed Collector newsletter. If you would like to receive daily briefs about today's finest artists, visit InformedCollector.com for your free subscription.
Informed Collector Recommends:

Nicholas Coleman
TODAY:
Thursday, August 18, 2011

Realistic work calling forth scenes of remote wilderness locations and wildlife that enrapture the viewer.
---
---
---
Focal Point: Nicholas Coleman
Visit Nicholas Coleman's Canvoo Focal Point on the web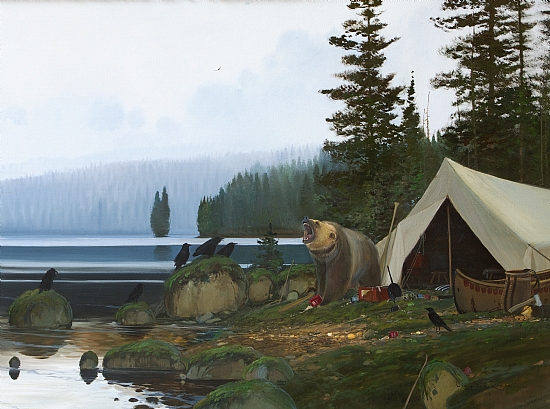 Realistic work calling forth scenes of remote wilderness locations and wildlife that enrapture the viewer.

- Informed Collector



Quick Facts about Nicholas Coleman:

* Year Born: 1978

* Western and Wildlife Artist

* Price Range: $1,500.00 - $20,000.00

* Main Website: http://www.nicholascolemanart.com

---
---

Other Web Pages with info about Nicholas Coleman

Nicholas Coleman's Main Artist Website


---
Biography

Nicholas Coleman was born in Provo, Utah. Brought up in an artistic environment, Coleman has been painting and drawing for as long as he can remember. He has traveled extensively, painting studies and taking photographs for later works. His travels have taken him across North America, through Africa, and Europe. Coleman lived and worked in Brazil for two years. Coleman continues to find inspiration through his travels. Influences include Frank Tenney Johnson, Bruno Liljefors, Philip R. Goodwin, to name a few. Coleman uses a traditional academic approach in his painting, using gouache and oil. However, he doesn't like to label his style as "realism," as there is a certain amount of spontaneity and a slight impressionistic feel to his paintings. Coleman endeavors to create a connection between his paintings and the observer by invoking a mood that the viewer can walk into. He plans to continue working hard at what he loves; his father told him, "you are only as good as your last painting," so Coleman continually strives to improve his abilities. Never one to miss an opportunity, he also wants to improve his etching and sculpting skills.

Studied: Brigham Young University, UT; 2000-2002, BA in Fine Arts

Books:

* 2005 Michael Duty and Susan Deats, Western Traditions – Contemporary Artist of the American West, Fresco Fine Art Publications, 279 pages (color) * 2009 Nicholas Coleman – Author and Illustrator, In the North Woods (children's book), Sunstone Press, 42 Pages (color) * 2010 George Lucas and J.W. Rinzler, Star Wars Art : Visions, Abrams Books, 223 Pages (color)


Museum & Private Collections:

* Anshutz Collection, Denver, Colorado * Bennington Center for the Arts, Bennington, Vermont * Leigh Yawkey Woodson Art Museum, Wausau, Wisconsin * George Lucas, Lucasfilm Ltd. * Christopher Forbes, Forbes, New York, New York * Raymond James Financial Center, Clearwater, Florida


Exhibition Record (Museums, Institutions and Awards):

* 2003 Award of Merit for Wildlife, Bennington Center for the Arts, Art of the Animal Kingdom, Bennington ,VT. * 2003 Top 100 Arts for the Parks, Jackson Hole, WY. * 2006 Bennington Center for the Arts-Art of the Animal Kingdom, Bennington, VT. * 2006 Leigh Yawkey Birds in Art, Wausau, WI. * 2009 Leigh Yawkey Birds in Art, Wausau, WI. * 2008 Masters of the American West, Autry National Center, Los Angeles, CA. * 2009 Masters of the American West, Autry National Center, Los Angeles, CA. * 2010 Masters of the American West, Autry National Center, Los Angeles, CA. * 2011 Masters of the American West, Autry National Center, Los Angeles, CA. * 2007 Gilcrease Musuem, American Art In Miniature Show, Tulsa, OK. * 2008 Gilcrease Museum, American Art In Miniature Show, Tulsa, OK. * 2009 Gilcrease Museum, American Art In Miniature Show, Tulsa, OK. * 2009 Coors Western Art Show, Denver CO. * 2010 Coors Western Art Show, Denver CO. * 2011 Coors Western Art Show, Denver CO. * 2009 Buffalo Bill Art Show and Sale, Cody, WY. * 2010 Buffalo Bill Art Show and Sale, Cody, WY. * 2009 C.M. Russell Museum Show and Sale, Great Falls, MT. * 2010 C.M. Russell Masters in Miniature Show, Great Falls, MT. * 2011 C.M. Russell Museum Show and Sale, Great Falls, MT.

Recent Exhibition Record (Galleries and Art Shows):

* 2007 Trailside Gallery One Man Showcase, Jackson Hole, Wyoming. * 2007 Altermann Gallery, American Western Classic, Santa Fe, New Mexico. * 2007 Montana Trails Gallery, Yellowstone, Retrospective Show, Bozeman, Montana. * 2007 American Art Invitational, Saks Gallery, Denver, Colorado. * 2008 American Art Invitational, Saks Gallery, Denver, Colorado. * 2008 One Man Show August, Trailside Gallery, Jackson, Wyoming. * 2009 Showcase, Into the Wild, Trailside Gallery, Jackson, Wyoming. * 2010 Showcase, August, Trailside Gallery, Jackson, Wyoming.

* 2009 Sporting Show and Sale, Meredith Long Gallery, Houston, TX. * 2009 The Plainsmen Gallery,"10th Annual Wildlife and Western Visions Art Show," St. Petersberg FL. * 2010 The Plainsmen Gallery,"11th Annual Wildlife and Western Visions Art Show," St. Petersberg FL. * 2009 Altermann Gallery, American Western Art Classic, Santa Fe, New Mexico. * 2010 Altermann Gallery, Spring Art Classic Set Price Show, Santa Fe, New Mexico. * 2011 Altermann Gallery,Nicholas Coleman, Paul Kethley and Ed Kucera Show, Scottsdale, AZ. * * Magazine References:

* Western Art Collector, January 2011, Art of the Horse * Western Art Collector, February 2010, In The North Woods * Western Art Collector, August 2009, Into the Wild * Southwest Art 2009, April Into His Own * Art of the West 2008, July/August, Living the Dream * Western Art Collector 2008, July, On the Wild Side * Western Art Collector 2008, June, A Family of Art: The Colemans * Cowboys and Indians, 2004, January Collector's Choice * Southwest Art 2004, June, Art Events Editors * Wildlife Art 2004, March, Emerging Artist: Nicholas Coleman * Southwest Art 2002, December, News Beat-On the Scene * Southwest Art 2001, January, Preserving the Cowboy's Legacy * Southwest Art 2000, September, 21 Under 31 * Wildlife Art 1999, December, Field Notes