This article is by Brian Sherwin, regular contributing writer for FineArtViews. Brian Sherwin is an art critic, blogger, curator, artist and writer based near Chicago, Illinois. He has been published in Hi Fructose Magazine, Illinois Times, and other publications, and linked to by publications such as The Huffington Post, The Boston Globe, Juxtapoz Magazine, Deutsche Bank ArtMag, ARTLURKER, Myartspace, Blabbermouth, Milwaukee Journal Sentinel, Modern Art Obsession, Citizen LA, Shark Forum, Two Coats of Paint and Art Fag City. You should submit an article and share your views as a guest author by clicking here.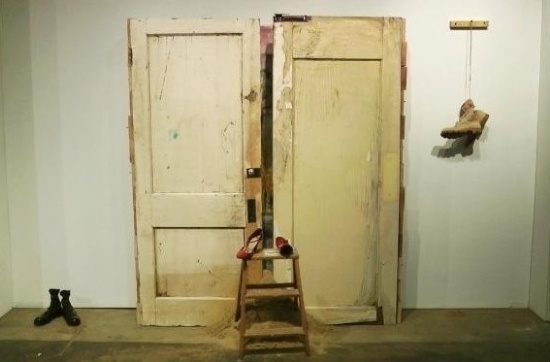 An 'Unfit' Effect -- an installation by Erica Slone -- Erica served in Iraq
The National Veterans Art Museum (NVAM), formerly known as the National Vietnam Veterans Art Museum, is located in Chicago, Illinois. NVAM is home to over 2,000 works of art. The art in the collection-- representing over 250 artists who are combat veterans -- is dedicated to displaying and studying art produced by veterans from the Vietnam War and other wars and conflicts. The artwork presented at the museum provides a unique viewpoint on the controversial subject of war to all visitors. It is a tenuous and reflective balance of beauty and horror, giving unique insight into the psyche of combat veterans and consequential hindsight war leaves on its survivors.
Sarah Eilefson joined the National Veterans Art Museum in August 2010 as the Grants and Communications Coordinator. I decided to contact Eilefson and NVAM after reading an article, titled 'German Expressionism, American silence', by Washington, D.C. based art critic Tyler Green. In the article Green stated, "The experience of war is substantially absent from recent American art and from America's art museums." and "A museum can't exhibit art that doesn't exist and critics can't review art that doesn't exist. Still, we can notice it. MoMA's "German Expressionism: The Graphic Impulse" wasn't just an eye-opening look at great German art, it was a reminder of how easy most Americans have had it." The art does not exist? Interesting.
I felt that Green's statements were absurd considering the history of the NVAM. The art exists... veterans art exists... combat veterans are exploring their wartime experiences as artists -- the real questions should be, why are curators from other museums and art critics nationwide not exploring current war art created by combat veterans in the United States? Why have curators from the majority of museums throughout the United States failed to acknowledge these experiences? Due to the failure of museums across the country -- for whatever reason -- I for one am happy that NVAM exists... both for veterans and the general public.
Angel in the Desert -- a sculpture by Marcus Eriksen. Marcus served in the Persian Gulf War
Brian Sherwin: You are the Grants and Communications Coordinator for the National Veterans Art Museum. As you know, I contacted you over concerns I've had in regard to the recent focus that a handful of notable art critics have had on the issue of war art in the United States -- in that some feel that art about the direct experience of war-- created by artists who actually served during military conflicts-- is lacking in our country. I would say that they have failed to do their research. With that in mind, can you offer some history about the National Veterans Art Museum?
Sarah Eilefson: The National Veterans Art Museum (NVAM) has a rich history. It started in 1981 when a group of Vietnam combat veterans came together as the Vietnam Veterans Art Group. One of the creators who still plays a major role in the museum, Joe Fornelli, has described the early movement as a "creative self-help group" and I think that's a great way to think about the museum's origins. The Art Group mounted its first exhibit of veteran artwork, "Reflexes and Reflections," in 1982. "Reflexes and Reflections" toured museums and galleries in New York, Chicago, Milwaukee, Austin, and Columbia, South Carolina as well as the rotundas of the House of Representatives and the Senate.
The Art Groups collection was truly unique and was met with an overwhelming emotional response as well as much critical appreciation. By the mid-1990s, the Art Group's membership and collection had increased dramatically. So much so, that in the fall of 1995, after viewing the collection, Mayor Richard Daley was so moved that he allocated a permanent building to the Art Group, making possible the official establishment of our museum dedicated to artwork by veterans. Originally named the National Vietnam Veterans Art Museum, the doors to our home on South Indiana Avenue were first opened in August 1996.
In order to be inclusive of the next generation of veterans, we started accepting art by veterans of all wars and formally changed the name (dropped "Vietnam") in January 2010. As another Vietnam veteran and an exhibit consultant, Jerry Kykisz, told Chicago Public Radio's "Eight Forty-Eight": "Our mission is still the same. We're still exhibiting artwork by soldiers on the subject of war. I think we're just broadening our horizons to include the current crop of veterans. They need a place, too. I mean, we needed a place bad, and they do too."
In 2009, we were in the face of financial difficulties, so the museum completed the sale of the building back to the City of Chicago, retiring all of our long- and short-term debt, and we have been a tenant since that time. The NVAM will be relocating next year and are in the midst of trying to find a space and raise funds for the move.
To speak directly to your question about those who feel that there is a lack of war art in this country, I offer that the problem is not a lack of artistic production, but a shortage of venues to show this kind of work. The forty years since Vietnam has seen incredible innovations in artistic style, and artists today working in all kinds of mediums address the issue of war and their personal military and combat experiences. Among our current and recent exhibits include digitally manipulated images, performances by poets and writers, and a rap/graffiti crew. We're working hard to make high-resolution digital images and recordings of the art in our collection available online, but we're constantly looking for new opportunities and spaces to display the art in our collection.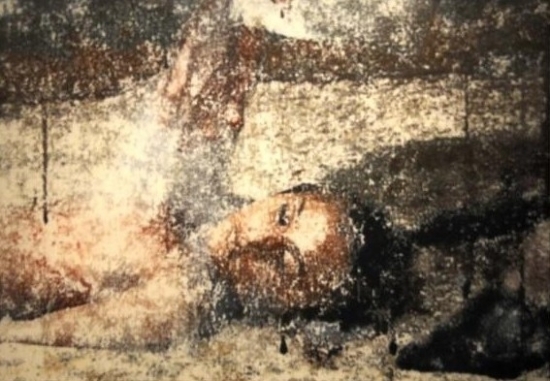 Sacrifice - part 3 of a series by Ash Kyrie. Ash served in Iraq
Sherwin: One art critic, Tyler Green, implied that there are not many examples of war art by combat veterans who served recently in Iraq or Afghanistan. He implied this within the context of exploring a recent MoMA exhibit titled 'German Expressionism: The Graphic Impulse'. He stated, "A museum can't exhibit art that doesn't exist and critics can't review art that doesn't exist." and then implied that the lack of recent war art in the United States is a "reminder of how easy most Americans have had it.". With this in mind, can you make a few suggestions of artists you know of who have served in Iraq and Afghanistan who are currently exploring their wartime experiences visually?
Eilefson: Absolutely, and what a great question. Our recent exhibition "Intrusive Thoughts" was curated by a veteran of the Iraq War, Aaron Hughes (himself an artist), and features art by nine individual artists and two art groups who are all veterans of Iraq, Afghanistan or the Global War on Terror. Specifically, the contributors to "Intrusive Thoughts" include Jeremy Stainthorp Berggren, Erica Slone, Peter Sullivan, Jacob Flom, Jon Turner, Ash Kyrie, Chris Vongsawat, Leonard Shelton, Joyce Wagner as well as two art groups comprised of veterans, many of whom are younger: the Warrior Writers Project and the Combat Paper Project. Earlier this year we had a great show of a large, temporary mural by another Iraq veteran, Melvin A. Lyons, called "Evolution of War."
Sherwin: It has been suggested that one problem facing art that explores the experiences of war by United States combat veterans is that the contemporary mainstream art world tends to sway toward the extreme left socially and politically -- as in many have the mentality of, "Soldiers kill the innocent.", "The military is evil.", and other forms of volatile rhetoric that casts those who serve as oppressors, "Tools of destruction.", or merely "brainwashed fools.". In other words, some feel that extreme liberal bias is the reason that some individuals-- specifically those in the professional art community-- have a difficult time discovering contemporary war art in the United States... and that if war art is embraced by the mainstream contemporary art world in the US it comes in the form of artwork that criticizes the US military or places troops in a villainous role. Would you suggest that this problem does exist? Does extreme liberal bias hold artists who happen to explore their combat experiences back professionally depending on how they explore those experiences?
Eilefson: The NVAM embraces our artists and their work on the basis of their art and contemplation of the impact of war, regardless of the artist's politics or perspective. In other words, the NVAM is a politically neutral organization that seeks out great art by veterans. Not only do we want viewers to make connections with the veteran-artist and the combat experience, but we also seek to provide veteran-artists a venue to work through and express artistically their interpretation of their military experience. One of the incredible facts about the museum is how it upends visitor expectations and, often, biases. Visitors to the museum frequently comment after seeing our collection some variation of, "This changed my life" or "I never thought of war this way."
Perhaps some context will help. The museum was founded by artists, most of whom were drafted into the military and, like many Vietnam veterans, the effects of their service still shape their day-to-day lives. Similarly, a lot of our younger artists were deeply influenced by 9/11. As a society, we tend to have short attention spans. But to forget the reasons why a number of the veterans in our collection joined the military in the first place ignores historical and socio-cultural realities.
In fact, people who are anti-war may become more enlightened by viewing our collection than others. That is why we want to add artist interviews to our exhibits and our emerging virtual museum so people can learn exactly what influenced the veteran to create that particular piece of art. It may cause military engagement detractors—as well as supporters—to look at war in a very different light.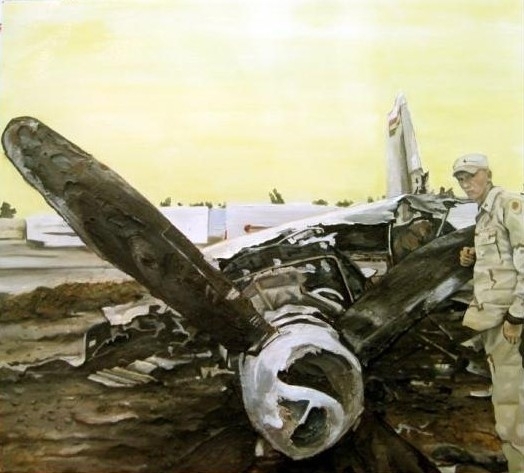 Anaconda -- a painting by Aaron Hughes. Aaron served in Kuwait and Iraq.
Sherwin: How many artists have been exhibited at the museum? Furthermore, what wars and conflicts are represented in the museum collection?
Eilefson: We have approximately 250 artists in the permanent collection in addition to a number of artists whose work we have shown on a temporary basis. Artists in our collection are veterans of WWII, Korea, Vietnam, the Gulf War, Iraq, Afghanistan, the Global War on Terror.
Sherwin: Do you expect that more artists will surface as troops return home from current wars and conflicts? Furthermore, based on the museum collection at this time -- would you say that most were artists prior to serving... or did they explore art after their wartime experiences as a way to put a handle on what they had endured?
Eilefson: I do think the numbers and experiences of troops returning home from the current wars will result in a dramatic uptick in veteran artists. The statistics on veteran suicides are alarming, and art therapy can be an incredible outlet for expressing negative or dangerous emotions. We certainly see ourselves as on the forefront of modeling the positive effects and outcomes of art therapy, and looking to expand our art therapy outreach programming in the coming years.
The question of whether the veteran artists were artists before they served is a very good one—it seems that in reflecting on their histories, a number of veteran artists point to an interest in creative arts, be it painting, photography or sculpture, prior to their service. Some were in school, often for art-related purposes, before being deployed, many began their craft while in service, and more still would say that they turned to the arts following their service.
It's tempting to say there's a correlation between the combat experience and the creation of the artist, but there are variations among the lived experiences of the artists in our collection. And, although we don't collect art by noncombat veterans, we sometimes show their art in temporary exhibits. It seems that the trajectory of noncombat veterans to artist is as unpredictable as that of the combat veterans—some were always interested in art, while others turned to it as a result of their military experience.
Sherwin: Can you give us an idea of what visitors should expect when they visit the National Veterans Art Museum? For example, I know in the past there was an installation of 58,226 dog tags hanging from the ceiling near the entrance -- the dog tags represent US soldiers who had died in Vietnam. That sight alone often stirs an emotional response from visitors...
Eilefson: The work in the NVAM often has a powerful effect on visitors. We advise patrons to be mindful of the fact that the work in our collections was made by veterans of war and so the depictions of their experience is poignant and uncensored, and often appropriate for mature audience. "Above & Beyond," the memorial with a dog tag hanging for every service man and woman who died in the Vietnam War, is a particularly stirring piece for most visitors. However, different visitors have different reactions to seeing the art in our collection.
Joe Fornelli recently recalled one experience to Karin Matz with Reuters where a Vietnam vet who was contemplating suicide came into the museum and discovered that other veterans were having the same feelings he was having. As Joe said to Karin, "I don't know of any art collection that has saved someone's life." Other visitors have expressed what a powerful experience their visit has been, and how they have finally been able to begin to understand what the veteran in their life has gone through.
It's not just veterans making connections with the experiences and emotions of other veterans, though. The NVAM is a great resource for helping noncombatants connect with the veterans or active military members in their lives. This applies not only to family and friends, but to students and professionals as well.
For example, local high school students seem to really get engaged during school tours and Q&A sessions with veteran artists, drawing connections to personal experiences. Similarly, professors from nursing schools as well as the VA hospitals often bring in student nurses to experience our collection and talk with some of our veteran artists. We've had a lot of positive feedback on what a big difference it has made in their interactions with their veteran patients.
Sherwin: In your opinion, why is it important for the public to view art that deals with the experiences of veterans? Why is it vital to document these works for future generations?
Eilefson: War is often considered to be either inexpressible or impossible to understand—or both—and a kind of "combat gnosticism" seems to rule the conversation of war, to borrow James Campbell's term. In other words, the difficulty of talking about military or combat experience often seems to result in a failure to talk about it at all. From my perspective, the art in the NVAM's collection intervenes in the gaps in the conversation about war. It shows different responses to different combat experiences.
The variety of expressions in our collection is not due just to the various mediums in our collection—though we do have paintings, drawings, writing, diaries, letters, sculptures, mixed media, collages, photographs and more—but a reflection of the individual artist and his or her personal experience. So we're both providing a space to come to a general understanding of the impact of war but also an opportunity to see a very unique and personal interpretation of that experience.
In addition to the aesthetic value of the NVAM's collection, the work in our museum is also of historical value—it's truly part of the fabric of our cultural heritage. For the last thirty years, we've collected artist bios, statements, correspondence and comments on their art as well as patron responses to the art. We also have more art than we've been able to show in our current location and we look forward to making all the art in our collection available to viewers through our new virtual museum initiative, an online database of all the art and archives in our collection. We're a truly unique site where the reception history of veterans and war art can really be explored based on the shows we've raised that tackle different issues affecting veterans, active military, and civilians alike.
We're also tapping into a conversation going on in the rest of the art world about the issue of trauma in a person's life and its transference to the culture at large. The NVAM is actively expanding its arts education and art therapy outreach. We intend to use our artistic and personnel resources as well as our direct experiences with art therapy to play a larger role in helping our community members deal with traumatic events in their own lives. As this kind of work with trauma finds its way from the battlefields of war to the battlefields of our neighborhoods—and as we continue to learn new skills to help understand and heal our veterans—we look forward to helping our local community and the culture at large deal with the traumas of today.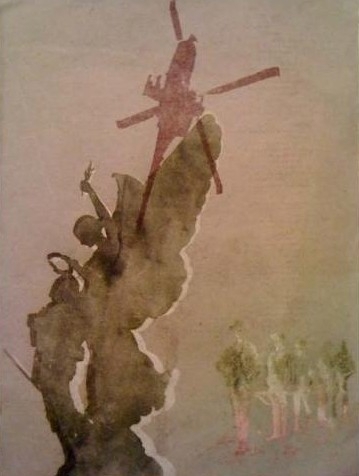 Forgiven 2 by Jon Turner. Jon served in Iraq.
Sherwin: What can individuals do to help support the National Veterans Art Museum? I assume that people can donate? Are their volunteer positions as well at the museum?
Eilefson: Support in all shapes and sizes are welcome! Donations are an invaluable way to ensure the NVAM is financially secure as we relocate in 2012, but other resources that help us continue to provide top-tier student tours and patron experiences are also appreciated. We welcome volunteers, especially as we ramp up our efforts to reconnect with past members and supporters and look to make new connections. Send money in any amount, and email everyone you know about the importance of keeping this place open.
Sherwin: In closing, is there anything else you would like to say about the National Veterans Art Museum, those who have supported the museums efforts, or war art in general?
Eilefson: This year marks the 30th anniversary of the NVAM, and we're excited about some major upcoming changes that reflect our commitment not only to our mission of inspiring greater understanding of the real impact of war, but also to the changing needs and expectations of students and scholars arts patrons, and internet users alike. Therefore, we've recently placed a greater emphasis helping high school students experience the benefits of exposure to art, learning the creative process, and getting students to see some unique perspectives on our society through discussions on military conflicts, how they impact the participants and their place in a historical context.
In addition, in choosing a new home for the museum, we're looking for a facility that is more amenable to tourists than our current location and that will allow us to expand our programming, especially our ability to show traditional and multimedia exhibits. We've also initiated an expansive digitization project that will make all the art and archival material in our collection available on our website in high resolution. Lastly, we're relaunching our membership program to provide new benefits to individuals, families, students, small companies, not-for-profit organizations and large corporations.
All of these efforts have already begun to pay off, as the number of our student tours increased dramatically this spring, and we've started reconnecting with past members of the museum whose support we truly value. More than that, though, as word of our efforts get out, the number and variety of visitors to the museum has been increasing as well, which is one of the real pleasures of working at the NVAM. It's been an honor to get to meet the visitors of our museums, many of whom are veterans, to hear their stories, and to see them connect with the art in our galleries.
Take care, Stay true,
Brian Sherwin