This post is by guest author, Denise Rich. This article has been edited and published with the author's permission. You should submit an article and share your views as a guest author by clicking here. We've promoted this post to feature status because it provides great value to the FineArtViews community. If you want your blog posts listed in theFineArtViews newsletter with the possibility of being republished to our 15,000+ subscribers, consider blogging withFASO Artist Websites. This author's views are entirely her own and may not always reflect the views of BoldBrush, Inc.
Now that blog title isn't meant to insult anyone and I'm probably not talking about you :) however, there are some folks out there that just don't get it and I'd like to try and explain what I think "it" is.
1. It doesn't have to be expensive, it just has to be special to you.
It's about satisfaction and just plain enjoyment, having things that give you a special feeling when you look at them. Not just an "Oh yes, that matches the couch perfectly" feeling, but an "Oh, that takes my breath away" or "makes me smile every time I look at it" feeling. And it doesn't have to cost a dime!
I can't say it any better than this comment from a client I was conversing with recently about her art collection:
"I just gather things that I like, are visually striking (like your cows) or that mean something to me. I framed a drawing of an Easter bunny I did when I was little. People love that one! And a felt purse my mom made years ago. I started buying art when I was at Iowa State in the '70s and still have and display them."
I love what she said and thought it deserved sharing, as well as the Easter bunny drawing she mentioned seen below!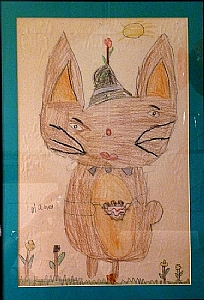 (Thank you for sending this to me, Diane. It's wonderful, I especially love the flower hat.)
She collects art she likes, is visually striking, or that means something to her. She's already gotten over thirty years of enjoyment out of work collected in college and still more out of one of her favorite childhood drawings. It really is that simple.
2. It might be expensive, but what does "expensive" really mean?
There is a Starbucks to the right of my studio and the courthouse to the left. Every day I see the same people walk past my window and come back with a $5 coffee. It has occured to me that "expensive" is just a matter of priorities for some. How many of the people who spend at least $100 a month on fancy coffee would say they can't afford to collect original art? For a year's worth of Starbucks coffee, anyone would be able to have a great collection going. That's $1200, which would give you a lot to choose from in terms of original art.
Now, I'm not saying anyone should give up their Starbucks, them's fighting words. I only suggest that if you do love art, it might actually be worth as much as that caffeine indulgence, and the enjoyment factor with art keeps on giving. In fact, it will last much longer than you will. Add the fact that many artists, myself included, will work out payments, then there is no reason to deprive yourself of either one. And certainly no reason to say you can't afford fine art.
It's just a matter of priorities.
---------------------------------------------------
Editor's Note: You can view Denise's original post here.